I've been out of town for the past week with family, so I asked my "Glamazini Correspondent" Quiana, a.k.a. my sister-in-law, to visit one of the new Famous Footwear locations and share her experience with my readers (that's you).

Glamazini was provided with a gift card to Famous Footwear which she then gave to her sister-in-law to get her family shoppy shop on. The opinions are those of her sister-in-law, brother-in-law and nephews.
Turns out she ended up having a shopping experience for the entire family!
My Nephew's Sneakers… Almost

Turns out my nephew a.k.a. "picky 13 year old" did not actually get the shoes above but I will share his experience.  He did not feel like shoe shopping that day (lol, notice his lack of enthusiasm in the photo above), but his mom took him to visit the new Famous Footwear location in Lake Saint Louis, Missouri.  She wanted him to get casual shoes that he could wear to school and church, but he wanted the Nikes pictured above. Unfortunately he's in that weird space between boys and mens shoe sizes, size 7.5, and this pair on clearance was just a little big for him so they did not purchase.
My Nephew's Boots
Not to be thwarted, my trusty sister-in-law-corespondent turned to her older son, the "cool senior year 16 year old" who had been stalking these Nike Boots online and knew exactly what he wanted.  They called a few stores before visiting but the boots were not in stock in his size and the store could not order it for him, so he ordered it online (the boy's a problem solver yes he is).  They had a 20% off coupon for being a rewards member so it covered the difference in the shipping price.  Also it was buy-one-get-one-free (BOGO) at Famous Footwear and they received a voucher to get another pair 50% off either online or in the store. BOOM!
My Brother-In-Law's Dress Shoes & (maybe) My Sister-In-Law's Sandals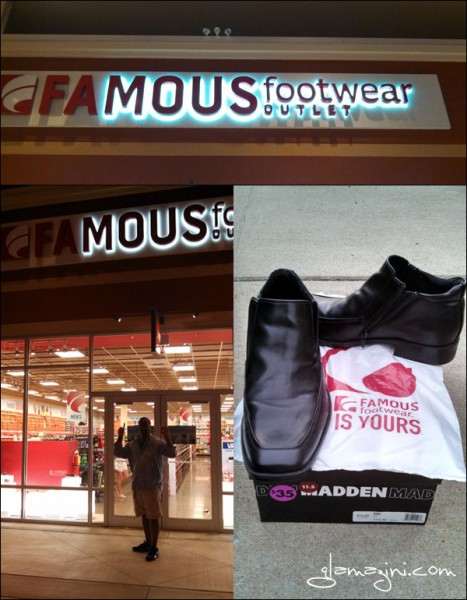 It was now my brother-in-laws turn to get on the Famous Footwear train.  The entire family got in on this thing! #dedicated He needed shoes for the office.  Equipped with the 20% off rewards member coupon and the 50% off voucher he and my sister-in-law decided to visit the new Chesterfield Premium Outlet location (which I'm kinda jealous of but hubby is waiting for me to get back in town so we can visit … so not the topic of this post).  The store is a nice size with a huge shoe selection but he did not find his shoes there so they moseyed on over to the new Chesterfield Prestige Outlet location.  They found the pair pictured above on clearance for only $35!  With the 20% off coupon the $25 gift card they spent $5.05 out of pocket. BOOM!  The only downside was they did not get to use the voucher because they found out at the register that outlet locations don't participate in BOGO.  The upside? My sister-in-law may visit Famous Footwear again and use the voucher on some sandals for herself :).
Visit FamousFootwear.com to shop online or find a location near you.