Farfelle with Zucchini, White Beans and Chicken
Alright I'm back with my 2nd post in the
Barefoot & Pregnant In The Kitchen: Everything Mama Told Me Not To Be

series.
The first post was really about a favorite snack: Apples & Cheese. This one is an augmented recipe I yanked out of a Health Magazine (yet can't seem to find on their website). I've never made it before so we'll both learn together.
Here we go …
Everything I used
Pictured above: boneless/skinless chicken breasts (those happen to be frozen because I forgot to take the picture before cutting up the actual thawed ones I used), farfalle (bow tie) pasta, Smart Balance, salt, pepper, olive oil, grated Parmesan cheese, garlic, white beans, zucchini, and an orange bell pepper.
Ok so I cut the thawed chicken into pieces using my Kitchenaid poultry shears
. I love that thing. I got mine in a set at Costco, but here it is on Amazon.com. I also added fresh ground sea salt and black pepper.
Chicken breasts hacked to pieces with salt and pepper
Next I heated up olive oil, Smart Balance and the fresh garlic in a large skillet and cooked the chicken until it wasn't pink on the inside.
Cooked up chicken (I could've browned more)
Next I added the zucchini and stirred it up until the zucchs began to get soft (about 3-4 minutes).
Added the zucchini
In went the beans and bell pepper. I stirred until the pepper got soft (another 2-4 minutes).
Added beans and bell pepper
Almost done, I added the cooked farfalle and stirred it up until it was heated, maybe 2-3 minutes.
Added pasta
The last step was pretty easy. I spooned some into a bowl, topped with grated Parmesan (took this picture for ya'll) then ATE! (ooh I was so hungry).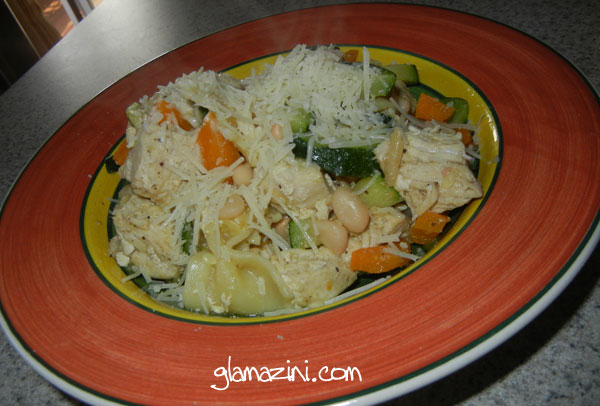 Farfelle with Zucchini, White Beans and Chicken
2015-05-22 23:23:57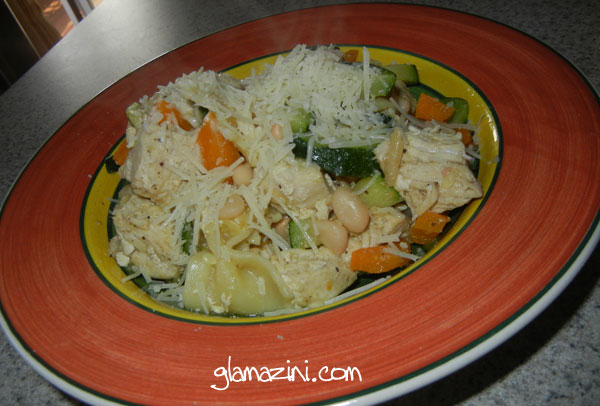 Serves 6
Ingredients
2 chicken breasts, cut into 1-inch pieces
3 Tablespoons olive oil
1 1/2 Tablespoons butter
1 clove of garlic, peeled and diced
6 ounces uncooked farfalle (bow tie pasta)
2 small zucchini, cut into 1/4-inch slices then stacked and cut into 1/4-inch thick strips
1/2 teaspoon salt (and salt to taste for chicken)
1/8 teaspoon freshly ground black pepper (and pepper to taste for chicken)
1 small orange bell pepper, seeded and cut into 1/4-inch strips
15.5oz can white beans, rinsed and drained
Grated Parmesan to taste (or small curls of Parmesan cheese removed with a vegetable peeler if you're feeling fancy)
Instructions
Cook the pasta according to the package directions. Drain and set aside.
Salt and pepper chicken to taste. Heat 2 Tablespoons of olive oil, butter and garlic in a large skillet over medium heat. Cook chicken in oil until cooked through.
Add 1 Tablespoon of olive oil, stir in zucchini, salt, and pepper; cook until the zucchini begins to soften, stirring frequently.
Stir in bell pepper and beans; cook until bell pepper is softened, stirring frequently.
Add pasta to skillet; cook until heated through, stirring constantly.
Transfer to bowls; top with Parmesan.
Glamazini.com http://www.glamazini.com/
My initial thoughts upon polishing off the bowl pictured above in record time due to pregnancy and extreme hunger is … I like it but I don't love it. It's definitely light but filling (I assume the chicken and beans help to add some weight to an otherwise light meal). I definitely like it with lots of Parmesan on top. Hubby on the other hand barely put any cheese on his, had a HUGE bowl, practically stuck his face in the bowl then said "BABE THAT WAS GREAT!".
There you have it.
To read more Barefoot & Pregnant In The Kitchen Posts click right HERE!
Got any quick, non-tomato based pasta recipes to share? Let me know in the comments below!
Until next time Glam Fam I wish you
Life, Liberty & The Pursuit of Nappyness,

@Glamazini
|
facebook.com/IamGlamazini
|
youtube.com/Glamazini
|
Google+
~~~~~~
Disclosure: I bought the ingredients with my own money. Don't sleep on that Great Value brand from Wal-Mart! For more information about the Glamazini.com disclosure policy, click here.