Alright, here I am the next day (Sunday) driving home after a GREAT praise dance/flagging session @ church that ended with me passed out on the floor slain to them singing "Renew Me" by Martha Munizzi

   … that "don't cast me away!" get's me every time people!!!

 … I was twirling and kicking and stopdropnrolling flying through the air with the greatest of ease and alladat…next thing I know I'm on the floor under say 50-leven altar clothes HOT

  !! It was like an eclipse…where'd the sun go?!



ehem …

 … but anyhoo…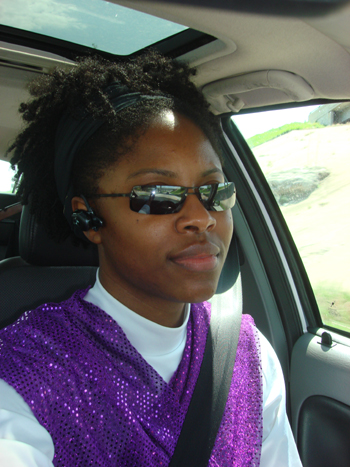 The back is HUGE

  … I can boast that I succeeding in scaring several small children and a couple church mothers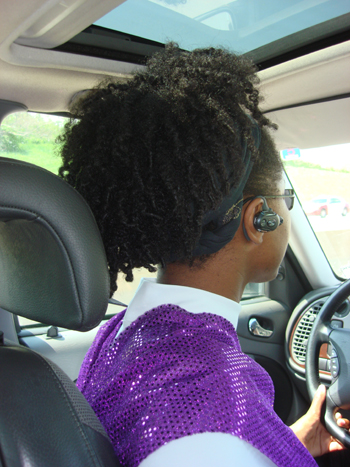 Once I got home, I sectioned my hair into 12, slathered with conditioner mixed with castor oil and honey, and covered it with a plastic bag (technique detailed in this lovely video for your viewing pleasure). 
After say 3 hours (and a choreography session in the basement to generate heat

 ) I jumped in the shower, detangled and proceeded to pull the lot back into a pony puff. I planned on doing 1 strand twists (palm rolls, coils, whatever you wanna call them) but I was too tiyad people… pony puff it is!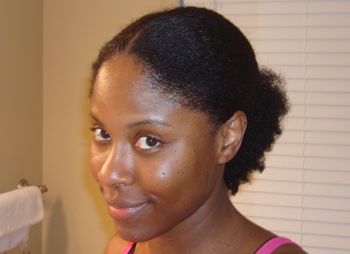 I really should have photographed how I did this

 , it worked so well…maybe next time.  Basically my hair was separated into 3, 1 large section in the back, and 1 on each side in the front. Then I put in moisturizer and brushed the back section and secured it in a puff with a scrunchy. Then I did the same with 1 side on the front and secured with a 2nd scrunchy (did not remove the 1st one). Then repeated that with the last section on the front…so basically my hair is being held back in 3 separate sections by 3 separate scrunchies to give the illusion of 1 ponypuff.

  It was just so much simpler than tryna wrangle the whole head of hair with 1 scrunchy!!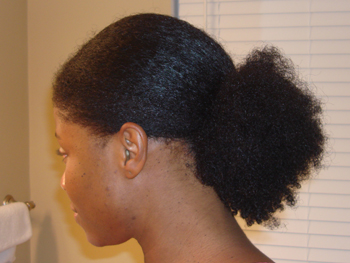 No clue how long it is nowadays but thought I'd give it a yank for ya'll to see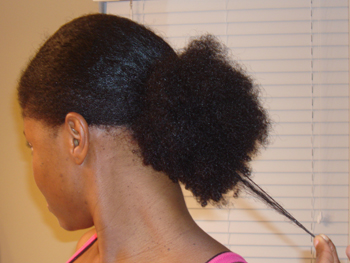 Next I grabbed smaller sections out of the puff and twisted them, securing with another scrunchie.  I moisturized again as I did this 'cause I was planning to tie my hair with a cotton scarf that robs you of moisture but helps to set damp hair…so I overmoisturized my hair.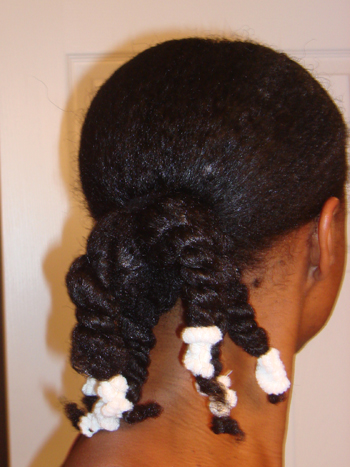 Lastly I tied my hair like so and went to bed.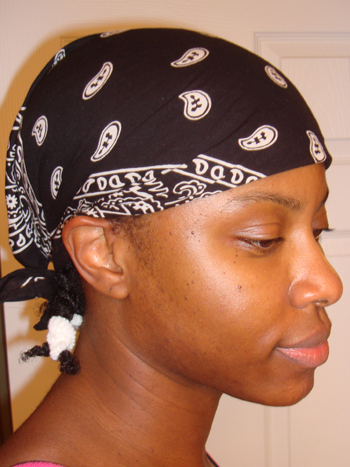 Thanks for visiting!!!

Life, Liberty, & The Pursuit of Nappyness 

  ~ ini