Disclosure: Thanks to Garden of Life for providing the Garden of Life RAW Protein & greens™ for me to review. ❤ As usual, the opinions expressed are my own and as usual I'm #teamGardenofLife!
Just when you thought the protein products offered at Garden of Life could not get any better they have!
*insert applause here*
So par usual the lovely team at Garden of Life contacted me and asked if I wanted to give these a try and what to you think I said???
Huh?
Huh?
Can you guess?
(Hint: the photo above was taken in my living room #boom).
I said HECK YEAH! I mean … it's my favorite protein product ever with greens added? It's a no-brainer people. At this point I feel like GOL is making products specifically for me. I'm a hap hap happy camper over here!
Let's run down the deets (since that's why you're here right?).
So what exactly is RAW Protein & greens™
Garden of Life RAW Protein & greens™ is a combination of their RAW Protein product and clean organic plant proteins and organic vegetables. Yes you read that correctly! It's their already existing ROCKING Certified USDA Organic and Non-GMO Project Verified protein powder COMBINED with organic green goodness!!! *squeeeeeeel!!* The smooth blending 20 grams of protein per serving is derived from organic pea, organic sprouted brown rice, organic chia, organic navy bean (sprout), organic lentil bean (sprout), and organic garbanzo bean (sprout). The greens are a blend of organic alfalfa grass juice (which has six times the nutrient density of whole leaf grass), organic spinach, organic kale, organic broccoli, organic carrot and organic beet (the last 2 aren't "green" but they are great for ya lol!
What flavors do they offer?
The product itself is a powder that comes in 3 flavors: Chocolate, Lightly Sweetened, and Vanilla.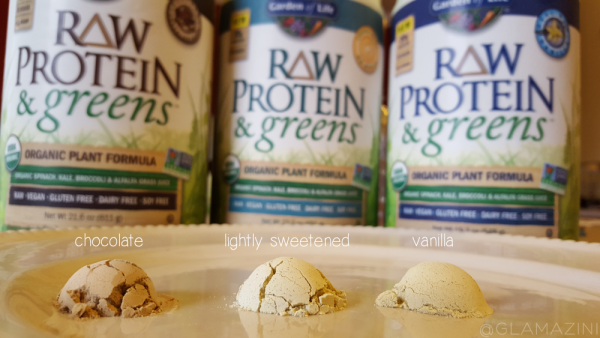 It can be mixed with water, or unsweetened nut milks, then drank. I also add it to my smoothie. Yum.
What? Did you say probiotics and fiber too?!
Actually no I did not, but impressive guess LOL! Yes yes, there are 1.5 billion live probiotics and 13 Non-GMO enzymes in the Garden of Life RAW Protein & greens™! If that's not enough they tossed in 3g of organic fiber per serving. Just makes my crunchy heart swoon and sigh deeply. *huge grin*
Lightly Sweetened? With that?
The Chocolate and Vanilla versions of the New Garden of Life RAW Protein & greens™ are both sweetened with organic stevia leaf extract. If stevia is not your thing then choose the "lightly sweetened" option that is sweetened with organic cane sugar.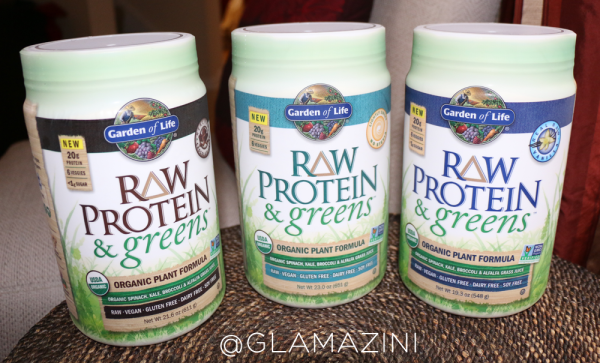 So what do I think?
I was sent all three flavors, Chocolate, Lightly Sweetened, and Vanilla (pictured above) and have been using them for several weeks solo or in a smoothie.
Just like their other protein products I prefer the RAW Protein & greens™ mixed with at minimum almond or cashew milk, and a heaping spoon of vanilla Greek yogurt. If I mix with only water I get hungry just after 2 hours which is shorter than I like and I notice a grit to the product that makes it harder to drink. When I mix 1 scoop with the nut milk and yogurt I'm full for 3-4 hours which makes it a perfect on-the-go breakfast option AND I know I'm getting a formidable serving of healthy organic greens too! Love.
My biggest surprise was purely superficial. I totally expected the powders to be … well … green. LOL! I was so shocked when I opened the containers and saw this: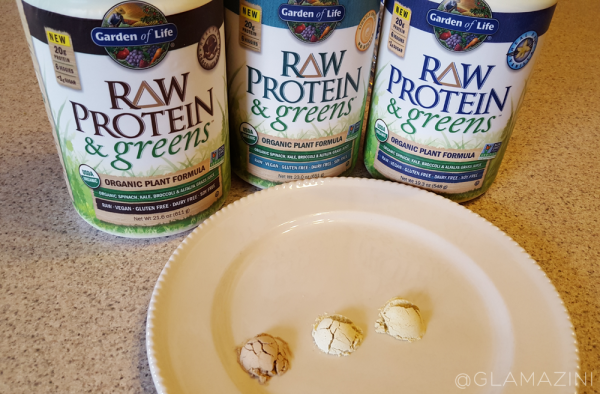 Not important but it wasn't what I initially expected. If you're wondering, you can't really taste the greens either so that was a bit of a shock too (not an unpleasant one though, makes it much easier to mix and drink in my opinion).
So can you guess what my final thoughts are? I'm a total fan of the new RAW Protein & greens™ and will be adding them to my GOL line up immediately! I sure hope they make RAW Fit & greens soon 'cause then they can just have all my coins. LOL!
—
aaaaaand as usual
I have a giveaway!
Up to two (2) lucky winners will receive one (1) of the new RAW Protein & greens™ products from Garden of Life!

WOOP! WOOP!

Enter below & good luck!
Statements in this blog post have not been evaluated by the Food and Drug Administration. These products are not intended to diagnose, treat, cure or prevent any disease. #disclaimerlife