*Edited 11/6/12 to add: Apparently the wig name has been changed to "Women's Curly Wig"


*
….
This is the "Ghetto Fab (Brown/Light Brown) Adult" wig sold by a costume company on Amazon.com.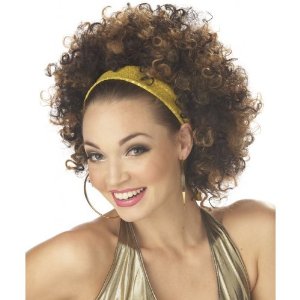 Really Amazon? Really?

I'm usually am pretty laid back about these sorts of things but this is really just dumb…and since this was brought to my attention by my girl Peejay I'm gonna do this post in her style:
Since when is "ghetto fab" a proper product name?
Since when did my hair become a costume? 
Are there wigs out there called "honky tonk?" … maybe there are 
Why come I like this wig?
Can I say "why come" and not be called "ghetto fab"?
Why is it on sale and why might I buy this sucka?
Does that then, by transitivity, make me "ghetto fab"?
What if I've never lived in a ghetto but I am fabulous, does 1 out of 2 mean I get to own this wig?
Is that look seriously considered "ghetto fab" by our society?
If so, should I change my blog's name to ghettofabazini?
Doesn't that whole get up look like me?
Why does the product description say "Does not include headband, earrings or shirt" 
and finally….

continue to pray people

Life, Liberty, & The Pursuit of GhettoFabulousness