It's give away time! 

Cheryl Simms of NaturalHairJournal.com sent me one of her Your Natural Hair Journals to review.
Thinking about transitioning to natural hair and not sure where to start? Overwhelmed by the volume of information available concerning natural hair? Your Natural Hair Journal was created to help you stay organized, motivated, and informed throughout the first year of your journey to natural hair.
The journal includes:
Questions to guide you through your relationship with your hair
Challenges you may face during your transition and 1st year
Tips to help you along the way
Lists of natural hair blogs, websites, books, and YouTube Videos
Inspirational quotesto keep you motivated 
much more!
The 79-page journal is  available as a downloadable eBook or as a hard copy (pictured in video) from Amazon.com
 but guess what?
You have a chance to win one just by commenting on this blog post! *how exciting*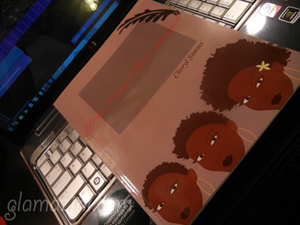 • Give Away Rules •
a. Leave a comment on this blog post answering the question" "What keeps you motivated on your natural hair journey?" (if you are not natural yet, tell me what is motivating you to wear your natural hair)
b.You MUST be 18 or older
c. You MUST also leave your email address in the field provided (no need to also type it in the post, just in the email field).
d. Enter as many times as you please.
e. Sorry, NOT open to international readers/subscribers. You must have a U.S. mailing address.
Failure to follow these rules will result in a new winner being chosen.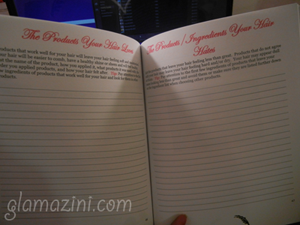 • Deadline •
Wednesday, August 3, 2011 at 11:59:59 p.m. CST.
• Winner Selection •
The winner will be selected by Roshini (that's me). I will contact you at the email address provided when you posted your comment.  The prize will be mailed by NaturalHairJournal.com. By entering you are agreeing to me forwarding your mailing address to  NaturalHairJournal.com.  Click here to read how Glamazini.com safeguards your personal information.
Good luck!
Until next time Glam Fam I wish you
Life, Liberty & The Pursuit of Nappyness,   

@Glamazini | facebook.com/IamGlamazini | youtube.com/Glamazini | Google+