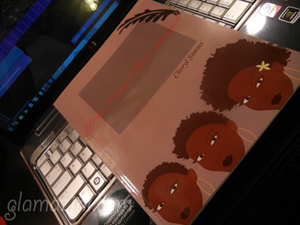 Congratulations to Vernetta, the winner of the Your Natural Hair Journal Give Away! 

  Your prize will be mailed by NaturalHairJournal.com. Thank you to the 27 other readers that entered the give away, and to NaturalHairJournal.com for providing the prize!
:::
I will be posting another give away tomorrow to celebrate surpassing 10,000 subscribers on my YouTube channel a few months ago! That give away will only be on YouTube and not on my blog so definitely head over there to enter. I will post a link to the video here once it is uploaded.
 
Click the button above to subscribe to my YouTube channel.
Until next time Glam Fam I wish you
Life, Liberty & The Pursuit of Nappyness,   

@Glamazini | facebook.com/IamGlamazini | youtube.com/Glamazini | Google+