This meetup is inspired by my recent posts on Facebook and Instagram:
"What ever happened to the ole school get together/meet up ala Nappturality? I miss those. Informal, intimate, no swag bags, heels, tulle skirts and staged Instagram photos? Just product swaps, jeans, a meal and good conversation. I think I went to like 10 of these in varied cities back in the day. Today had someone comment on a YouTube video that they met me at one in Jacksonville (at a Cracker Barrel) ELEVEN years ago. Wow! Nothing against the current version of natural hair events but I honestly don't think that's my thing (hence why you only see me at like maybe 1 a year … maybe). I miss meeting folk on a Saturday for breakfast/brunch/lunch or just going to do something together. I should start them again."
So I'm starting them again. 🙂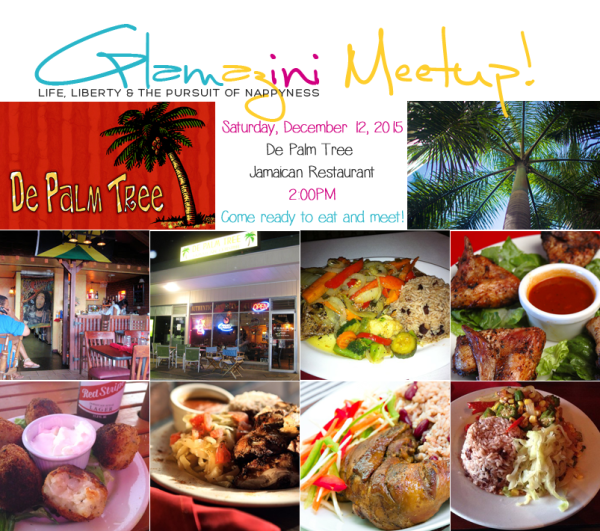 Meet me at 🌴 De Palm Tree Jamaican Restaurant🌴 in University City, Missouri at 2PM on Saturday December 12, 2015! 🌺
Please arrive ready to purchase a meal and eat because, depending on number of attendees, we may be taking up much of the restaurant's space.
so I can let owners know how many people to expect, thanks! 😄
Hope to see you there! 🍴🍗🌴🌺