I was at work the other day really feeling pretty swanked up in my new desk sweater, and realized that something so small could really make a difference in your attitude. Dressing up has always lifted my mood.  I made sure to dress nicely when I had a test in college because I just felt better, and I figured that if I felt better I would do better on the test.  
Unfortunately sometimes you're not thinking that way, and the frump-monster creeps in slowly and without warning. I must admit that I had a pretty frumpy sweater in my cubicle at work. It didn't start out frumptastical, but after years of wear and wash, it had lost its shape and some of its color and … well … was not GLAManothing. I tossed it on the back of my chair and, along with my desk blanket, it was my defense against my employer keeping the thermostat set to arctic for reasons unbeknownst to born-in-the-Virgin-Islands-brrrrr me.  
Every time I put that sweater on I knew I was just tolerating it and that it brought my entire outfit down. 
While shopping in April for our cruise, I purchased a new "sweater" for my desk.  The new number is actually a cropped jacket by Starling purchased from Von Maur (love them) here in St. Louis.
 What got me was the metal detailing, wide collar and biased cut of the front. Since it's really a light jacket, is doesn't give off that "I put on a random sweater over my outfit" vibe, and tends to look more cohesive with your pre-existing glam factor.  It came with a belt that I left at home. I prefer to rock it wide open like so: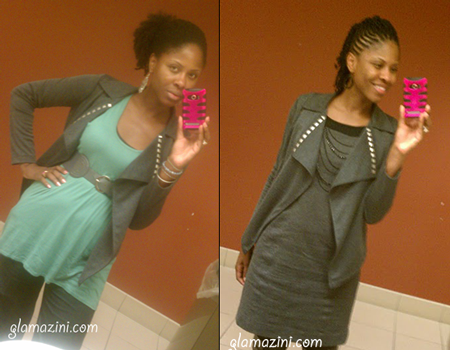 As you can tell, I did something else quite strategically (because I'm smarter than the average bear) … I picked a color that tends to go with the majority of my wardrobe (as in that gray dress on the right did NOT come with the jacket KAPOW!).  I've been loving having this as my desk "sweater" for the past few months and have planned outfits around it as well as taken it home to travel with or wear on the weekends.  If that wasn't good enough it washes well & looks good as new every time.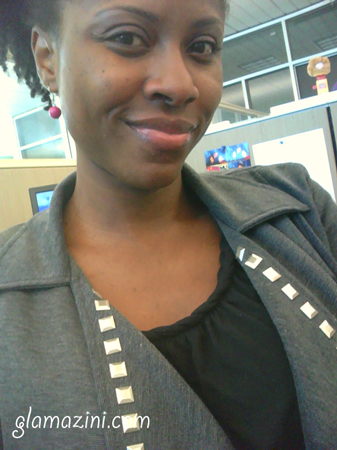 So what about you? What have you glammed up lately?
Until next time Glam Fam I wish you
Life, Liberty & The Pursuit of Nappyness,