I'm back with another book review.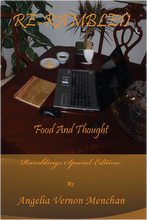 Angelia Vernon Menchan considers writing to be the elixir of her soul. Since learning penmanship at age four, most days have found her jotting down thoughts in a notebook. After decades of journal-keeping she decided to try her hand at writing and publishing books, from which was born her small publishing company, M.A.m.m. Productions through which she publishes her own books that she has coined, 'Fictionalized Truths, Ageless Fiction and Ramblings.'
When not writing, Angelia is a wife, mother, mentor and nana who loves reading almost as much as writing. Angelia is also an Avid Blogger and posts blogs most days to her blog, RAMBLINGS at http://acvermen.blogspot.com or for Skirt Magazine at http://skirt.com/angel08.
AngeliaMenchan.com | Twitter.com/AngelMenchan
Book tour organized by

GIVE AWAY DETAILS AFTER THE JUMP!
This Give Away is sponsored by Angelia Vernon Menchan. Definitely go check her out!
• Give Away Rules •
a. Leave a comment on this blog post or on the video page on YouTube with a life lesson/observation

b.You MUST be 18 or older

c. You MUST also leave your email address with any comment entry on the blog. Do not leave your email on YouTube. If you win via a YouTube comment I will contact you via your inbox.

d. Enter as many times as you desire

e. This giveaway is open to international readers/subscribers.

-or-

email me at glamazini[at]yahoo[dot]com BEFORE the give away deadline letting me know the name you posted the comment under.

Failure to follow these rules will result in a new winner being chosen.
• Give Away Deadline •
Saturday, July 24, 2010 at 11:59:59 p.m. CST.
• Give Away Winner Selection •
The winner(s) will be selected by Roshini (that's me). I will NOT announce the winner on Youtube and Glamazini.com this time. I will contact you @ the email address provided for a mailing address.
Good luck!
Thanks for visiting.

Life, Liberty, & The Pursuit of Nappyness


~ : ~ : ~ : ~ : ~ : ~
This book was sent to me for free by the author to review and give away 🙂