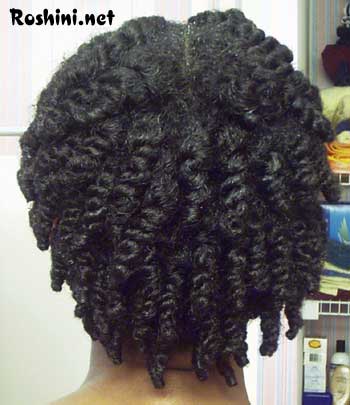 O.k. I'm 6 days into these twists and they are doing well. I slathered my twists with Dove conditioner (smoothing them downward), but on a conditioner cap, then a satin scarf and went to bed. I just rinsed them in the shower and they are like butta…butta ya'll!

Lessons Learned:
1. My fat twists are cute but don't last as long…the top twists are actually unraveled…but I don't care.
2. My fat twists get frizzy by the 3rd day.
3. Just the act of doing this site encourages me so much ….ya'll don't even know. I mean, look at my hair ya'll and all this time I thought I was cursed with hard dry ugly hair. What a crock…I'm so happy I'm doing this

(being natural).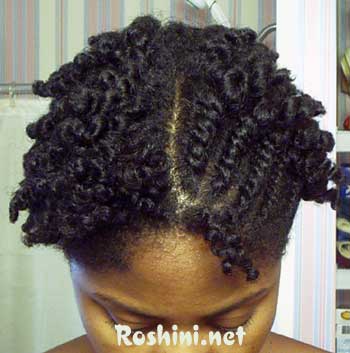 O.k., this is 2 days later w/ the twists unraveled (except the flat twists). Can you even tell the difference???
I'm gonna rinse these and try to get a couple three days out of um…stay tuned…

Lesson Learned:
1. Creamy Set produces extremely defined twistouts BUT leaves little tiny flakes in my hair….bad bad product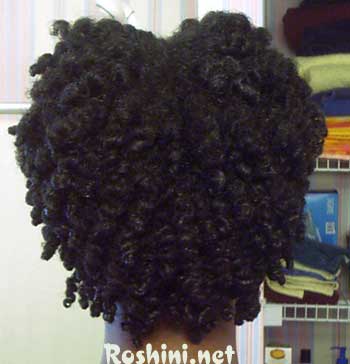 I rinsed AFTER I undid the twists and I really like how the top shrunk up and gave my hair some shape.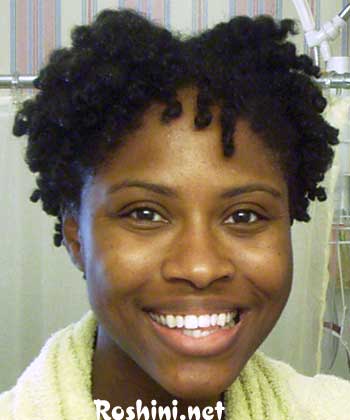 Here's the front and I'm really liking this…now I just need to find somewhere to go *ha*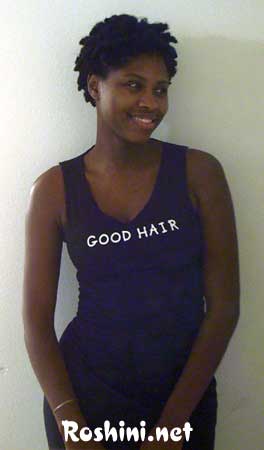 Here I am the next day after rinsing the twistout again.
I made a tank top and wanted to show it off to ya'll

Here's how I did it:
| | |
| --- | --- |
| 1. | Purchase tee shirt and fuzzy iron-on letters from Michaels |
| 2. | Wash and dry tee shirt |
| 3. | Cut out letters and iron-on following instructions on package |
| 4. | Wear as is or cut off sleeves and neck to make cute tank top! |
| 5. | Go be cute w/ your good hair self! |
~ edited ~


my boyfriend says the image looks like I put the words 'GOOD HAIR' on in photoshop…I promise you, they are on the shirt


I never thought I'd get the reactions I did to this shirt…here's what I noticed: Men: Don't seem to care much, especially black men…their reaction to me was the same. White women seemed confused, I think they thought it meant I was having a good hair day. Black women would look at my hair, look at my shirt then look at the ground quickly

. I was so sad about that as it was not what I expected.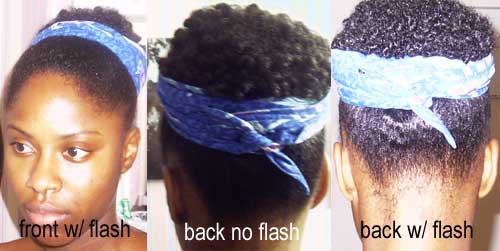 This is my last set of pictures of this style and derivatives. I'm now wearing the twistout up in a puff. I used Fantasia® Ice to slick the puff up. I wanted to see how it worked. The top of the container says 'tap and feel the shine vibrations

' so I did and I must say, my puff was nice, shiney and held up (yet not vibrating).