I logged on today and noticed that my Google Friend Connect Widget in the side bar had a message letting me know that Google Friend Connect will soon be retired.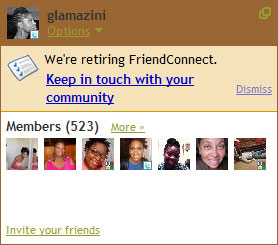 Unfortunately this will affect the 523 of you that have joined my site via Google Friend connect. If I can figure out how to send everyone who has joined with Friend Connect an email I will do so. Until then to make sure your updates are uninterrupted I suggest you subscribe to my RSS Feed.
Here's how:
Click on this link: http://feeds.feedburner.com/glamazini or on the RSS icon to the right
In the Subscribe Now! box, choose one of the web-based news readers to follow my blog in (I personally use the Google reader for all my blogs and love it!)

Log into your reader and never miss an update on my blog 😀
Hope this helps! Off to see if I can email everyone on Friend Connect and let ya'll know.  
Until next time Glam Fam I wish you
Life, Liberty & The Pursuit of Nappyness,

@Glamazini | facebook.com/IamGlamazini | youtube.com/Glamazini | Google+
~~~~~~
Disclosure: For more information about the Glamazini.com disclosure policy, click here.