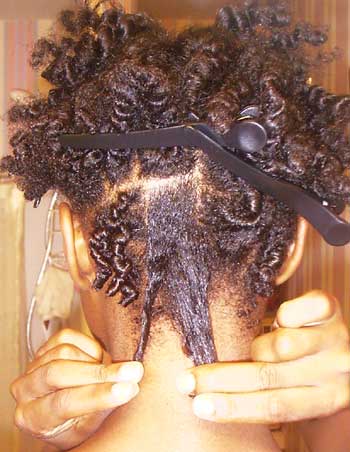 Here I am doing my first trim in over 9 months! I honestly didn't think I needed to trim my hair and couldn't understand why some women trim every 3 months. Now I understand that I need to be on such a schedule…or atleast every 6 months. My ends are crispy and I had to get rid of about an inch all around. You live and you learn

I took each fat twist down one by one like so.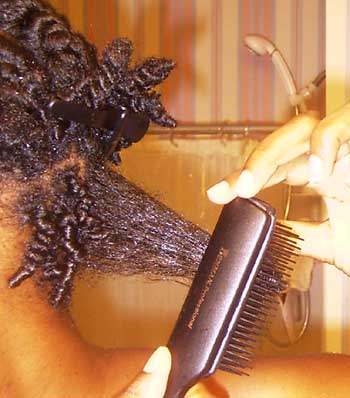 I sprayed the section with water and cleared it out from end to root with my Denman brush. It's very important that you start from the ends and work to the root so you don't pull and break your hair.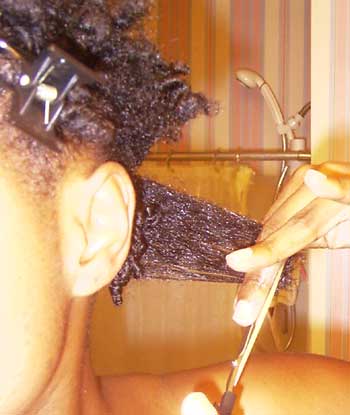 I then took the section and smoothed it in between 2 fingers. When I felt crunchiness I took the scissors and cut all hair below my fingers, using them as a guide. This amounted to about 1 inch all around. When done trimming I styled each section then moved on to the next section.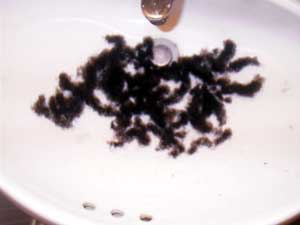 Here's a picture of all the hair that was left after I was totally completed. Like I said, it was about an inch all around. I used my shears that I bought last year to cut out my relaxer. I only use these scissors for hair…that is very very important. Your hair is very sensitive so make sure your hair scissors are only used to cut hair.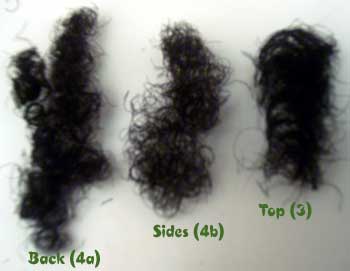 This is a great great great picture to illustrate my 3 different textures*.
1) The first set of ends are from the back of my hair…very loopy and coily.
2) The second set are from the sides of my hair…very dry and zig-zaggy.
3) The last set are from the top of my hair…very wirey and wavey.
*Here's more information about my textures.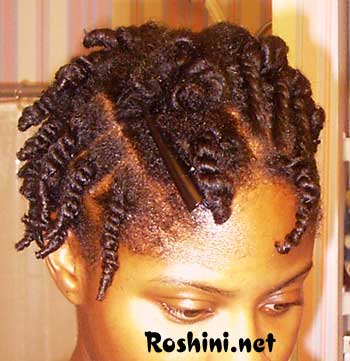 Here I am almost finished with my do. I was gonna do all twists … then I decided to do cornrows in the front … the cornrows became flattwists … then I only did one side with flat twists….oh the joy of styling!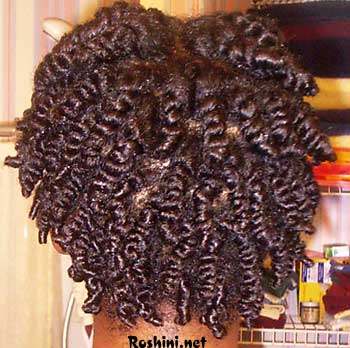 I'm done! My hair is trimmed and happy. The ends are noticably softer and I made sure to baby them while doing this style.
I did not part in the back.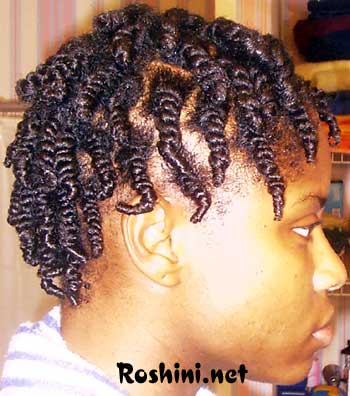 Here's the right side. Why do some of the ends always go every-whicha-way? Anyhoo, I'm gonna rinse these babies tomorrow so they can start to plump and, hopefully, fill in…woohoo!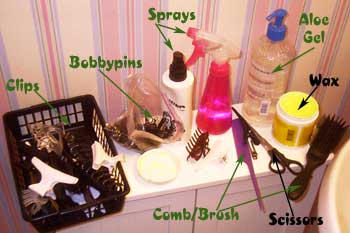 Oooh, before I forget, here's my 'arsenal' used to do this style (and the trim). Clockwise starting at noon:
| | |
| --- | --- |
| Sprays: | I used my shea butter and water mixed (warmed up) and water. |
| Aloe gel: | I used this quite liberally to do the twists and I really liked it. Its gave great shine and it is drying set but not hard. |
| Wax: | I needed this for the ends of the front twists because my hair is so wirey. It hold that hair well and is very light. I love this stuff! |
| Scissors: | These were bought at Sally's and are only used for cutting hair. |
| Comb/Brush: | The rat-tailed comb was used for parting the front of my hair. The brush was used for clearing out my hair. |
| Clips: | My good old basket-o-clips used for holding my hair out of the way as I style and trim |
| Bobbypins: | I used bobbypins to pin down the bases of my flattwists until they set. I will remove them tomorrow |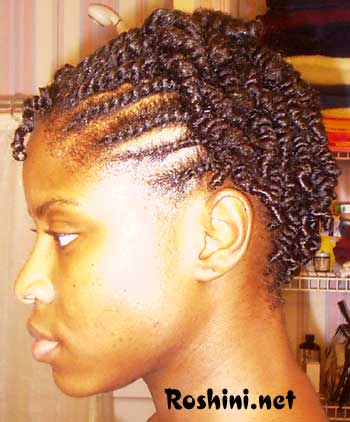 O.k. so here's the left side. I used bobbypins to hold the base of the flattwists until they dry but you can't even see them. Eitherway, I'm gonna take them out tomorrow….oh, and I put a little twist in the front.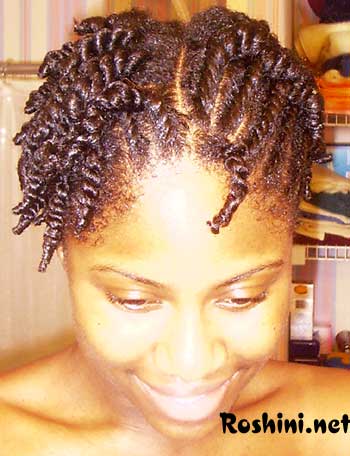 O.k. check me out. I put 2 half-flat twists in the front of the other side and was just going wild….wild I tell ya! These took me 5 hours to do in total, a great improvement from the last time (six hours). I was watching TV, taking breaks (lots), eating, and trimming my hair in those 5 hours….I'm doing better! I'm really going for 2 weeks on these, even if I have to redo the flattwists.

Lessons Learned:
1. Make sure to do the ends well. Put some moisturizer on your fingers and twirl the ends several times. This will make your twists last longer
2. If you are not hyper caring with your ends by protecting them and moisturizing you probably have to trim more often than you think.