Listen, I'm hairy let's get to the post. 

I (we) have been going in on all manner of hair removal techniques.  In this post we talked about razors and depilatory creams, in this post we talked about waxing and clippers, then in this post we chatted about threading and tweezing.  Be sure to read the comments, they are chocked full of good information! This is my final post in this series, a catch-all for other methods I could think of. Some I've used, most I haven't. GO!
Electrolysis

My Experience:
I've had electrolysis done twice in my life.  During college I had a gajillion sessions on my jaw, a true splurge at the time, then again maybe 5 years ago.  The first go round was successful I suppose, but 15 years later all the hair has grown back -or- been replaced with new hair, I can't really tell the difference.  I remember the sessions in the 90s being painful and annoying, something about me holding an electrode and the nice lady sticking a needle in my hair follicles one-by-one and zapping me.
Yes, I paid someone to do that.
I don't recall much about the 2nd "round" of sessions if you can even call them that. I went in, she did what she did, and I decided after 2 sessions I wasn't up for it again so I never went back.
Pros:
Removes hair "permenantly" or at least greatly diminishes it.
Cons:
Hurts (in my experience) – Expensive – Time-consuming:  you have to have multiple consistent sessions and even then, over time, the hair may come back (as it did for me)
I don't have any recommendations because my experience was so long ago.
Do you have any experience with electrolysis? Which body parts have you had it done on? Any tips or information you'd like to share?
Prescription Hair Reducers

In the comments of a previous post, reader BigTickles (LOL I love that name) asked if I've ever used a product called Vaniqa*. I had never heard of it, so I looked it up online and found out it is a "prescription product approved by the FDA and clinically proven to reduce the growth of unwanted facial hair in women."
Interesting.
Apparently this product (cream?) is proven to slow hair growth with 4 to 8 weeks of use twice a day.  Reader Julie Neboh commented that she had actually used Vaniqa and it was "$75 per tube" (da heckity?!) and "the tube is…1.5 ounces" (da double heckity?!). She went on to say that, for the price, she didn't see the value.
My interest is still peaked by this product, even though the price is shocking to me (and I'm gonna just assume that insurance is not going to cover any of it).
Do you have any experience with Vaniqa? Any tips you care to share?
*Both Big Tickles and Julie Neboh spelled it "Vaniqua" but it's actually "Vaniqa". I too want to keep typing it as "Vaniqua" and pronouncing it like van-EEE-kwa (you know, the girl up the street that does the bomb extension braids on her grandmama's stoop and always smells like Dax and your Strawberry shortcake doll from 3rd grade *heh*).  It's actually pronounced VAN-ih-ka … moving right along…
Epilators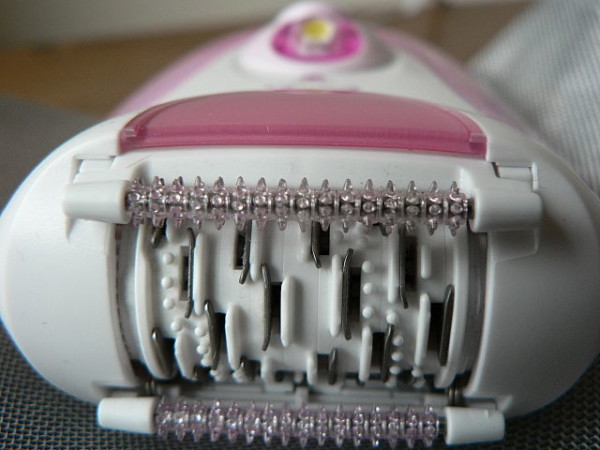 Once again, in the comments of this post (I told ya'll to read the comments), reader Angie R mentioned that she uses an epilator to remove hair from her underarms.  An epilator is "an electrical device used to remove hair by mechanically grasping multiple hairs simultaneously and pulling them out." She went on to say that "it hurts like he#$ but the result is smooth, hairless pits without razor burn or ingrowns".
Once again my curiosity was peaked.
I remember when the ole school Epilady came out. I was in high school (20 years ago … don't judge) and my cousin had one, so I tried it one good time and almost passed clear out from the sheer pain of the situation.
It. hurt.
I asked Angie R. which brand she uses and she expounded saying she has  "two epilators – Braun Silk Epil and Emjoi. The Braun is slower, less tweezers but more thorough. The Emjoi is faster can break the hairs off right below the surface when going over the extra hairy areas."  She added that "if you can stand waxing, you should be able to handle an epilator. They are not the weapons of mass destruction that they were in our moms' day."
Interesting indeed.
I must admit that the Vaniqa and epilators have my interest SUPER peaked. I made a bee line to Sephora to see what an epilator even looked like in person, but all they offer is this Bliss trimmer with a removable epilator head.
Also, I tweeted about epilators and the general consensus was they hurt like the devil planned.  @TheRealMrsLC was nice enough to forward me this YouTube video review of the Emjoi Emagine epilator.
Edited Sunday August 21th to add:
I ventured into Ulta yesterday to see if they had epilators (and Bliss products) and they had both! Their epilator selection is huge and I did see several Emjoi products that peaked my interest (didn't see the Emagine, only the Divine).  I'm definitely going to grab a smaller Emjoi epilator to try out on my face and see if I can deal. If so, I'm going all in for the Emagine on my Christmas list.  Woohoo! 
Do you have any experience with epilators? Any tips you care to share?
Thermodynamic Hair Removers

I notice the ad for No!No! keeps popping up in the right column of my blog. I had no idea what it is until I (ironically) turned on the TV a few nights ago and caught their infomercial. I figured since I was in the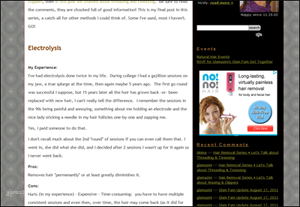 throws of these hair removal posts I would watch the entire thing and report back (see I love ya'll and I do research and stuff).  Apparently No!No! uses a thermodynamic wire to transmit heat to the hair, which then separates the hair bulb from the shaft and crystallizes the hair itself. The last step is to buff the crystallized hair off and voila! you have smooth hairless skin with "no pulling, tearing or scraping".
Sounds good.
The infomercial made this thing sound like Jesus himself started the company, but that's their job so I kept doing my research.  I hopped on over to Amazon.com to read reviews of real people and my hopes were dashed as quickly as they were … whatever the opposite of dashed is. Click here to read the reviews. The general consensus is No!No! is a no no. 

Do you have any experience with No!No!? Do tell.
aaaaand last up
My girl DeVaria, aka, LadyFromDatBoot mentioned PFB Vanish in the comments of this post as comparable product to Tend Skin. Reader Shebadgirl74 came in with the AMEN on PFB as well. I quickly went to the PFB Vanish website to investigate. It is a "moisturizing serum that helps calm irritations caused by hair removal" and comes in a roll-on form that DeVaria says she loves.  It is "sold in prestigious salons and doctor's offices throughout the United States" and it seems that you can purchase it directly from the PFB Vanish website so check there for more information.
I'm done. 

I really enjoyed this series and your commentary and sharing. I hope you learned something, I know I did. If I learn more in my quest to be hairless *ha* I will definitely share it with you all.
May your hair removal be painless and permanent. Go with God.
Until next time Glam Fam I wish you
Life, Liberty & The Pursuit of Nappyness,

@Glamazini | facebook.com/IamGlamazini | youtube.com/Glamazini | Google+