Soooo have I mentioned that I'm hairy? 

We've been having the best conversation about removing unwanted body hair.  In this post we talked about razors and depilatory creams, and in this post we went in on waxing and clippers.  Be sure to read the comments as well as the posts, you will learn a lot. Now it's time to continue the chatter about threading and tweezing. Let's do this:
Threading
My Experience:
I love threading my eyebrows, I been getting them done for years now.  I find that threaders tend to be the best eyebrow shapers I've ever encountered.  I recently started getting my chin and jaw threaded as well, but just (yesterday) decided to stop for the following reasons:
1. Each time I go (approximately every 2 weeks) it hurts more than the last time. Strange.
2. The hair on my chin and jaw is growing back WAY too quickly to make threading the viable option.  I can only get 1 good week of hairlessness then BAM! I have a beard, and if remember from the previous posts beard + ini = #femalefail
3. The hairs grows back with blunt tips, which makes me suspect that they aren't being pulled from the root but rather broken off. This would also explain why I'm only getting 1 week out the deal.  I've tried a couple different threaders with the same results.
4. Last time the chick nicked me! Ouch! Not once but multiple times.  I came home bleeding (true story). I know I'm hairy but dang, do you have to physically abuse my face just to remove the fur? Be gentle!  LOL
I begun getting my chin and jaw threaded as an alternative to waxing (which I did for years), so now I need to find a different option for that part of my face because threading is not cutting it … literally. #womp  I will continue to get my brows threaded because it is perfection each time, and lasts 2-3 weeks with no issue.  I've heard threading the mustache is the WORST PAIN EVER, but since I've never tried it I cannot verify this claim. I can't imagine it could hurt worse than waxing your underarms and bikini area (both of which feel like you're being stabbed to death).  I wouldn't call threading "painfree", but it's quick and the results are great for my brows.
Pros:
Quick – Threaders are generally the best eyebrow shapers around –  Affordable if you do it yourself – Can last 2-3 weeks
Cons:
Difficult to master if you want to do it yourself (although I know some people who have) – You can get nicked – Can be painful depending on body part (but it's quick pain) – If the hairs aren't being pulled and just cut, they can grow back too quickly
I Recommend:
Finding a great threader/brow-shaper and not switching up
Get threaded on a schedule, say every 2-3 weeks
Do you have any experience with threading? Any tips you can share? Which body parts do you get threaded?
Tweezing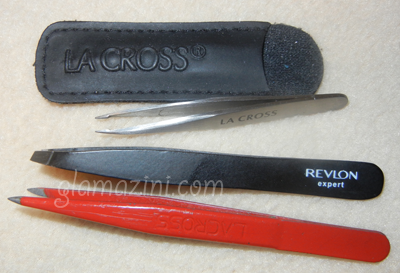 My Experience:
I am obsessed with tweezers.
My favorite tweezers are a red pointed-tip pair by Lacross (pictured). Recently I purchased a slanted tip pair by Revlon (also pictured) because everyone raved about it, but I still prefer my red Lacross pair.  I use my tweezers for search-and-destroy missions in between all the other hair removal sessions previously described, mostly on my brows, chin and jaw and even the occasional chest hair (yeah I said it, deal.)  I don't tweeze any other area because that hurts like the dickens! No.
Pros:
Quick – Easy – Affordable – Hair grows back slowly – Perfect for eradicating that one flippin hair that is just disrespectfully mocking your femininity.
Cons:
Not good for large areas (unless you have that kind of patience) – Hair grows back slowly with pointed tip so it's softer to the touch – Good for mobile hair removal (I have mini tweezers in my bag at all times (pictured)) –  Potential for ingrown hairs so use a product like Tend Skin to combat that
I Recommend:

Tweeze after you shower so the hair is soft and pores are open
Find a pair of tweezers you like and sticking with them
Hold your skin taunt and pull the hair quickly with the grain of growth
Do you have any experience with tweezing? Any tips you care to share?
Seriously, can ya'll believe what I (we) go through to get rid of all this body hair?! I swear one year I'm gonna just really go au naturale and see what happens!
Ok I'm not going to do that. 

Stay tuned for electrolysis, epilators and prescription creams.
Until next time Glam Fam I wish you
Life, Liberty & The Pursuit of Nappyness,

@Glamazini | facebook.com/IamGlamazini | youtube.com/Glamazini | Google+