As I said, I'm hairy. 

In my last post we had a great discussion about razors and depilatory creams.  I know I learned some things by reading the comments, thanks to you all!  Now it's time to chitty chat about waxing and clippers. Here goes nuthin:
Waxing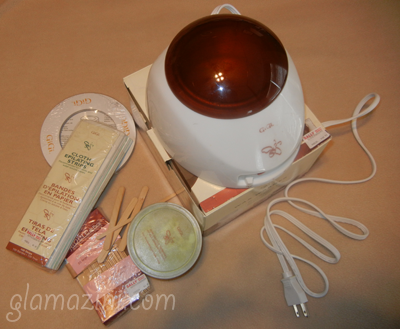 My Experience:
I have waxed my eyebrows, legs, chin, jaw, underarm and bikini area at some point in my lifetime. Most consistently I had my brows done professionally, and for some time, I had a standing appointment for my chin & jaw (because I'm a woman and that is a beard #womp).
I've had the aforementioned areas waxed professionally at some point and done some of it at home myself (mostly chin and jaw). I recently stopped waxing my face because I heard all the pulling could contribute to looser skin and premature aging.  I honestly don't know if that's true but a girl can't be too careful at 35 ("little years" as my mother says). I still have all my waxing tools (pictured above) if I need them, but I am looking for a different option with less tension involved. Waxing my brows, legs, chin and jaw did not hurt. Waxing my underarms and bikini area hurt like the devil intended *OMG OUCH*.
Pros:
Quick – New hairs grow back slowly with a pointed tip so they are soft to the touch (generally a couple weeks, sometimes 1 for me because of my growth rate *sigh*) –  Affordable if you do it yourself – Certain body parts can be painless
Cons:
May promote early aging by constant pulling on the skin – Messy if you do it yourself – Certain body parts can hurt like HADES – Potential for ingrown hairs so use a product like Tend Skin to combat.
I Recommend:
Having a standing appointment with a professional.  Waxing on a schedule means less hair and less pain, every 2-3 weeks is always a good place to start until you learn your growth rate.
Using the same professional. They will learn your body and hair, and be able to take care of you in a specialized way.
If you're doing it yourself

spread newspaper over your bathroom counter to contain the mess
cut strips down to an appropriate size for the body part to be waxed
use a new make up puff to put baby powder on the target area prior to waxing to absorb oil
After applying your wax (I like medium heat because max burns me), hold skin taunt & press the strip evenly against the area letting it dry a little longer than you think you need to for maximum hair annihilation
RIP! the strip off QUICKLY! DO NOT be a sissypants and hesitate! … then press area with hand to dampen any pain
use baby oil to remove/clean excess wax from your face or counter or wherever you happened to splatter excess wax when you RIPPED! that strip off and almost passed out from the shock
Use a product like Tend Skin for 3-5 days afterward to combat ingrown hairs.
Do you have any experience with waxing? Any tips you can share?
Electric & Battery-Powered Clippers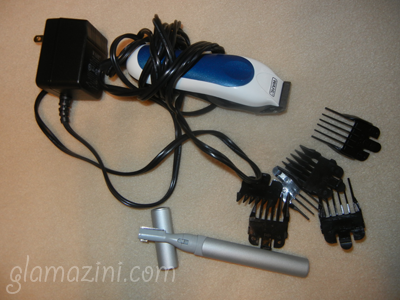 My Experience:
This category is relatively new to me.  I have 2 clippers that I use regularly: one is a small battery-powered personal trimmer (pictured) that I use it to remove my mustache (once again because I am female and having a mustache is a problem #ughity). A note on the stache:  In the past few years I've noticed that sucka tryna show up all big and bold on my upper lip and I will NOT GO DOWN WITHOUT A FIGHT!  One day I asked a friend who had her mustache "miraculously disappear" what she was using.  She directed me to Walgreens where I found the Remington personal trimmer that I use now.  She later said "wait … what mustache?" HA!  My 2nd tool is a mini clipper by Wahl (also pictured) that I really like. If you go to the Wahl website you'll see they have even more specialized tools just for women. I keep the garden groomed with that sucka (TMI but it will help somebody, keep your gardens groomed ladies, it's too hot for all that, quit playin and get it together. Mow the lawn. PSA over.).
Pros:
Quick – Easy – Affordable – No  chance of ingrowns if you are not trimming down to the skin
Cons:
Hair grows back quickly with blunt tip so can be rough to the touch – Messy
I Recommend:

A small personal trimmer is great for quickly removing facial hair in a rush or touch ups between visits to a pro. You can use them on your brows and face.
I haven't had an issue with ingrowns using the facial trimmer but if you do, try going with the grain of your hair grown and/or using a product like Tend Skin combat that.
Using the guards that come with your mini clipper make it almost foolproof.  I tried a rechargeable battery-powered mini-clipper and prefer the electical one because they don't lose power if you forget to charge them (which I always did).
Always clean your trimmer/clipper blade with a brush then and oil after use to keep it in tip top running condition.
Store your trimmer/clipper with the guard or cover on when not in use.
Do you have any experience with electric or battery-powered clippers? Any tips you care to share?
A quick note about Tend Skin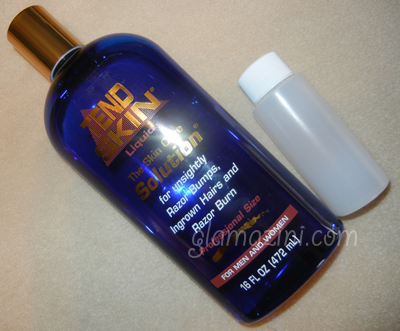 Before I go, I realized I've been blowing up Tend Skin in these posts like I'm on the payroll (which I'm not).  I can't help it, the product just works.  You use it to prevent razor bumps, ingrown hairs and razor burn. How you ask? It slows down your skin growing back so the hair has a chan
ce to come out of the skin before getting trapped in there and causing a bump.  I use it often (hence the huge bottle pictured) and like to put it in a smaller bottle to keep on my countertop (also pictured).  I can always tell when I forget to use it.
Stay tuned for tweezing, threading, electrolysis and whatever other hair removal situation I can recall that I've subjected my hairy self too.
Until next time Glam Fam I wish you
Life, Liberty & The Pursuit of Nappyness,

@Glamazini | facebook.com/IamGlamazini | youtube.com/Glamazini | Google+