Did I do this interview with Lolita a year and three months ago? Yes.
Am I just (finding) posting it? Yes.
Judge me, I dare ya!


ehem …
I jumped on instant messenger with my friend Lolita to chat about being natural. Enjoy!

Lolita at Renevatio 2009. (image: lance omar thurman photography)
Roshini: Alright let's begin!

Thanks for doing this.
Lolita: No problem.
Roshini: How long have you been natural?
Lolita: I haven't really kept good records but I believe it's been about 1 1/2 years (almost 3 years at time of posting). My girlfriend's wedding was my official "coming out" party. I actually went into the event with a blow- dried, straight style. By the time we finished sweating and grooving, I had officially been christened with my first fro


Lolita with relaxed hair in 2006 at my bridal shower. (image: glamazini)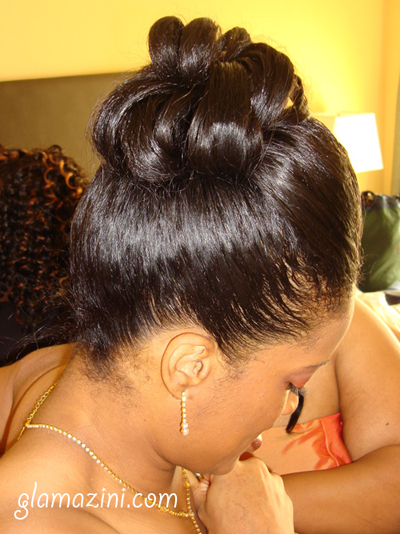 2007 with freshly relaxed hair in an updo. (image: glamazini)
Roshini: Why did you stop relaxing your hair?
Lolita: There were actually multiple reasons. After I had children, I noticed a change in the way my hair and scalp responded to the relaxing process. It seemed to leave my hair even straighter and it took longer for my follicles to "recover". Though I have a full head of hair, women on my mom's side have a history of thinning in the crown and I began to feel like my hair texture was changing and becoming thinner. I wanted to do everything possible to preserve my hair and scalp health. Secondly, I was curious to rediscover my natural texture and try to recover some of the "fullness" I'd lost.
Roshini: What do you mean by "my follicles to recover"?
Lolita: Every time I'd a get a relaxer, my hair would be bone straight for 2- 3 weeks. After that, it was start to recover some of the texture lost during the chemical process. After I had my girls, it seemed that I'd go 4- 6 weeks before that recovery process began and I never liked my hair when it was in the "bone straight" phase.
Roshini: Interesting, I've never heard anyone say that before. Do you remember when you got your first relaxer?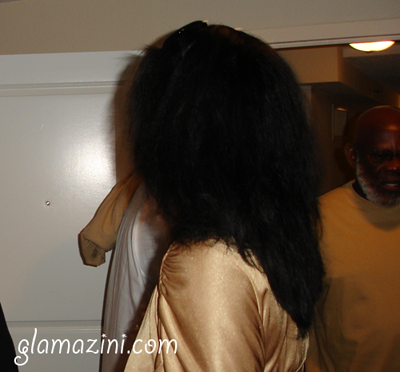 2006 with relaxed hair that had "recovered" and gotten big like she liked it.
(image: glamazini)
Lolita: Yes. My mom didn't allow me to apply chemicals to my hair until my sophomore year in high school.
Roshini: Didn't "allow you to" meaning you wanted to but she wouldn't let you?
Lolita: EXACTLY.
Roshini: So what was the 1st relaxer experience like for you?
Lolita: It was actually very exciting because for years I had struggle with how to manage my hair; and so had my mom. To put it lightly, I had a TON.
Roshini: You still do.

Lolita: lol
Roshini: So what's the plan w/ your daughter's hair? Same as your mom's?
Lolita: For me, relaxing meant manageability and acceptance because I was always teased about my full crown. I will educate my girls and let them explore the beauty and style possibilities of natural hair. There are so many learned stylists and options that just seemed unavailable in my time … there's no reason for them to feel like relaxer = freedom.
Roshini: What if they want to relax?
Lolita: That will be a choice I allow them to make for themselves but they will be educated in that choice.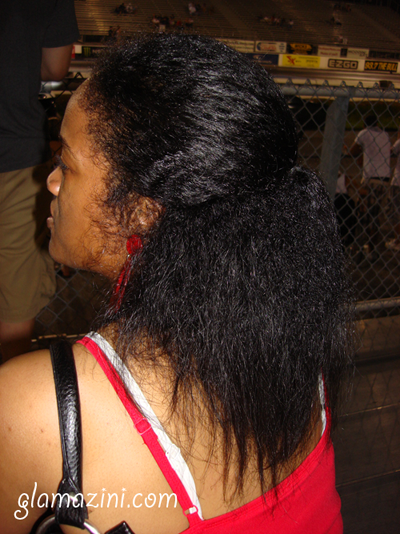 2008 transitioning to relaxer; this blowdried style was no match for August's humidy.
(image: glamazini)
Roshini: Do your daughters like your hair?
Lolita: They LOVE my hair! I recently had it blowed straight and they liked it for a few days then they were like "Mommy, I like your other hair better".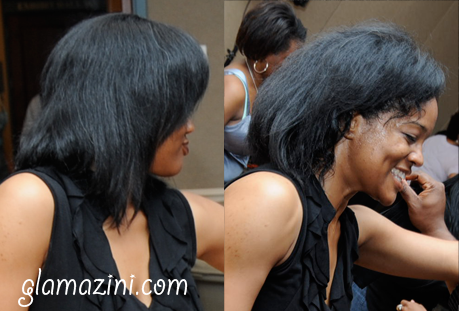 Before and after at the aforementioned girlfriend's wedding where she danced her
blowdried hair into a fro. (image: lance omar thurman photography)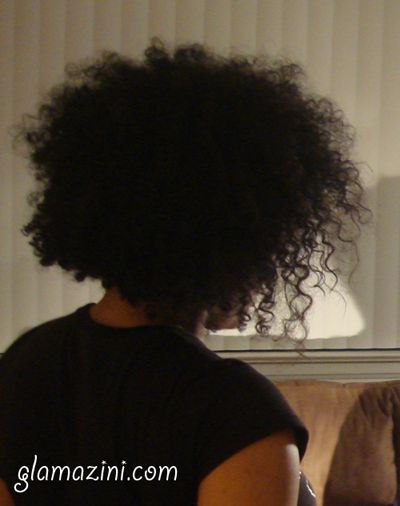 Soon after in 2009 with her signature wash-n-wear. (image: glamazini)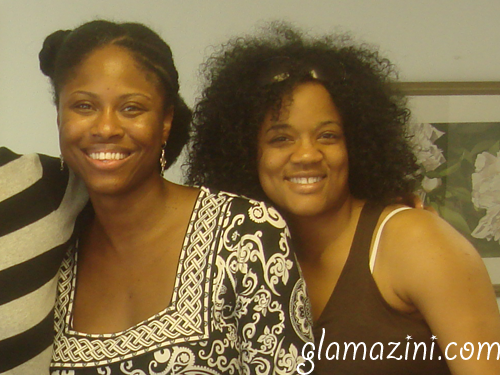 Roshini: lol. How does your husband feel about your natural hair?
Lolita: He loves it, he had the same feedback.
Roshini span> Was it relaxed when he met you?
Lolita: Silky straight.

I would like to explore more style options for myself just to keep it interesting though.
Roshini: On your natural hair?
Lolita: Yes
Roshini: What are your favorite styles?
Lolita: I love curls and coils. I also like the looks that allow me to sport my length.
Roshini: How do you typically wear your hair?
Lolita: Normally, I wear a wash and wear..my finger- styled fro. It showcases my natural curl pattern.

2009 with her signature wash-n-wear style. (image: urban tableau photography)
Roshini: Which is huge (and great to play with during the sermon at church

)
Lolita: LOL The bigger, the better.
Roshini: What products do you use? Any favorites?
Lolita: Honestly, I don't use a lot of product. My hair likes the natural hair care shampoo & conditioner by Pantene. If I've just washed my hair, I simply apply a shea butter moisturizer and finger set it. Day to day, I just sprinkle it with water and apply the same moisturizer as needed. I've toyed with Leave- In conditioners like Mixed Chicks, but it seemed to make my curl pattern tighter and was a little drying. Periodically, I'll use a moisturizing mousse and rod set my hair from dry in big sections for a different curl pattern. I'd like to find a daily leave- in to incorporate in my routine, but I'm still figuring out what my hair likes. (Lately Lo has been having great results with Deva Curl shampoo, conditioner and leave in)
Roshini: How often do you wash your hair?
Lolita: Depends on what I've been "doing" to it…ranges every 1- 2 weeks.
Roshini: What was the hardest thing to deal with when you first decided to stop relaxing your hair?
Lolita: Changing my thinking about beauty and not being affected by the comments of others who have a negative mindset about natural beauty.
Roshini: What negative comments have you gotten?
Lolita: During my conversion it ranged from "but your hair is so long and pretty..why would you want to do that? " to…"natural? what is THAT going to look like? You're just going to wear braids for the rest of your life." Now that I'm fabulously fro'd out, those comments have ceased, lol. I still get some slightly fearful/confused glances from "some people" from time to time. Some ladies of "other" descent are in shock and awe when I blow it out and they see my length. I get well-meaning, silly comments like "well, you have beautiful hair! It's so long and pretty..0_ 0" It's the qualifiers like the "well" that get me.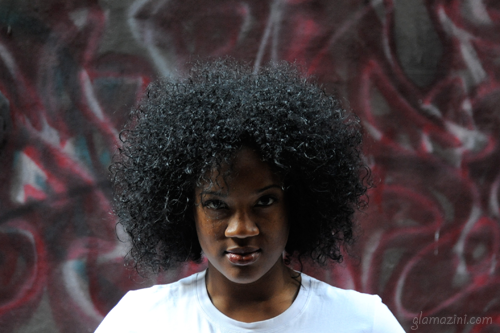 Lolita in 2009. (image: lance omar thurman photography)
Roshini: lol What about positive comments? … besides me

Lolita: HA! I honestly get tons of compliments on a daily basis..the majority are from sisters, both natural and relaxed; lots of "appreciative" glances from men (from all cultures, lol) and a lot of "what do you do to your hair? " or "how'd you get your hair to do that? " I recently had a career change and just today, a young woman stopped me as I was walking to my car and said.."I heard your hair is real…is it natural? " When I replied yes, she said, "I'm going natural and right now I'm wearing braids because oI have the TWA..how long did it it take you to get there? " She wanted me to do a consult in the middle of the parking lot, lol..but it felt good to be able to share my experience.
Roshini: LOL … an out the da trunk consult!
Lolita: RIGHT! What I really heard was the "your hair was real" part, lol. That really got me.
Roshini: I've gotten that before … and "can I touch it" a lot too.
Lolita: RIGHT, that too.
Roshini: What's the best part of being natural?
Lolita: FREEDOM. I wash and go and I'm free to be. My fro is actually quite empowering ;0) it's unique..like me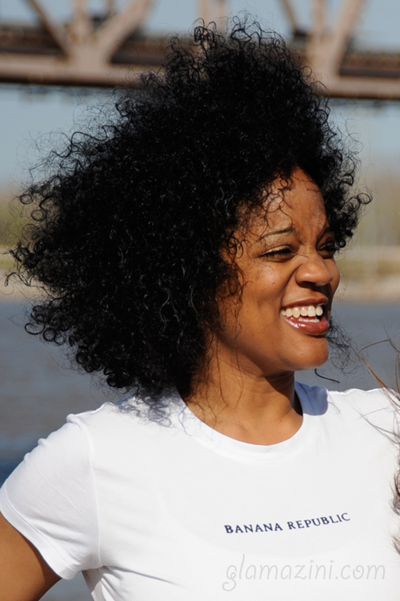 Lolita in 2009. (image: lance omar thurman photography)
Roshini: Has your hair every affected your employment?
Lolita: I can't say that it has; now let me say that I actually transitioned from relaxed to natural at my previous place of employment. Though I got some confused stares from my boss's boss during the transition, he eventually settled into it. I must say, I had an excellent relationship with my direct and middle management team. However, when we had site visits from the "uppers" (one male and one female, who both happened to be African Americans) I felt the male African American responded very differently to the relaxed me vs. the natural me.
If I had to interpret facial expressions and body language, the relaxed me would have had a better chance at the promotion my direct leadership team was pushing for.
Roshini: Really? That's unfortunate.
Lolita: I thought so…
Roshini: Has being natural changed you? If so, how?
Lolita: Definitely in the sense that it has changed my self-perception regarding beauty. I now realize that I have more than one face of beauty and I can pass that on to my daughters. I think I also feel more empowered to separate my self-perception from the perception of others. I don't allow others to define me or what beauty means as it relates to Lolita. (you know you're really feeling yourself when you start talking in the third person, lol)
Roshini: Wow

Lolita:

Roshini: If you could change anything about your natural experience what would it be?
Lolita: I wish more stylists were better stocked and better educated to support natural hair care. I've found a few wonderful natural stylists in St. Louis but they are too few and far between.
Roshini: Truth. What advice would you give to someone who is considering going natural?
Lolita: Persevere and DON'T abort your process. It does take commitment to make the transition, but in the end it is worth it…learn YOUR hair and work with it.
Roshini: That's good. Describe your hair in 1 sentence or less.
Lolita: Fabulously fro'd out frock.
Roshini: We've come to the end…any final thoughts you want to share?
Lolita: Yes. Sisters…I want to encourage you … you are empowered to be beautiful and feel beautiful regardless of your hairstyle choice; always look for resources and support and Glamazini is one of the best! Thank you, Ini for leading me through my hair transition! I love you! *mwah*
Roshini:

Lolita: Wha?
Roshini: Thanks for doing this Loli

Lolita: My pleasure! It was fun! Thanks for asking.

Lolita & I in 2009 (above). (image: glamazini)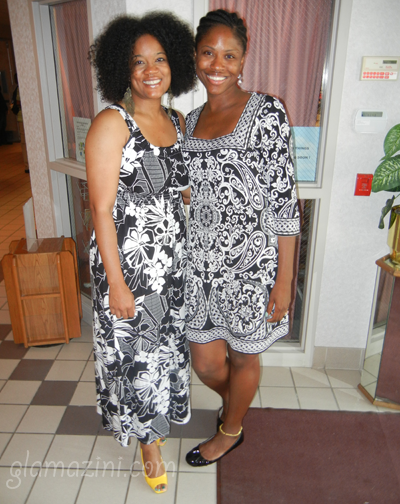 Lolita & I, June 2011 (no we don't plan
to dress alike … we just think alike! 😀 ). (image: glamazini)
Until next time Glam Fam I wish you
Life, Liberty & The Pursuit of Nappyness,