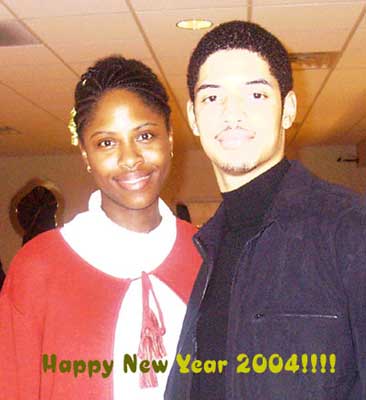 HAPPY NEW YEAR!!!

Well, I made it to 2004. This was a rough year with a lot of changes for me but, Thanks be to God, I made it.
Here's my boyfriend and I at our church* in Missouri right after the New Year's service. I added a piece of gold curling ribbon left over from Christmas to my hair for the night

Resolutions: I really don't do resolutions anymore, so I'll just say to continue to seek God first
*I am a member of Victory Christian Outreach Church in St. Louis Missouri. The pastors are Apostles Lee and Doris Rice. It is a wonderful, word-filled church with great pastors, a loving spirit, an amazing music ministry and a good place to go, participate and grow. If you are ever in the area you should visit. 7091 Olive Blvd. University City, MO 63130; (314) 726-2009 http://www.vcoc.info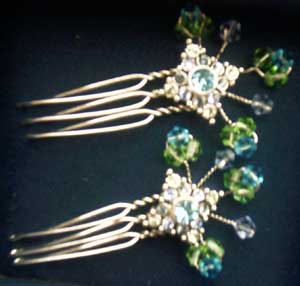 These were actually a Christmas gift from my boyfriend but I decided to show them here. Beaded hair combs by Monet. Very nice.