Lolita says I can't title this post what I was planning to title it 

BUT I'm still gonna post the little flasher dude & only she will get the joke

YOU DON'T OWN ME!!!

(& yes I took my medication)
Anythoo…
As everyone on planet earth (and by

earth I mean the interwebs) knows Sprint debuted the first 4G smartphone, its HTC EVO, on June 4, 2010 to the overwhelming JOY of many of us (and by

us I mean me, Adima & the rest of ya'll).
It boast all sorts of goodies like:
Mobile hotspot capability for up to eight Wi-Fi devices
2 cameras: an 8.0 megapixel auto-focus camera with HD-capable video camcorder & a forward-facing 1.3 megapixel camera
Video chat via Qik
Simultaneous voice and data
Ability to easily watch videos with the device on an HDTV via an HDMI cable (sold separately)
A huge 4.3-inch touchscreen
Sleek design
Android platform (with hella apps … yes hella which = 35,000+)
4G and Wi-Fi
A built-in kickstand to make video watching easier
Pinch-to-zoom and automatic text reflowing
Friend Stream to get your social media life in check
A" polite" ringer, which quiets the ringing phone once lifted up and mutes it when placed face down on a flat surface
…and a whole bunch (hella) more!

Needless to say I was s.t.o.k.e.d. when hubby called me downstairs yesterday, told me to close my eyes and walked me over to this sucka sitting on the kitchen counter: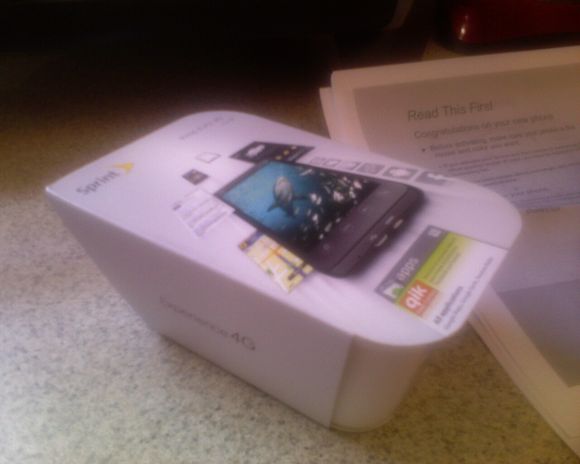 "

"
I exclaimed (not really but isn't that a cute smilie?) and then I proceeded to do a silly happy dance akin to a mix between slipping in the shower and some derivative tribal dance my father does when he's goofing off

Antyhoo….
After allowing my viscera to have free reign reaction-wise (which also included squawking, clapping and heavy grinning that made my cheeks hurt) I decided to start snapping photos of this puppy as I opened it because I know when I'm chomping at the bit to see a product online nothing makes me love someone more than lots and lots and lots (hella) pictures.
So here we go:
The packaging was interesting and unexpected…here's a shot from above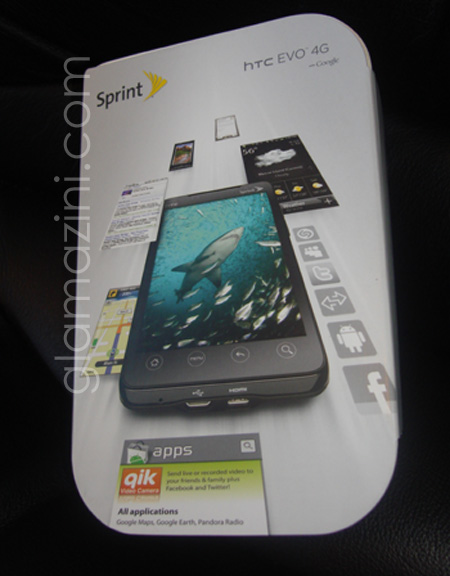 From the side it resembles the container tofu comes in. I almost felt like I was supposed to open it, take the phone, press & drain it, then sauté it with some edamame in sesame oil…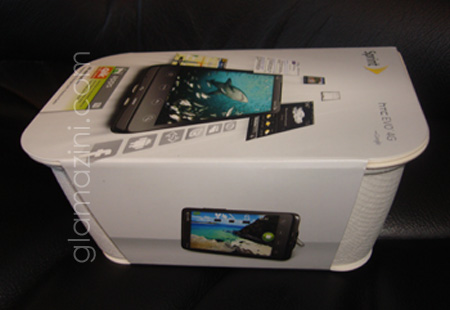 …moving right along.
Hubby also grabbed 2 car chargers (we both got a new EVO

) for $11.98 total from iGoneMobile.com  as well as several screen protectors from ezguard on eBay.  Both companies had great pricing, quick shipping and we have no complaints.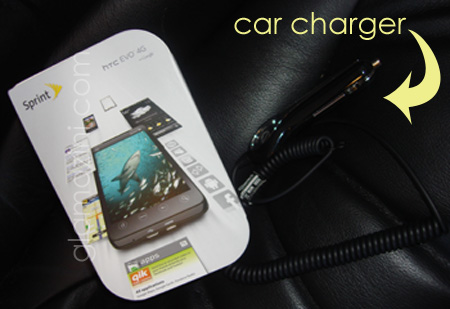 I think the packaging was slick and easy to open…no fighting with those plastic clamshell dealies from hades that inevitably require the use of a knife, box cutter and/or machete and result in pain, cursing and a trip to the emergency room.  Nope, the container just slid right out of the paper wrapping and the neat little cover just came right off…easy peasy.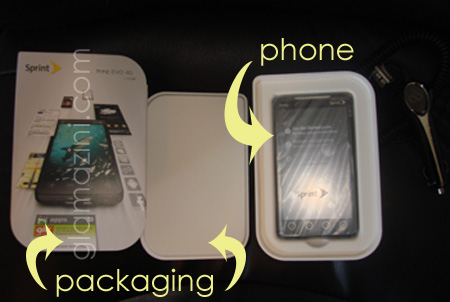 *said in syrupy tour guide voice*  As we continue unwrapping this wonderful package of phone goodness, we notice that underneath the phone in the tofu box was the battery, booklets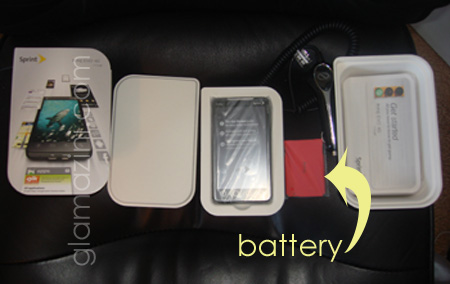 USB connector & AC adapter.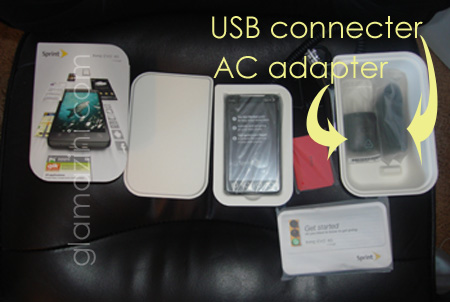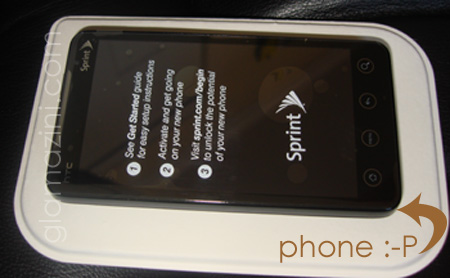 The bottom of the phone is pretty self explanatory…you have your basic mini USB accessory jack for the charger (same as my Bluetooth headset jack *SCORE*) and an HDMI jack for you fancy folk who want to buy a fancy extra cord and hook this baby up to your fancy HDTV (like my fancy husband).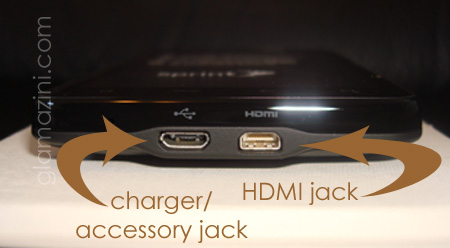 On the right side you find the typical volume keys marked with a + and –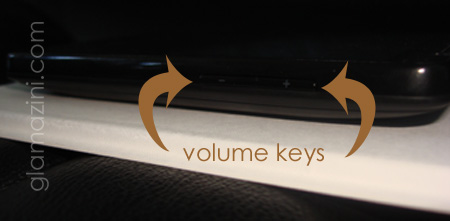 and on the top you have your power button and headset jack (for all the non-bluetoothers out there).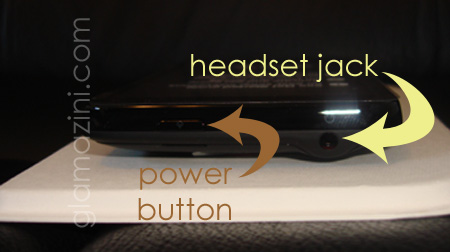 Size-wise this phone is not bad at all.  I've been carrying a Palm Centro for the past couple years and as a comparison I'd say the HTC EVO is thinner, taller and wider. Let's take a look at it up against a pack of Orbit gum (my fav

)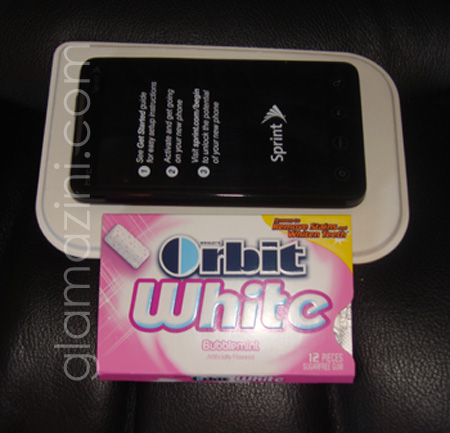 About the same width but taller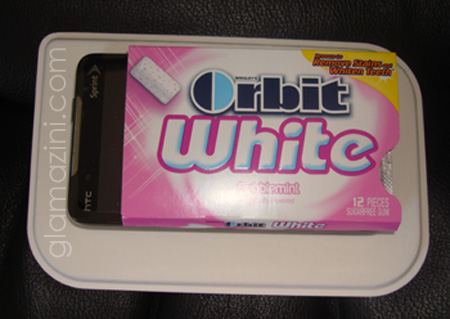 and an itsy bit thicker but not much.

So basically it would be like carrying a large pack of gum in your pocket or purse.
Here are all the reading materials that came in the tofu box:
Get Started Guide
Vamos (Get Started for the Spanish speaking users)
Basics Guide
Important Sprint Information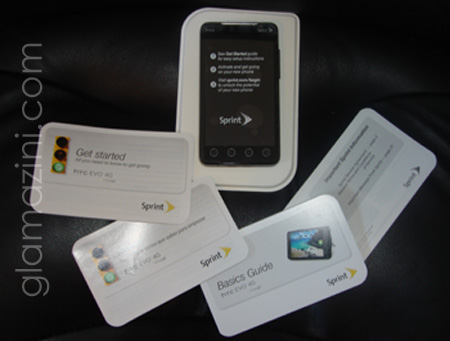 I'd be lying if I said I read anything but the Get Started guide thus far…I just tore into the box in a smartphone frenzy.

Here's a shot of the back … (l-to-r) dual flash, camera lens (still covered), speaker and the kickstand across the bottom.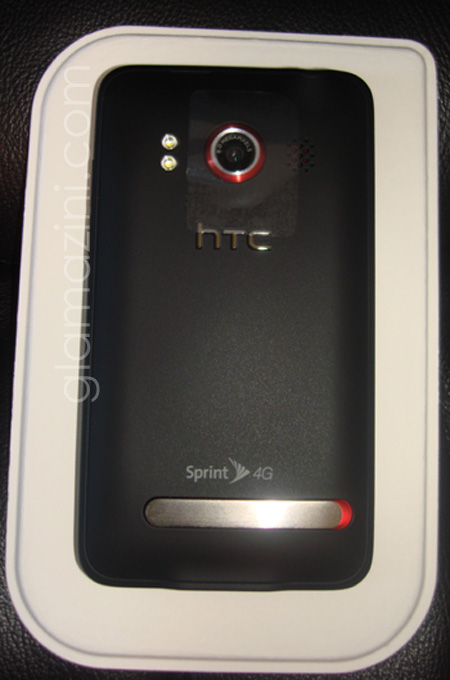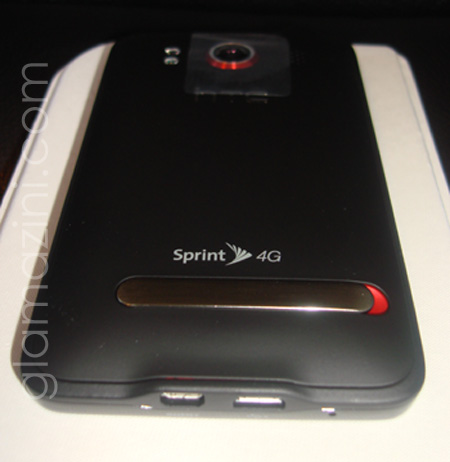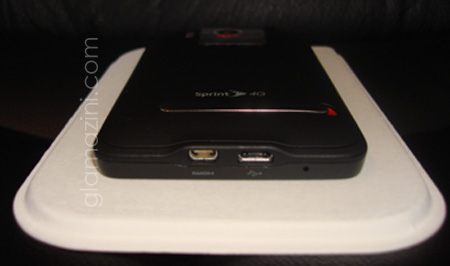 Here's the kickstand open.  I just love how the innards of this phone are rich dark red.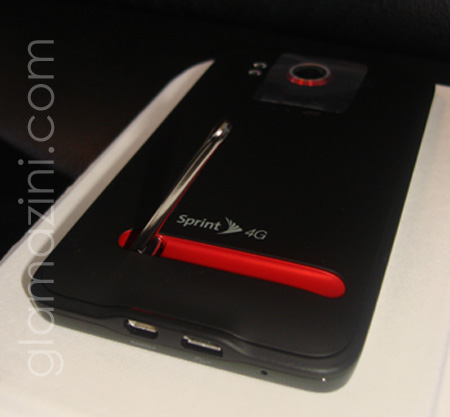 A side view of the kickstand. This will come in very useful when watching YouTube videos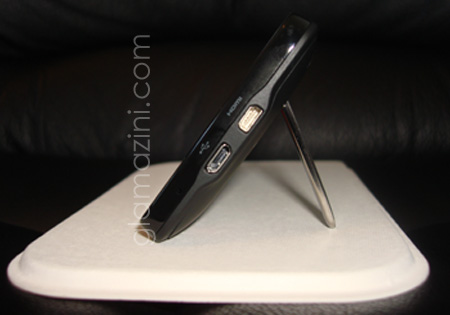 A front and back view with kickstand opened: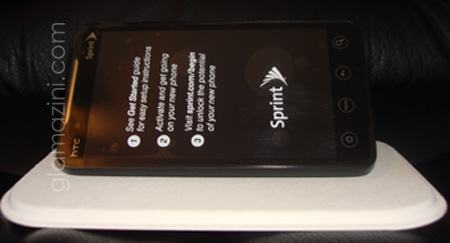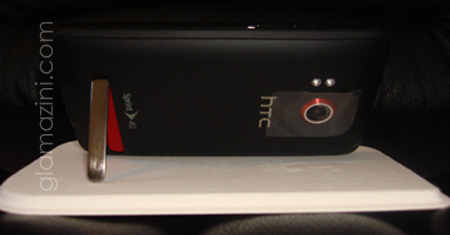 Following the instructions in the aforementioned Get Started Guide like a happy little lemming, I "hooked my fingernail into the slot at the top of the battery compartment cover and lifted the cover off gently" to find this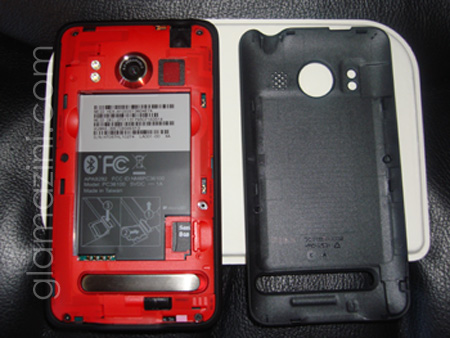 Next I "inserted the battery, contacts end first, and gently pressed it into place" like so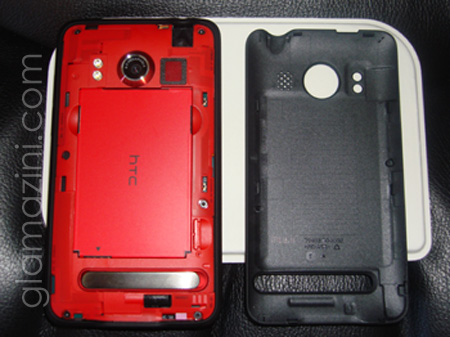 (aside: why am I so happy the inside of my phone is red?

… I'm so simple sometimes)
Next up I "replaced the cover" and got to charging with the USB connector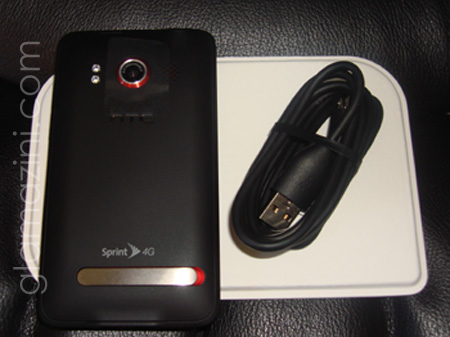 and the AC adapter (the combo of which I think is so sleek and I appreciate not having an extra cord  *high five Sprint* ).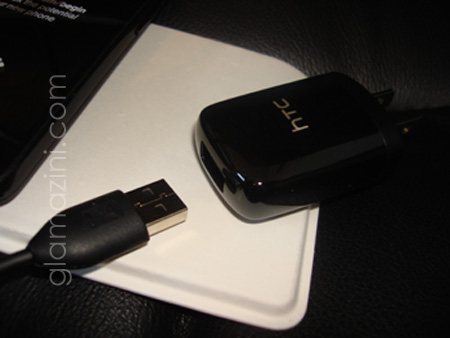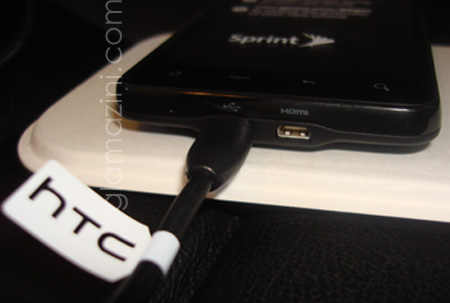 A wonderful shot of Eva (that's my HTV EVO's name) and Pinki (my beloved Palm Centro) … out with the old

, in with the new.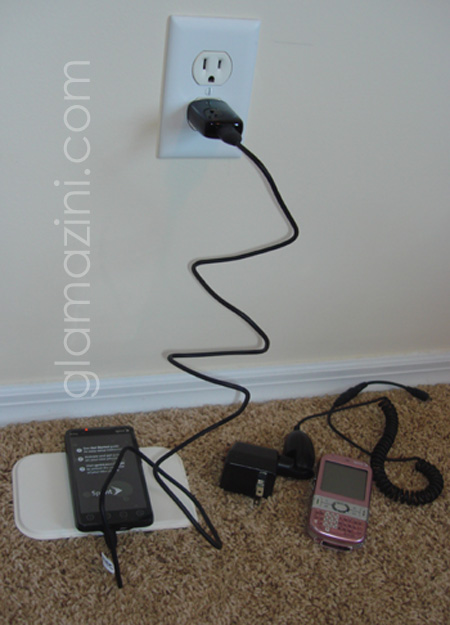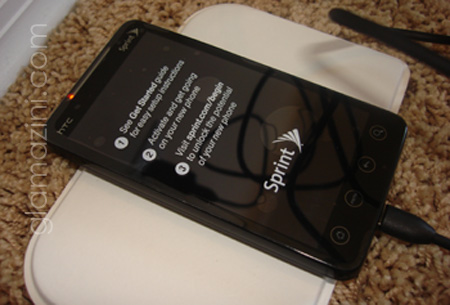 Once I plugged her in and the indicator light came on she sang a little song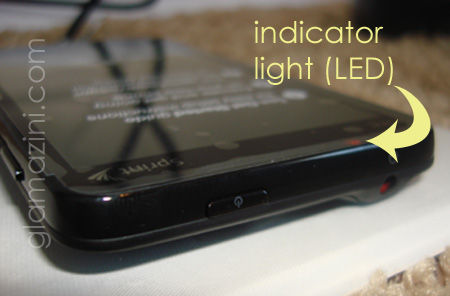 and the screen started doing this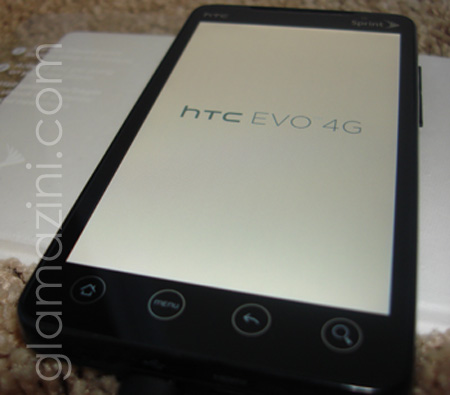 and this
then this (well actually it went to the auto-activate screen but I canceled and got this).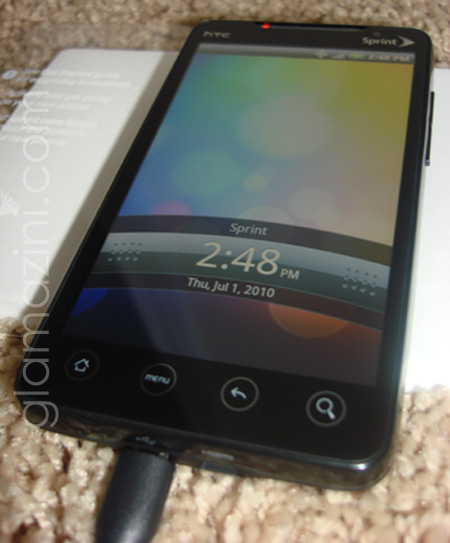 That's all the photos I have to share for now.
My husband tried to activate his phone yesterday afternoon circa the time pictured above (2:48PM) and got a message saying Sprint was not allowing HTC EVO users to activate at this time due to overwhelming demand.

  huh?  what?!  FAIL!

He was able to use our Wi-Fi network and start playing around with the EVO, then eventually activated his phone later that evening. I on the other hand only had Wi-Fi until this morning when I called and activated Eva bright and early circa 7:30AM.  I sang a happy activation song on the phone to the Sprint call center rep & he shared with me that since this phone's debut he had only received 2 non-activation related calls about the HTC EVO.

… sounds like we're all in some sort of 4G HTC EVO euphoric stupor of blissful smartphone glee

Oh and lastly I found out that once again Sprint has run out of these phones

… but I believe you can still pre-order them via Sprint and Best Buy, and Best Buy is selling them in white (for you fancy folk

).
Thanks for visiting!