Watch video directly on YouTube | Subscribe to my YouTube channel.
Hey y'all, I'm here to show you how I turn my pile of tarnished silver jewelry into … a pile of clean and sparkling silver jewelry. This method will clean any silver item in your house.
You will need:
Hot water
Baking soda
A container lined with aluminum foil
A silver cleaning cloth (optional)
Instructions:
Place the silver item to be cleaned in the bottom of the container making sure it is in contact with the aluminum foil (You can also start by pouring the hot water into the container, and adding the baking soda if your prefer that order)
Sprinkle baking soda all over silver item to be cleaned
Pour hot water into container, covering silver item completely
Let silver item sit in water until it is cleaned to your satisfaction. Turn the item over with gloves or tongs to ensure both sides get in contact with the aluminum foil
Rinse item in clean water
Wipe item with clean paper towel
(optional) Buff item silver cleaning cloth (this is the one I bought from Amazon)
If you have a piece of silver that did not get as clean as you wanted it to, you can place it on a towel, cover it with baking soda, and scrub it with a clean toothbrush or jewelry cleaning brush.
Here are the results: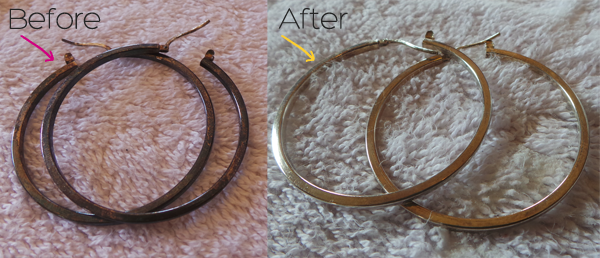 Amazing huh?
I love silver, it's the predominant metal in my jewelry collection.  Strangely I never thought gold looked good on me until recent years (fun fact: my wedding band is rose gold).
Hope this helps get your silver sparkly clean and resurrects some forgotten items from your jewelry box.