Hey Glam Fam, Happy Monday! — I'm excited about this week, probably because it's WAY more chill than last week and I get to SAT DOWN. *and I thank Him* *whew* … I'm also on a roll back here after my website redesign, reaching out to sponsors for my upcoming 7-Night Caribbean cruise to celebrate my 40th Birthday! 😀 If you're a brand interested in sponsoring contact me to find out more details!
Now to the nitty gritty — let's talk PACKING LISTS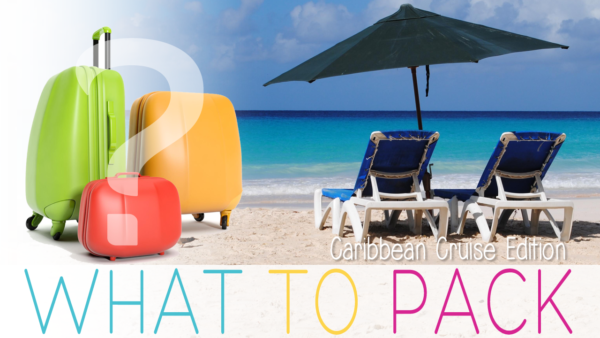 — what to pack, what to leave at home, and most importantly how to process your packing so you optimize that precious suitcase space LOL! Before I begin, please be advised I am an avid cruiser, have been on seven cruises and am an undercover minimalist and do the most with the least at all times. That said, take what I say and expand or contract it to fit your own needs. Do you boo. LEGGO!
ROSHINI WHAT DO I PACK?
Good question. Here's how I think it through. I work my way backward, starting with dinner.
HOW I PICK MY DINNER CLOTHES
I will probably do dinner in the main dining room all SEVEN (7) nights barring some unforeseen emergency/reason so I know I need SEVEN dinner outfits total. There are two (2) formal dinner nights on my cruise (check your cruise to verify how many formal nights you have) so that means 5 non-formal nights and dinner outfits. I try on potential dinner outfits (which I've already started doing) and pick what I want early so I know if anything needs altering, repairing, purchasing, some fancy bra or I need to purchase stock in Spanx … whatever.
I prefer to travel with as little shoes and accessories (jewelry, shawls, bags, hats) as possible so I also narrow down items based on if they can be worn with the same shoes and accessories. This part is difficult because I always wanna bring 5 pairs of shoes and 3 purses so I can properly stunt on 'em but alas my deep need to pack light and not pay overage charges for excessively heavy luggage on the flights ultimately beats out my need to be an ever-changing slay dispenser.
Once I have my dinner situation situated (seven outfits, 2 of which are formal, shoes, jewelry, purse, etc.) I decide if I'm going do anything after dinner and plan on changing my clothes. If so I pack an outfit. If not I don't. Roshini only changes her shoes after dinner #becausebadknees and goes dancing in her dinner clothes so personally, I don't pack extra night outfits, although I could toss one in just in case.
Then I move on to day wear.
SO WHAT ARE YOU PACKING TO WEAR DURING THE DAY?
Here's how I do this part … I take the days of travel like so:
Sat, Aug 20 – MO – FL
Sun, Aug 21 – FL
Mon, Aug 22 – Cococay
Tue, Aug 23 – cruising
Wed, Aug 24 – St. Thomas
Thu, Aug 25 – St. Maarten
Fri, Aug 26 – cruising
Sat, Aug 27 – cruising
Sun, Aug 28 – FL – MO
Then I write down what I think/know I'll be doing each day like so:
Sat, Aug 20 – MO – FL – flight/hotel
Sun, Aug 21 – FL -hotel/ship
Mon, Aug 22 – Cococay – beach
Tue, Aug 23 – ship
Wed, Aug 24 – St. Thomas – tour/beach
Thu, Aug 25 – St. Maarten – TBD
Fri, Aug 26 – ship
Sat, Aug 27 – ship
Sun, Aug 28 – FL – MO – ship/flight
Next, I jot down what I think I may wear on such a day like so:
Aug 20 – MO – FL – flight/hotel – romper
Aug 21 – FL -hotel/ship – romper
Aug 22 – Cococay – beach – swimsuit & cover up then romper
Aug 23 – ship – romper
Aug 24 – St. Thomas – tour/beach – swimsuit & cover up then romper
Aug 25 – St. Maarten – TBD – romper
Aug 26 – ship – romper
Aug 27 – ship – romper
Aug 28 – FL – MO – ship/flight – romper
Don't worry, I don't own that many rompers (yet), it's just for example purposes LOL! Anyhoo …
Next, I think of who I am and what I do and add or subtract items from the list accordingly. If I shower and change 3 times a day I need 3 outfits per day. If I wear the same jean shorts 4 days in a row I take that into account and edit the list. If I plan on laying by the pool every day I pack more bathing suits (general rule is to bring 2 minimum, one to wear, one to wash and hang up to dry, unless you have no intention of touching water). If I plan on using the laundry services mid-cruise I pack less and budget for the fees. If I'm super active and plan to hit the gym, run on the track, do rock climbing and zip line across the ship, or whatever I edit the list to make sure my clothing make sense (even if I don't know what day I may do the activity on). I'm always pruning my list, I pack AS LITTLE AS POSSIBLE and still find I pack too much for my own habits. If you are a person that has an anxiety attack because you need to have options take that into account when you write your packing list.
SO WHAT NEXT?
By now you have a pretty good packing list of night and day clothes for your Caribbean cruise and any travel days before and after.
Now do the following:
1. Add 2-3 back-up daytime outfits just in case.
You may spill something, be hella hot and need to shower, just feel like wearing something else or whatever.
2. Prune your accessory list.
Do the same thing you did with shoes and accessories for your day list that you did for your night list. Don't forget things like sunglasses, hats, day bag (tote) that can fit a towel for beach days etc. … a small backpack works well too.), flip flops for the shower etc. Remember comfortable shoes for day time because it can be a lot of walking depending on how you do it plus nowadays the ships are huge.
3. Plan how you will carry your personal items on and off the ship.
Once you step onboard you are typically given a card to use as ID and currency. Everything is then charged to your room and you get a bill at the end of the cruise. You also need your card to get back on the ship so plan to walk with it. Some folk do lanyards, others cross-body bags, whatever your vibe make sure you have a simple way to roll with it even on days when you're just moseying around the ship.
4. Plan what you'll sleep in.
I bring 2-3 changes of night clothes.
5. Plan your draws.
How many bras and panties, making sure to bring extras per your habits and any special things for under specific clothes (backless, strapless, buttcheekless whatever do you boo boo)
6. Plan your hair.
Whatever you need to keep you hair game gamey pack that.
7. Plan your toiletries.
They may provide stuff nowadays but I don't recall that being the case and even if they do I doubt it's brown girl friendly so bring what you need. Remember you have to pack large liquid toiletries in your checked bag for the flight so plan accordingly. Don't forget you'll be in the Caribbean so bring sunscreen or sweat-be-gone or whatever you need in hot humid weather.
8. Plan your conveniences.
What will make your cruise better? An over the door organizer for easy access to your toiletries in the room (highly recommend btw)? A speaker and mp3 player loaded with tunes? A deck of cards? A portable steamer? A lock for your suitcase? Clothes pins to hamg up your bathing suit on built-in clothesline in stateroom shower? Decorations for your room? Books? Extra hangers just in case (I think the hangers are like those in some hotels that only work in the closet)? An extra foldable duffle bag just in case you shop till you drippity drop? A bag for dirty laundry? An extension cord or power strip? A wrinkle-release spray? Ear plugs? Empty ziploc bags for random reasons that only show themselves in the moment? A bubble blower? A bottle of hot sauce? Whatever you need to do your you best that week put that on your list.
9. Passport, any IDs, credit cards, cash money honey.
Plan it, pack it, hopefully in your carry on.
10. Plan outerwear.
Consider bringing at minimum one piece of light outerwear just in case the weather won't let you be great. A rain jacket, a light sweater, sweatshirt or pullover works for the day. Maybe a shawl at night.
11. Plan technology.
I'm hoping to bring little to none of this but remember your phone, charger, extra battery, camera, memory card, or whatever you think you need. You typically have to pay for WIFI so set that up beforehand if that's your plan. There's a small safe in your stateroom.
12. Got meds?
You on any, you need any? Add them to the list. I walk with a pill box of Bonine for sea sickness (which I take every morning no questions asked), chewable Pepto, pain reliever of some sort, fiber pill because being backed up on vacation is not a good look, and whatever else I feel I need. Drugs, get into them and get them in your carry on.
13. Makeup.
You need lipstick powder and paint? Add them to the list.
WHEW LORD IS THAT IT THEN?
Pretty much.
Oh, one more thing. When boarding the ship they take your checked bag from you and deliver it to your stateroom later. Later may mean you board and it's in your room -or- you ain't got it and it's time for dinner so pack your carry on the day you board the ship with this in mind. One entire outfit in there and small toiletries, toothbrush, deodorant, panty all that.
So that's it. If you do this you will have a pretty killer packing list for your upcoming Caribbean cruise! Use your list as a master list to pack AND take it with you so you don't forget anything on the cruise ship when you're packing to return home.
Here's list you can print out and use to pack for your next Caribbean Cruise!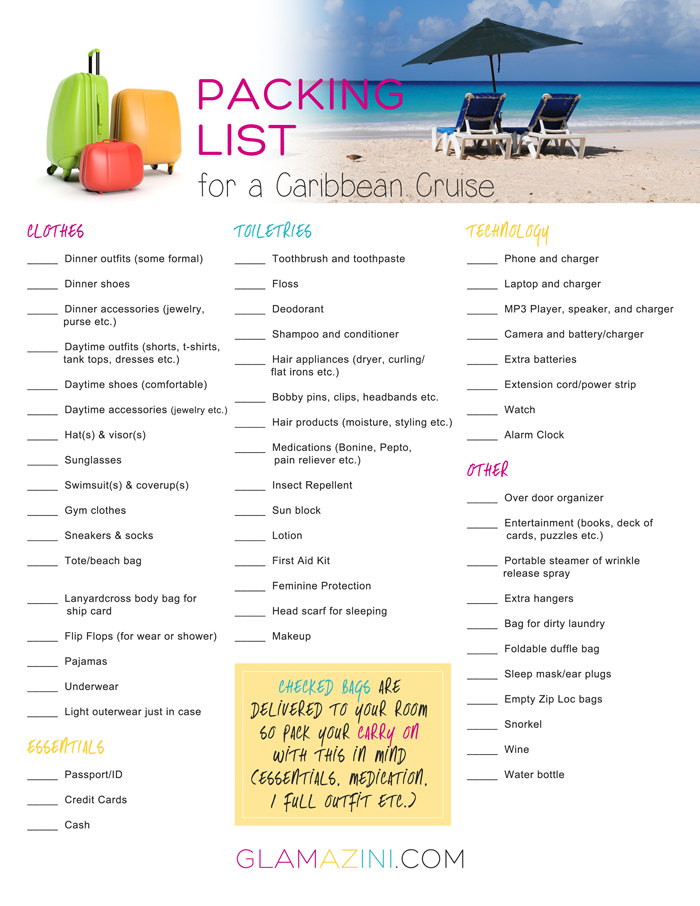 If you have any questions leave them below.
Bon Voyage!