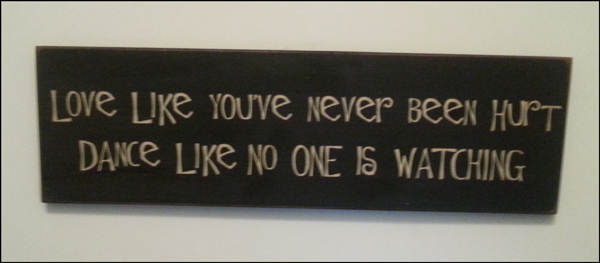 A few days ago I was listening to the Soweto Gospel Choir station on Pandora when I thought "If I ever see them in concert I am going to dance in the aisle!".  Their music resonates with my soul, and I often dance around my  home to my favorites and have even choreographed dances to their songs for our church's dance ministry.  I had pictured dancing as they sang on stage so often that of course if I ever HAD the opportunity to see them LIVE I would surely do so right?!
Wrong.
I had the chance and did not dance.
I immediately remembered that I HAD in fact gotten my long held wish to see the choir in concert last year during my annual celebration of life, and I did not dance at all #irony. As I stood in my kitchen processing the abrupt switch from expectation to disappointment, I questioned myself as to why I did not do what I had said I would do for YEARS!  Ugh, I'd let the opportunity slip by and the choir would not be back in St. Louis for maybe the next FIVE years if that.  My best answer was that last March was a doozy and the majority of 2012 was a blur.  I also admitted that, when I was actually at the concert, I was afraid to get up and dance.
UGH x 1000.
I let FEAR stop me from doing something I had envisioned in my head for almost a decade.
The thought made me sick to my stomach.   I would not have been the only person dancing by the way, there were people standing along the back of the theater getting it IN and breaking a sweat. Ugh.
I stood in my kitchen feeling like I let myself down but vowed to be more intentional about noticing when fear is limiting my expression and nip it in the bud quickly.  One of the best things I was ever told was "the opposite of 'depress' is 'express'. The next time I have the opportunity to see the Soweto Gospel Choir in concert, I am buying a ticket near an aisle and wearing comfortable shoes SPECIFICALLY so I can bust out (and I dare someone to say something to me lol).
The morale of this post is to remind myself, and encourage you through my story, to live your life fearlessly.  The plaque pictured above has hung in my home for over 15 years now.  I need to do what it says.
Dance like no one is watching.