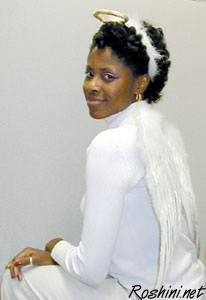 This was my Halloween costume at work…an angel

. My hair was rollerset on medium rods with setting lotion and then finger combed. This style lasted a week.
Aside: I know many Christians do not support dressing up for Halloween but I don't see anything wrong with it. I won't tell someone that it's wrong for them to not like it either. I never dress up in anything inspired by evil. In 2000 I was a high school student, in 1999 I was a crayon (red) and in 2002 I plan to be a lady from the 60's.
~edited to add ~ February 4, 2008 ~
I don't dress up for Halloween any longer. Call it growth or whatever you want to but I don't see the need. I do dress up for people's costume parties etc. I'm just no longer down with what Halloween represents. To each his own.