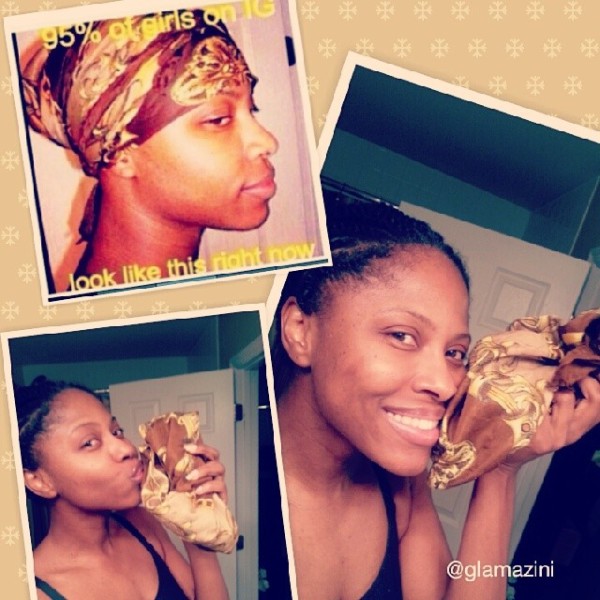 A couple weeks ago I started getting tagged in a post of a meme going around on Instagram. The image is of me in my scarf (taken from this blog post from 2009) with the words "95% of girls on IG look like this right now".  I have it pictured above on the top left, and the other 2 shots were of my last night with the infamous scarf.
When I was tagged for the first time I didn't totally understand what I was looking at.  My initial thoughts were
"Why is there a photo of me?"
"Why is is such a low quality version of this photo?"
"Oh it's like a meme?"
"I don't see how this is even funny, they could've done better than that #humorsnob."  
For the next couple weeks I was tagged about every other day in another instance of this image being posted. I assume it didn't do better because honestly it isn't funny #fullshade.
Then yesterday Madame Noir posted an ever so classy article about "best" hair Instagram memes and by golly there was my face as  numero uno.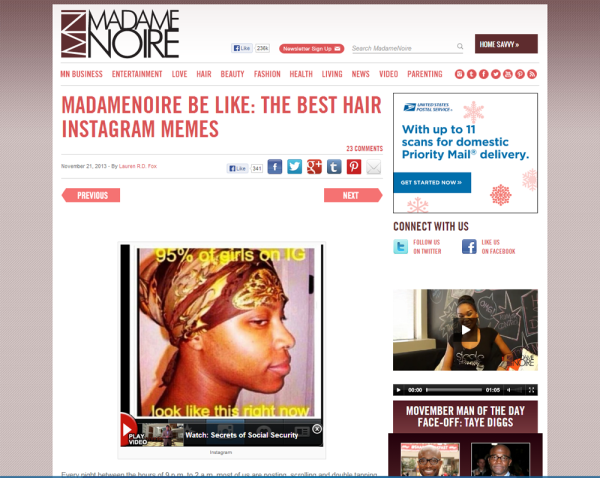 Real classy stuff.

Of course I started getting notifications from people all over the place (I don't read Madame Noir and doubt I ever will now).
Here are my thoughts on such foolishness:
Yes I know about it
Yes I'm grateful that my audience is large enough that I continue to get heads up notifications about this foolishness, keep um coming. Love ya'll! *mwah*
Yes I would prefer that my image was not used but
Yes I'm used to it because I've been online helping people for over a decade, I have thousands of photos of me online and it's happened before in other forms.
Now you can see why there aren't a million photos of my son floating around, just saying and
No I don't mind it because it's relatively benign and not funny. If it were offensive or mocking me I'd feel differently. Part of me feels like after all the laughter I've caused online for over a decade the least the creator could have one was made my meme funny, sheesh.
No I am not wearing that scarf right now and have not worn it in probably a year
Yes I'm proud of my years of empowering women to love their hair and themselves and
Yes I'm proud of not faking the funk by coming online packed with makeup every time,  I keeps it real.
I looked at the other memes posted on Madame Noir & some of them are downright mean. I'm never a fan of such things, and one of my pet peeves are people who take photos of others and mock them online, ESPECIALLY those who can't handle when others say something "constructive" about their photos. And yes, I have specific people in mind #epicshadeandsideeye. My only qualm is wondering how the creators of these things would feel if their photo was used.
What do you think?