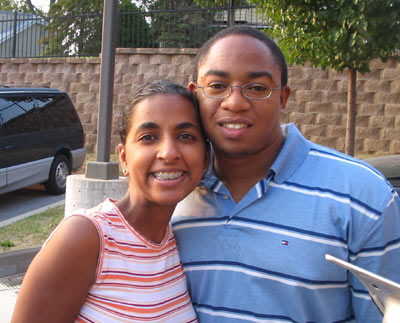 My bestfriend, Laura, and her boyfriend were driving across country from California to Massachusetts to attend Harvard together and they stopped in Missouri to visit me.
Yes I said Harvard together

… nerdy huh?
Seriously, I'm very proud of her (them) and hadn't seen her in 2 years so it was great to see her, but the visit was too short. Guess I'll have to visit them in Boston

… and I don't need much prompting to get me to travel.
eta (June 9th, 2008):  Praise Report…Laura graduated from Harvard Business School this past Thursday, June 5th!!!!  Hallelujah!  There were a lot of obstacles to her getting there (one of which is dude in the photo above…yeah I said it…WHAT?! ) …. but God saw her through ever last one and SHE DID IT!!!!  I'm so proud I was bragging all week

 …. das my fwiend… YAY LAURA!!!!!