So this happened. O_o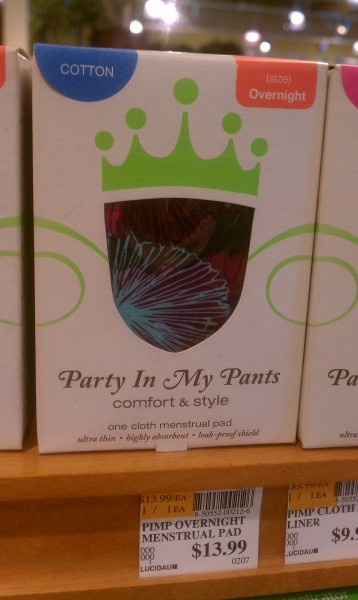 I was strolling through Whole Foods yesterday, when I spotted this beauty: Party in My Pants Overnight Pads.

Best part? The pricing tag abbreviation of "PIMP OVERNIGHT…".


You can't make this stuff up people! That is all.

~~~~~~

Edited to add:
Party In My Pants seems like a perfectly reputable company with a pretty amusing name. I've never used their products but go and check their website out if reusable cloth pads are your thing!
p.p.s. I actually went ahead an ordered a "free" sample liner after perusing their website. You have to pay shipping but still, why not. Not sure how long they'll be doing it but here's the link if anyone's interested.
Edited again to add:
I received my free panty liner on Tuesday and used it yesterday. Here's how it arrived in the packaging.

A thank you note, information, and the liner folded and wrapped in tissue.

This is the actual liner. I got the luxe one, it's 9.5″ x 3″.
So jokes on me because I actually like this sucka. Who knew

. I don't see myself getting actual pads to use during my period {washing menstrual blood out isn't my thing}, but I'm tearing through liners during this pregnancy so I could totally see myself getting a few more of these and just using them in upcoming pregnancies … or just in general. There you have it. Carry on …