Boop. As promised, I'm back a month* later with an update on my effort to live with less and my month of intentionally getting rid of material things. For thirty days I posted photos of items I either gave away, donated to charities, stored in the basement to see if I miss them, or tossed in the trash.
Confession time: I barely made a dent in my belongings and have not missed one single solitary item thus far.
Here are the posts from those 30 days. Enjoy!
Black & red pairs of American Eagle flats that served me well for YEARS and are pretty raggedy • Beige & white pairs of Champion shoes that I never wear • Beige Dexflex open toe wedges that I actually hate • White & black pairs of Crocs & Nocs (knock off Crocs) that I love but can't walk in because no arch support.
3 scarves I never wear or think are ugly • 2 pairs of hubby's shoes because he saw me & got inspired to lighten up • 2 house sweaters that have served me well but their time has come • my old Birkenstock house shoes that are literally crumbling & hubby replaced with a pair of blue Papillios that I L💙VE.
A bunch of hair items including clips I never wear, elastic bands that are sticky, crumbling or colors I'd never wear, 2 rolls of black ribbon?? and banana clips though? 😕😂
8 skirts & 1 top. Some well worn, others mildly worn, one brand new Kenneth Cole denim mini. Their time as part of my wardrobe has ended. Thanks for the memories.
7 dresses. One that has served me well but doesn't get worn anymore, three I liked when I bought them but now meh, two hand me downs that are either meh or too difficult to wear & one I absolutely LOVE but doesn't fit (barely fit when I bought it pre-kid and now will not fit no matter what magic or weight loss I employ).
8 tops, some I've worn to pieces, others just a few times. Don't find myself reaching for them much & need to lighten my load.
Same top, 3 different colors. Wore them to death & loved every minute of it. Their time has come.
2 frumpy tops & 2 frumpy shrugs because frump. • 1 practically brand new dress from Old Navy because I thought I would love it but I don't. • 2 shirts remnants from corporate life that depress me because … corporate life.
Talbots suit I never wear & brand new dress purchased from Long Tall Sally tag still attached.
3 winter dresses & 2 wrap dress that used to be core but no more.
5 dresses. One brand new with tag but fit issues, 2 maxis I never touch & 2 that have served me well for years but have run their course.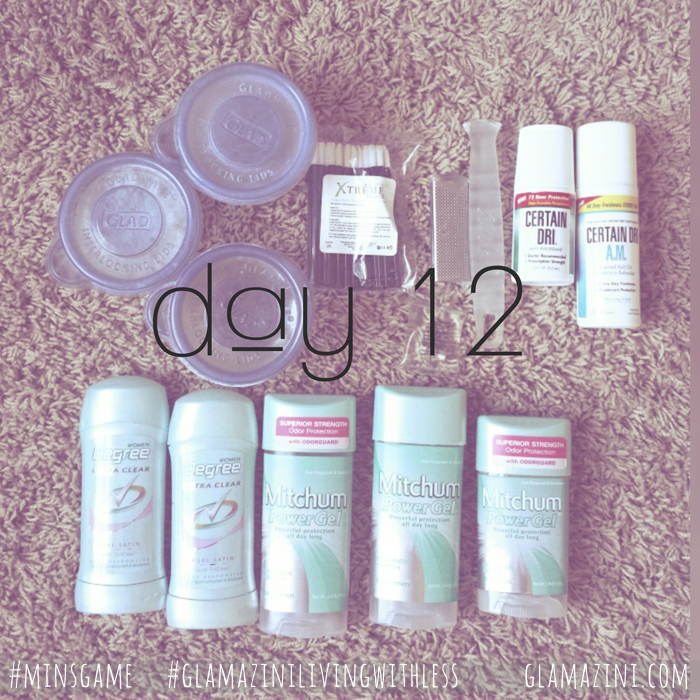 Surprisingly items under my bathroom sink are predominantly keepable but getting rid of these 3 gladware containers, a pack of applicators, broken pedicure file, sample of gel-les'c by Curls & 7 deodorants so far from natural ingredients that they have to go.
3 dresses that almost made the cut but, after trying each on, one is great for Easter & Easter only, the other was a fav but now accentuates my flab & the last fits like perfection on the bottom, not so much on the top.
Few hangers I don't use & Lady Comp that is no longer necessary.
Thread earrings because … thread earrings 😕, I used to KILL beaded bracelets but now not so much, 2 pairs of earrings I no longer care for & a watch that broke shortly after I bought it yet I've kept it for EIGHT years. 😮😐
6 necklaces I never wear and some ear cuff thingamabobs I never could get to work. 😕
4 more necklaces I never wear.
5 more necklaces I never wear.
2 pairs of earrings (1 which I love but is turning), 4 rings I never wear & three sarong/scarf securer thingamabobits that I never used (and honestly never liked but were a gift 😕).
3 pairs of my favorite shoes by the brand Sofft that I haven't worn in 5+ years. Because of knee/ankle general leg issues I can no longer comfortably walk in either pair but I couldn't bring myself to get rid of them. Now I can. Goodbye my friends, you served me well. 😟
Do you keep your shoe boxes? I do because they are a neater way to stack & store shoes. Well I either got rid of these ahoes or no longer own them but the boxes are just sitting there. 😕 Not anymore.
9 pairs of earrings (7 vintage) and a pendant I never wear.
All manner of ramdom bags & containers I never use. A few applicators & some nail glue?? 😕
Two headbands never or rarely worn. Just not a headband girl lately. 😕 … and several items for never-done craft projects, both of which I still had receipts for so I returned them to the store. 💵
I bought these cups. I hate these cups. You ever buy something cause it's cheap even though it's not at all what you want, then you live for years with it as a reminder of how you devalued your actual wants? Well these cups aren't that at all 😂. Ok but seriously, I bought them in a rush, didn't like them but used them for years. Probably drank more BPA than liquid 😦 & haven't used them for years but they're still sitting in my cabinet. Not anymore. Oh & the mini spoon is leftover from a soy candle, that's gone bye bye too.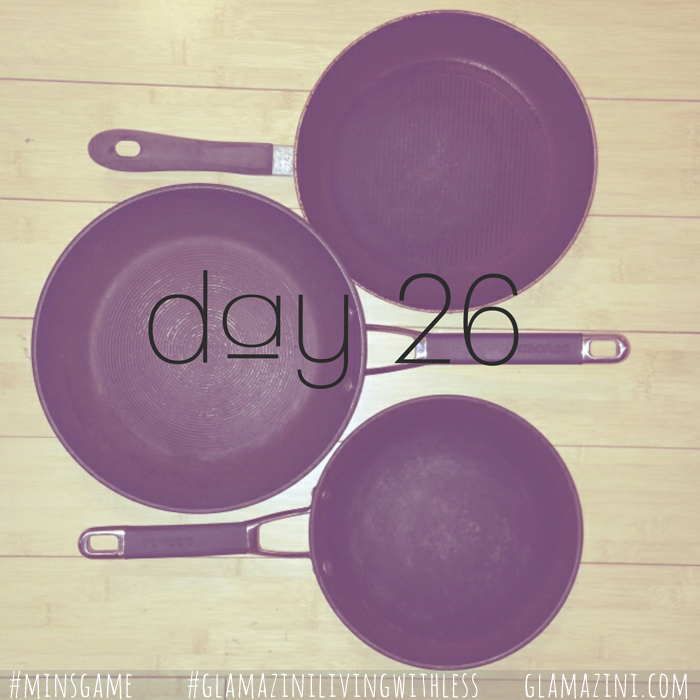 🍳🍳🍳 Three skillets that are no longer non-stick (hubby is hard on pans) & we rarely use.
💄💋💅Mucho makeup. A palette with zero color payoff, random applicators galore, glosses, lip colors, mascara, and more.
Random pantry things & supplements I'll never take. Trust, I can go through that pantry and get rid of more but later lol.
Sooooo hubby has a ✌"medication purchasing problem"✌ 😂😂 no seriously 😕. I cleared out the medication shelf, mostly stuff we don't use & expired. Good riddance.

Went in the basement & shredded several bags full of documents. They were either suuuper old or I scanned them. Re-purposed the file box to store Flickerbug's ever-growing medical documents.
• • • • •
I loved doing this, I felt lighter every day, so much so that I plan to continue getting rid of items indefinitely. You can keep up with my progress on Instagram, Facebook, Pinterest, Google+ (basically everywhere) under the hashtag #glamazinilivingwithless.
Could you live with less? Have you ever intentionally lightened your load? Let me know in the comments below.
* It has been more than a month but I have had 2 trips back-to-back and just got this post published. Y'all understand right? 🙂