So I have a friend who will remain nameless* that hates when she sees a throwback Thursday post with pictures taken last week … so this one's for her LOL!

Last month I rocked my embroidered top from Long Tall Sally and it had dawned on me (yes had dawned) that I may have never actually shown you this joint "live" and direct in person all into your eye gate regions and such.  Might not have.
Anyhoo, backstory is I mentioned this top in my Spring LTS wishlist post earlier this year and Ms. Barbara decided out the blue to "joy" me with the top as a gift!  Will He not do it?
I've worn it a few times since then, on Mother's Day most notably.  Here's a quick and casual outfit of the day when I dragged my best friend/sister-in-law to her complex pool for a little photoshoot action. LEGGO!
Please note the ducky and the happy shoes.  Continue …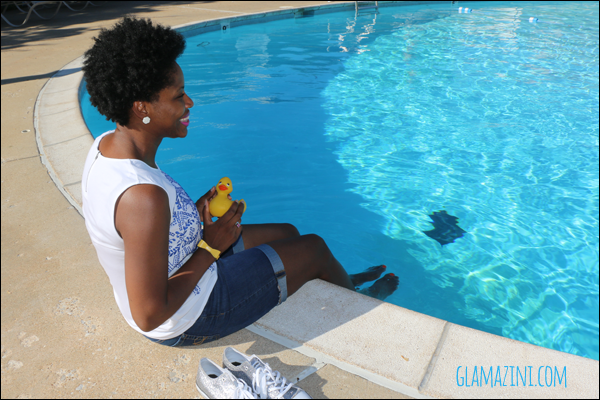 Now to the shirt … it has some serious embroidery action going on in front, a beautiful blue color on pure white. There's some texture to it as well.  The back is actually an entirely different material altogether, feels like jersey with some stretch to it.  There's a zipper at the neckline that goes down to about quarter back.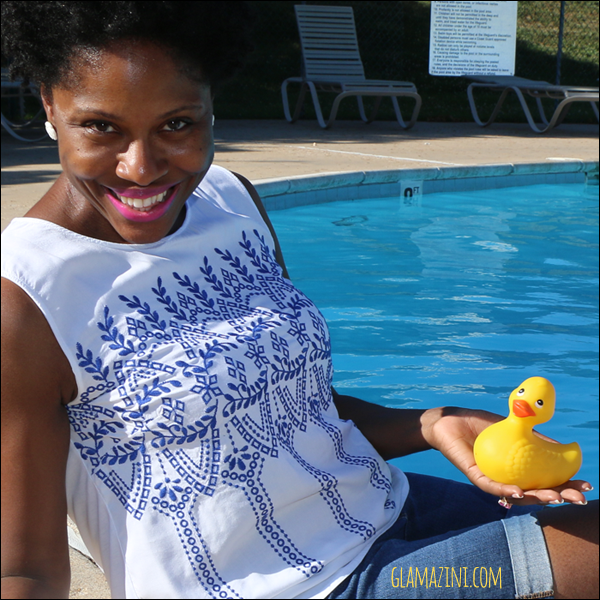 Figured I'd toss in a close-up of the embroidery on the front. Very nice … kinda boho-chic for beginners in my opinion.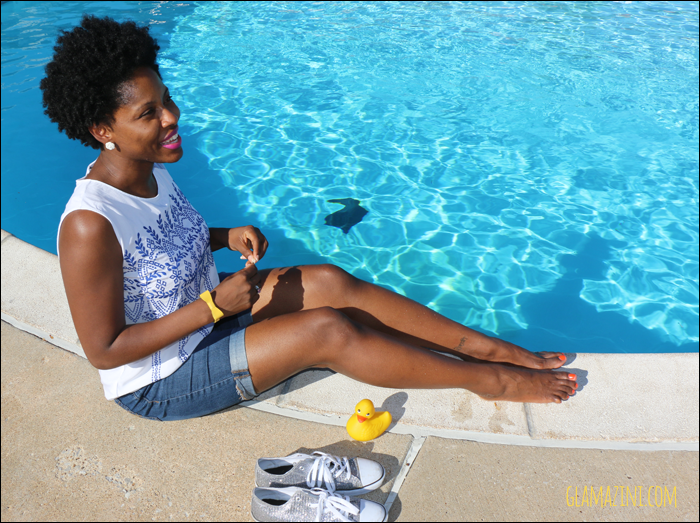 Ehem … this shot is larger on purpose (mobile users will have to take my word for it) because I think I have nice legs and thought this was a gratuitously wonderful picture of them suckas in all their glory.  Be. amazed.  LOL!!! Back to the shirt … it's straight cut, no curving in at the waist, which is perfectly fine by me now that I have this mommy tummy and refuse to get my cardio game on lock (please pray saints, Jesus be a Zumba class).  This top is so easy to toss on with jeans, shorts, skirts even slacks … all of which I've done in the past few months.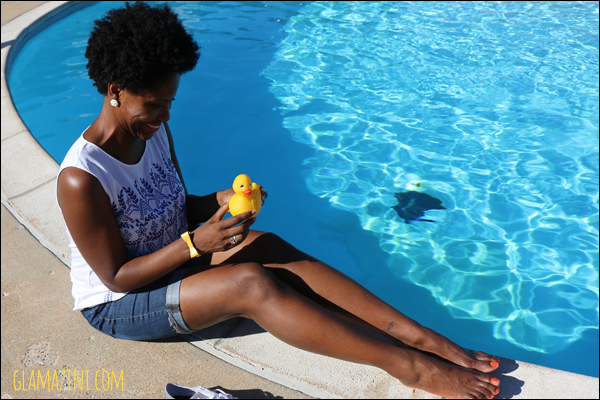 Oh and this one's in here because I like duckies and my sister-in-law caught my pure joy on film. DUCKIES!!!
Moving right along …
Earrings – homemade
Shirt – Long Tall Sally (gifted)
Shorts– Charming Charlie
Bracelet – Birkenstock
Lipstick – Maybelline (gifted)
Shoes – Payless
Duck – I already owned that sucka! DUCKY!!
* Her initials are Aisha Greene