Seems like just yesterday I was sitting by a pool showing you guys a Long Tall Sally look for the summer, and now here we are rocking out the autumn months with these amazing Brogues sent to me by … you guessed it, Long Tall Sally!
As usual, I did a little photoshoot for you guys. Like to see it? Here it go.
First up, the actual shoes.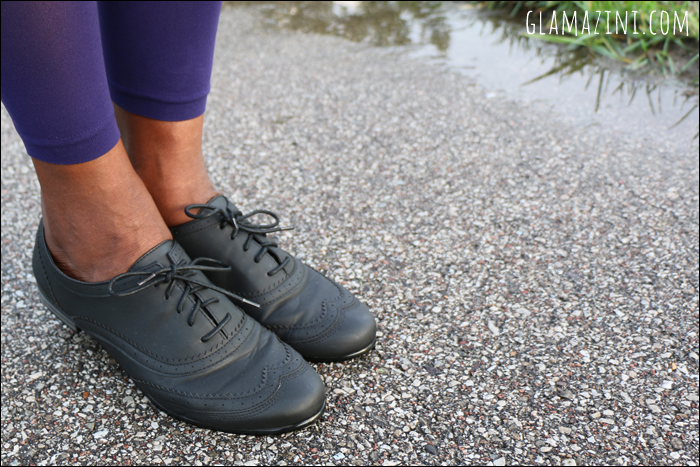 These brogues (oxfords with the punch out detailing) are so comfortable and easy to pair with pretty much anything for the fall. I've been rocking them with slacks and jeans for a month now, and for this look I went with shorts and footless tights. I totally foresee a myself wearing these shoes with tights and dresses as well as leggings. Like I said, they are so easy to pair with pretty much anything in your closet.
If you don't believe me, allow me to serve you up this: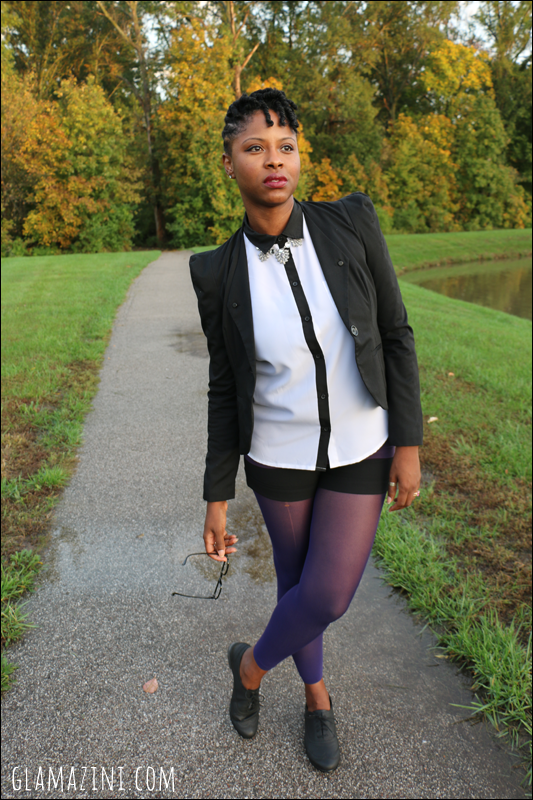 SHORTS IN THE FALL REEAAAAALLNEESSSS!!!!!  *snap* *snap* *snappity* *snap* *snap*
Tell me I wasn't the definition of fierce complete with pensive look on my slightly beat face. Tell me! TELL ME!! You cannot. LOL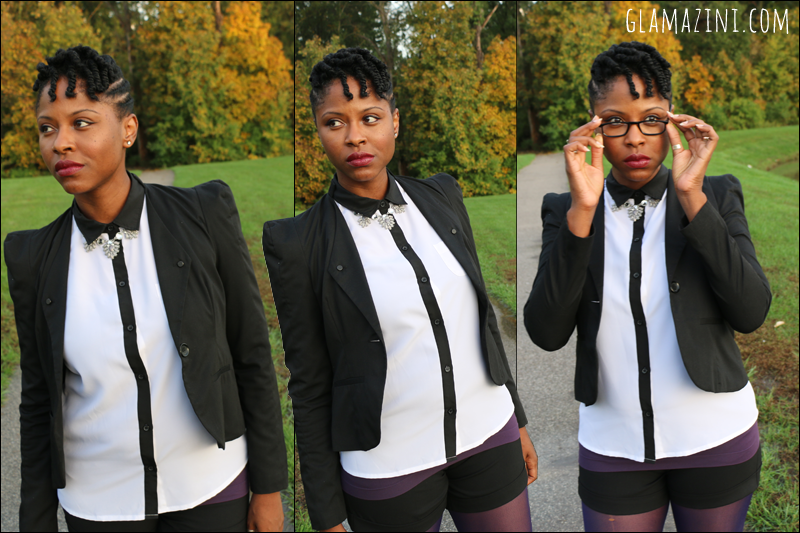 The thing about a great pair of "go with anything" shoes is they inspire you to be creative in other areas.  I was pulling this look together and thought "Why not rock shorts in the fall?" then figured out how to do it and, I must say I love how it turned out.  I'm a huge fan of the "preppy chic" look and need to get some real specs that fit my big ole head* to rock, especially now that I have these brogues! Pair these shoes and glasses with anything I put on and TADA they make the outfit don't you think?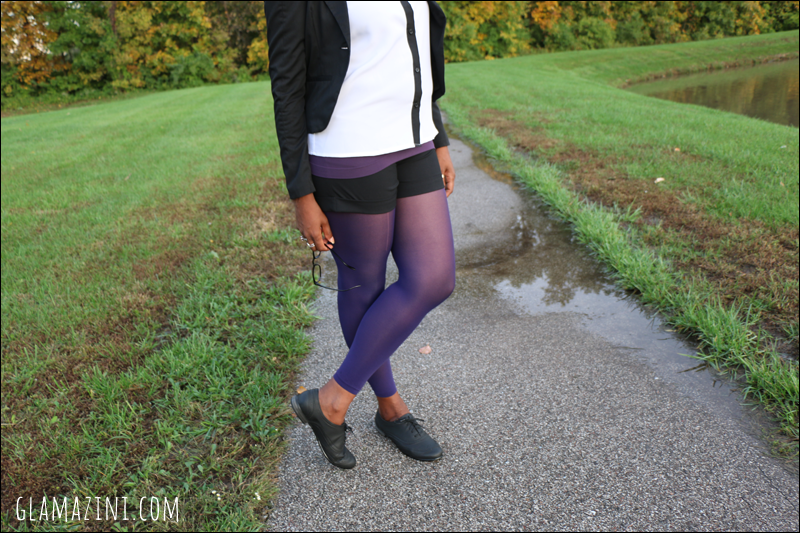 The shoes themselves are matte, not shiny and at first I didn't care for that, but actually I like the look of them now 'cause I'm leaning more toward matte shoes lately. If you prefer a luster finish I see a couple others on the Long Tall Sally website you can choose from.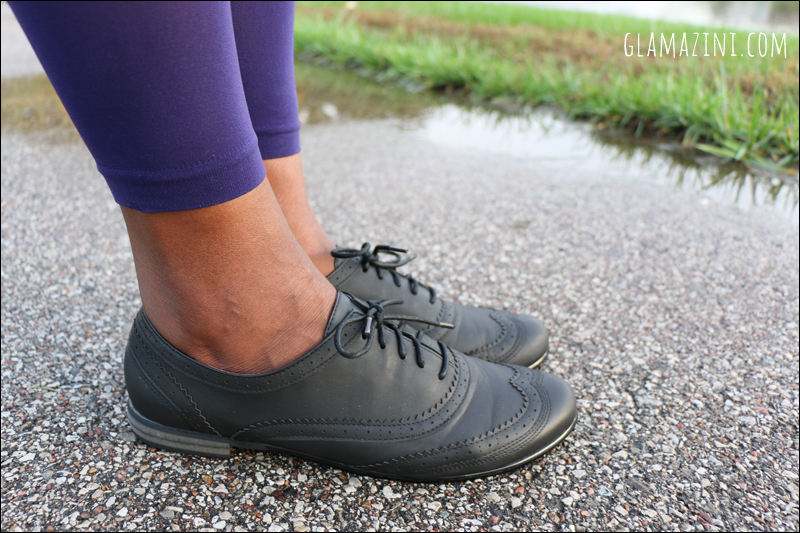 Oh and if you don't know, I wear a large sized shoe: prefer a 12.5 but that's hard to find, so I got these in a 13 and, with my orthodics inserted, they work well.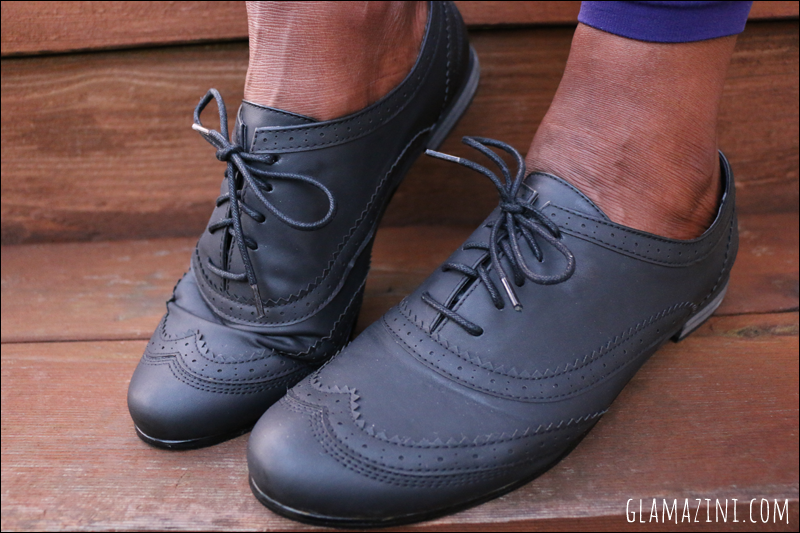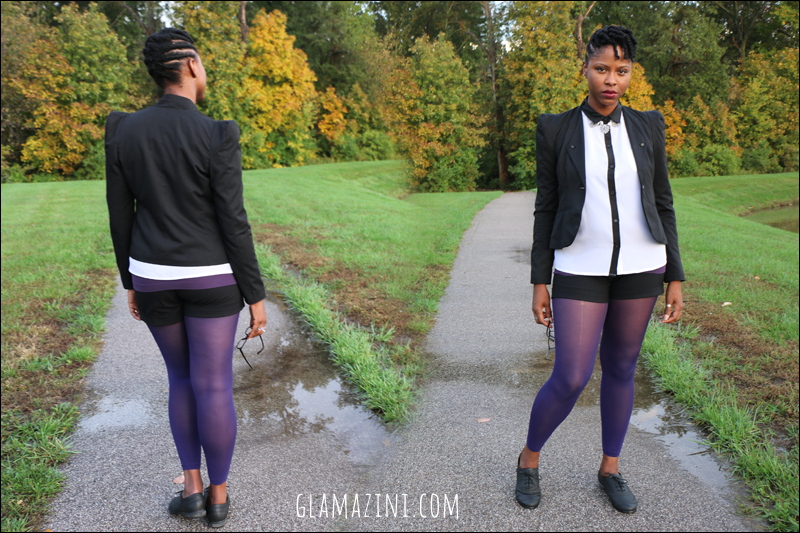 When my hubby saw the run in my tights he asked if I wanted to turn them around but I kinda thought they added "character" to the look. LOL … maybe it's just me.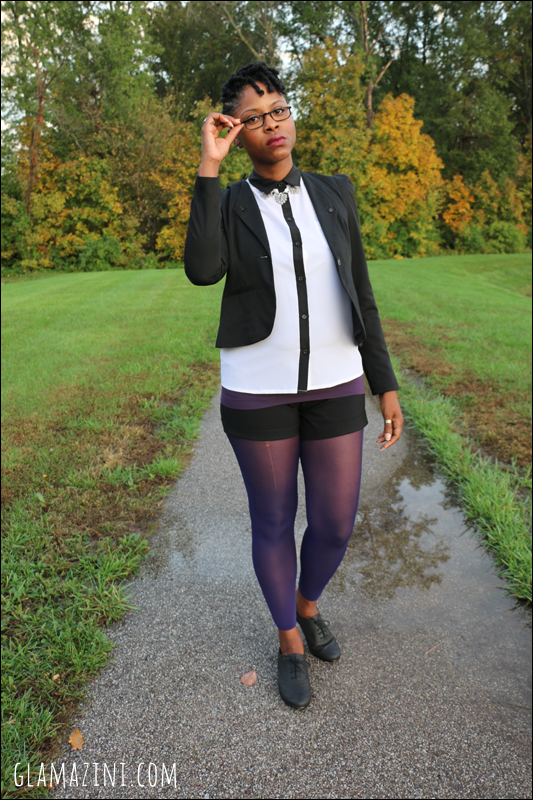 If that's not enough, I made you guys a video of this outfit so you can see everything live and in action. Enjoy!

Click here to watch it directly on YouTube.
Earrings – Don't recall, basic rhinestone studs
Glasses – Goodwill w/ the lenses removed
Lipstick – MAC Dark Side
Necklace & (arrow) Ring – Charming Charlie
Shirt – Target
Jacket – Sears
Undershirt (purple) – Nordstrom
Shorts – Express
Shoes – Long Tall Sally (gifted)
*This is a real issue. I can rarely find sunglasses and fashion glasses that don't hurt my head by squeezing on the sides. I have a huge head. If you have any suggestions please please let me know. Thanks!