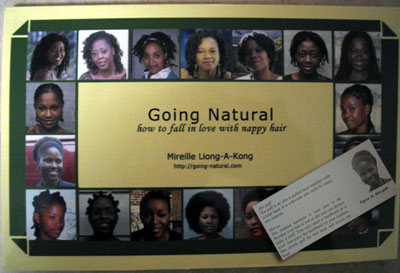 Masoesa, a member of nappturality.com, has written a book called Going-Natural – how to fall in love with nappy hair. It is filled with nappy portraits, inspiring profiles and everything to start your natural journey. Please visit her site, http://going-natural.com, to read about and order the book.
I'm one of the cover models (yay!) and I'm inside too (the white insert on the right). I'm very proud of this…I went to New York and got on the cover of a book…check me out people

.
Lastly I would like to say that Masoesa (Mireille) is such a great person! First off her hair is the bomb (click here, or here to check it out). Secondly she was passionate about empowering women to embrace their natural born hair. Great woman; check out her book.