In a previous post I mentioned that I grabbed a couple pair of shoes from the brand Think! a couple weeks ago.  These:
Think! Shiva
Think! Julia
Both pairs were on sale and a size 43 (the largest size they carry) and I wanted to see if I could wear a 43 in this brand and what I generally thought.
Here's my foot in Shiva: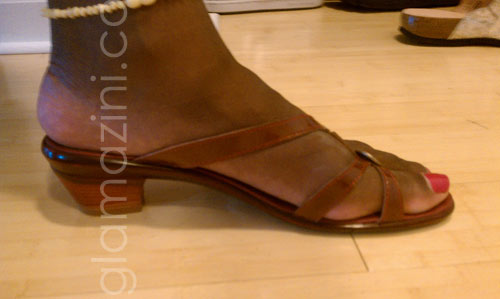 And as you may QUICKLY notice this puppy is NOT gonna work 

 . 

 Notice my heel, then notice that it is not actually in the shoe.  Direct your attention to the word at the top of this blog and notice that heel-not-in-shoe ≠ "GLAMazini". I rest my case.
Same unfortunate heel hanging situation with Julia and alas, Think! brand shoes are not part of my selection pool…cute or not, big foot or what have you, I'm NOT walking around with my the front of my foot in a shoe and the back levitating like we at a Copperfield show. Nope, not gonna do it.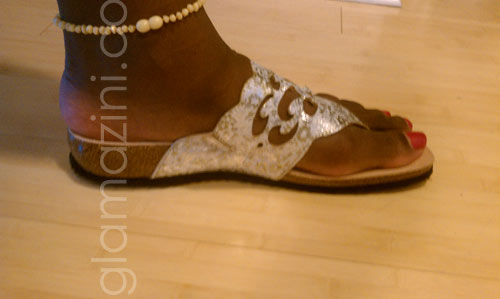 Tossing this shot in for a little comparison…here are my birkenstocks in a size 44 (that I got from Marshalls for $19 SCORE!) …

 notice how the ENTIRE foot is INSIDE the shoe. There's no magic act slight of hand hocus pocus going on in the back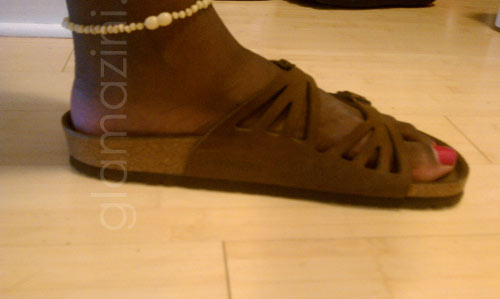 Every company is different so unfortunately, even though I can get away with an open Dansko shoe in a 43, I cannot do Think! in a 43 w/ out that foolishness above occuring

. 
Both pairs went back to Zappos.
Oh and for those wondering about the actual shoes, the Shiva pair was cute-ish but nothing to write home about…it felt fragile like if I wored it 5 times it would break on the 6th. The Julia pair was WAY softer in the footbed than I expected with less arch support…I would say moderate to no arch support. Shiva has no arch support whatsoever.  Both pairs of shoes felt fragile to me.
Thanks for listening (reading)