Next week I will be participating in an event here in St. Louis and I've love for ya'll to come out and meet me!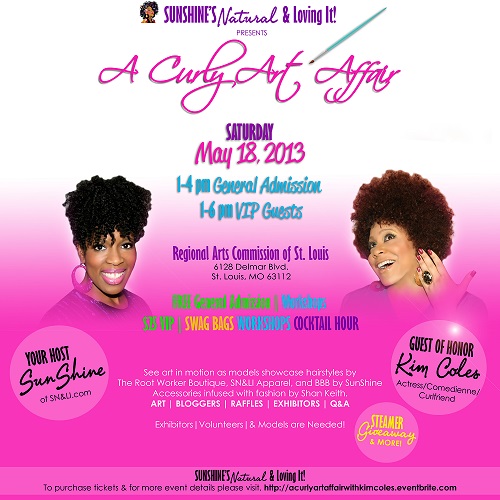 SunShine's Natural & Loving It! Presents: A Curly Art Affair with Kim Coles
This event will take place next Saturday, May 18th from 1 to 4 pm for general admission (1-6 pm VIP) at the Regional Arts Commission of St. Louis located in The Loop at 6128 Delmar Blvd, St. Louis, MO 63112.  There's general (free) and VIP admission available.  Visit the eventbrite page for more information on what each includes, as well as to get your ticket.
There will art, guest bloggers (like moi), workshops, exhibitors and more.  If that's not enough the incomparable, funny and kind actress/comedianne/curlfriend Kim Coles will be in the house so don't miss it!
Hope to see you there!
Edited to add:
Here's a video recap I made of the event. Enjoy!

Watch video directly on YouTube.