We all saw the inauguration.
Well y'all saw it … I intentionally didn't catch it live #becausementalhealth and such and things of that nature. The way my P45 is set up it's gonna be a long 4 years.
That said, the inauguration eventually entered my eyegates as pictures and video of our former first lady floated by through my various timelines … and I noticed something very telltale.
Michelle's hair was not up to typical Michelle hair standards. 🤔
Don't get me wrong, she still looked great and all that. She looked better than I look right now sitting here typing this post shooooo. I mean, because of her I got to spend the past 8 years serving up a first lady vibe for the first time in my long ole life so I owe her that ego boost #BOOP 💁🏽… but you … if you're a black girl reading this … know what I mean.
Michelle's hair stays laid …
she brings the lay … lay shows up when she does 'cause she and lay are one … strands consistently experience peak layness at all times … but this inauguration she pulled her hair back in a ponytail and rolled out. 😐
I mean Your Honor Exhibit A, B, C, and D 👀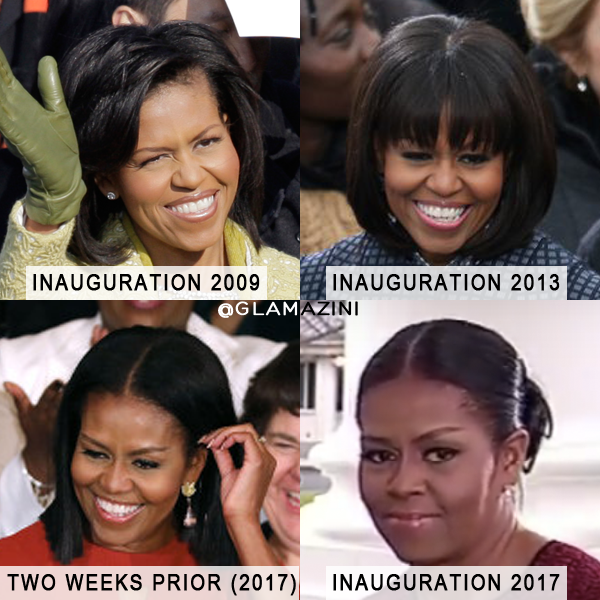 Wheydeydodatat huh Mich Mich? 🤔 👀
I mean, this is an important day … the last day of an 8-year-long role as the first lady of the United States of America the most powerful country on God's earth. The last day of a legacy that will be recorded long after she is gone. The punctuation mark on her incredible efforts for our nation as she served in a role above and beyond its trappings with grace, swag, style and urrthang.
… and she parted her hair down the center, pulled it back into a low "I gives none" pony situation and that was that? 🤔 I ain't see no edge slicking, no try-hardedness, my Glamazini-trained eye detects minimal effort made, and I'm not even sure she sprayed with water and tied it down with a scarf before she left the house. Ole girl looked like she grabbed the first pony piece on the left popped it on and was like "I'M READY!"
This was Michelle the whole inauguration, people.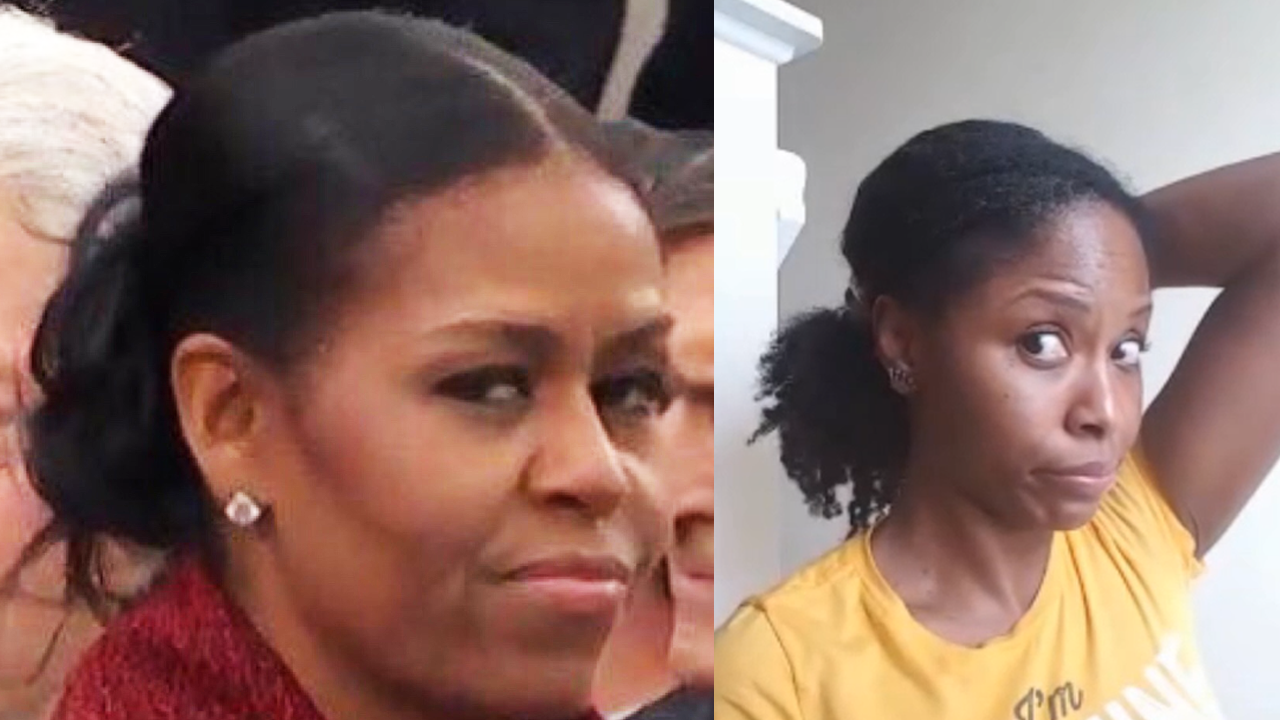 Clearly, something was off, but it took 2 good seconds for me to realize Oh! OOOOOOOOHHHHHH!!! She didn't do her hair 'cause she. cares. not.
I mean, first lady or not, Michelle LaVaughn is still a black girl and every black girl knows we don't waste no valuable hair styling time on no foolishness! SHO DON'T.
And Michelle if you're reading this or saw the video somewhere else on the interwebs 1) *MWAH* I love you!!! 2) I hope you had fun in my home (the Virgin Islands), I was just there the week before, missed you by a few days, you deserved that vacation, and 3) I hope even more that you have a sense of humor and know it's all jokes … but girl did I lie though? 😐 Did I lie girl? Girl? GIRL. Where are my lies?!!!! 😂😂😂😂😂😐
Watch this video see how Michelle really felt this past January as interpreted by my "Black Girl Hair To English Dictionary" skills. She was RET 👏🏽 TA 👏🏽 GO! 👏🏽 😂😂
p.s. I posted this video on my Facebook Fan Page and it went viral. 😐 {Fun fact, this is my 2nd "viral" video in a few months … the first was this You Name It meme *heh*}. Anyhoodles, be sure to like my fan page so you don't miss the shenanigans! 😉 FACEBOOK.COM/GLAMAZINI 😉