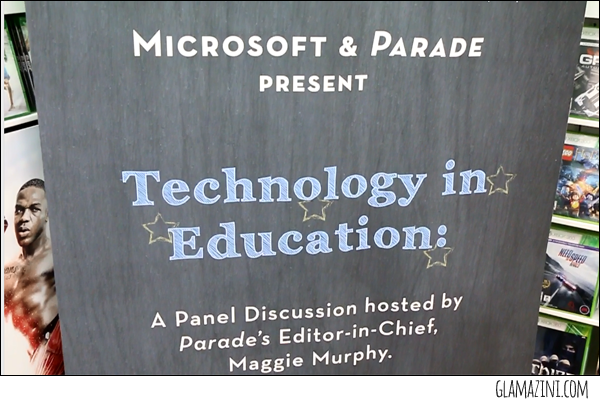 Last week I attended a Technology in Education Panel discussion held in the Microsoft Store in the St. Louis Galleria and presented in conjunction with Parade magazine whose education issue hit shelves yesterday.  The event was like a reunion of sorts since I haven't been able to attend local social media events in some time now (#thechildcarestruggleisreal).  It was awesome to see so many of my acquaintances in the digital space face to face.
(L-to-R) The panel was moderated by Maggie Murphy, Editor-in-Chief of Parade magazine and the panelists included Stephanie Madlinger, Director of Teaching & Learning and Adjunct Professor at the University of Missouri, Bradley Davis, Kansas City Microsoft Store Manager, Robyn Wright, Blogger at RobynsOnlineWorld.com and Cameron Evans, Chief Technology Officer for Microsoft U.E. Education.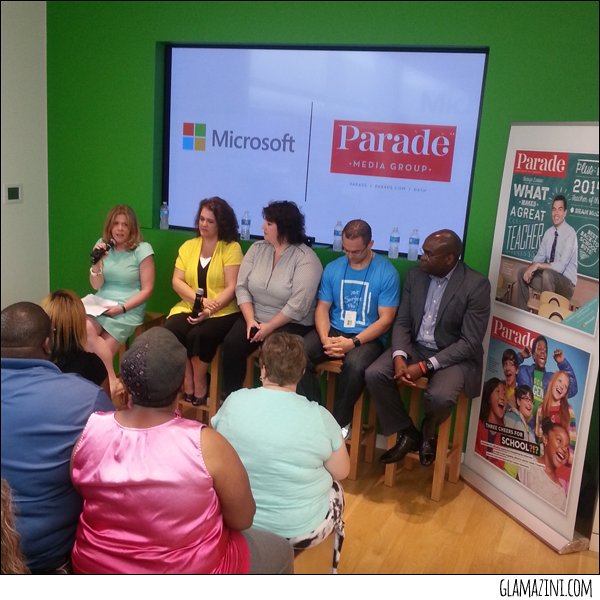 The discussion touched on topics ranging from technology's evolution in the classroom, the availability of technological options that were not possible just a few years ago, the use of technology beyond just learning how to code programs, how students can explore their creative interests using tech, the need for educators and parents to plug in (pun intended) and learn the contemporary way children learn, and using products like Skype, OneNote, and Bing in the Classroom, the latter of which has real-time translation coming soon, the middle is Microsoft's note taking solution, and the former is a safe way for children to surf the web without ads, bread combs and information being collected about them.
I must admit the conversation held my attention even though my son just recently turned 2 and is not in schools yet. Due to his special needs my husband and I have already toured and contacted inclusive schools that are options for him to attend both now and next year via the district and, of course, I'm excited about the possibilities of using technologies in his therapies. Even now his in-home therapists will often use their tablets during his sessions.
Last but certainly not least, I was given an ASUS VivoTab Note 8 tablet at the close of the event. #woohoo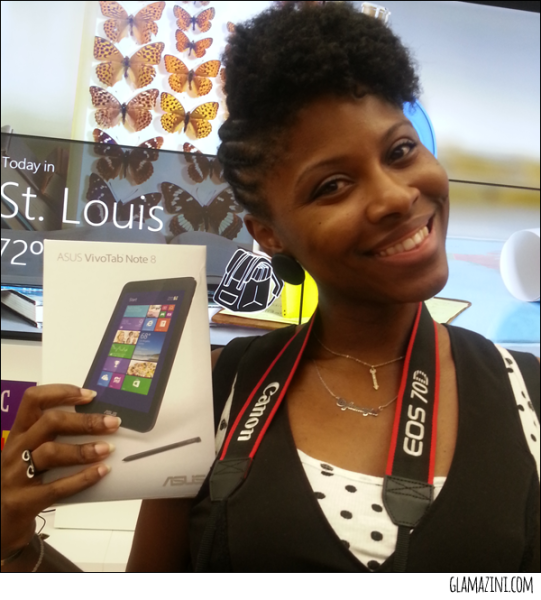 If you recall, I purchased an ASUS tablet a few years ago and had some challenges, but this VivoTab is smaller (which was one of my issues with the previous tablet) and it runs Windows 8 so I'm familiar with this operating system because I use it on my laptop. Syncing the accounts on both devices made it a breeze to start on this tablet quickly and hit the ground running.  I've been having a blast trying it out the past few days so look for a review in the future.
Thanks to Parade magazine, Microsoft and Robyn for the invitation, I enjoyed myself.
Oh and I almost forgot, I vlogged the entire thing so check out this video for the live and direct view:
Watch directly on Youtube | Help me meet my goal of 20K subscribers by end of year *thank you*