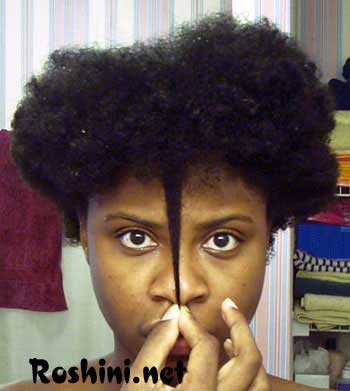 I decided to start every style in my rotation out with a growth pict for comparison purposes. I remember when this part of my hair only went to the brows. Yay!
Anyway, I made a major faux pas today ya'll. Usually I slather my hair with conditioner, wear it like that for hours or sleep with it like that, then I clear it out in the shower. Well today I thought I could clear my hair out with just the Jojoba Oil treatment in there.

Nyet.
Very bad decision. Snap, crackle, pop….ouch wouchy people!! So much hair came out while clearing out and still while styling. I'm very happy I'm doing the rotation thing now so my hair can have a break. Mark my words: I will NEVER do that again, I know better. Bad Roshini.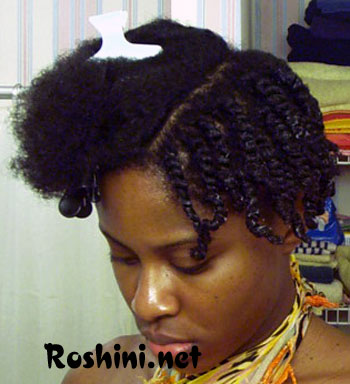 I decided to grab-and-twist this time and not do my usual parting schema. I did part out one slanted part in the front as you can see in this pict.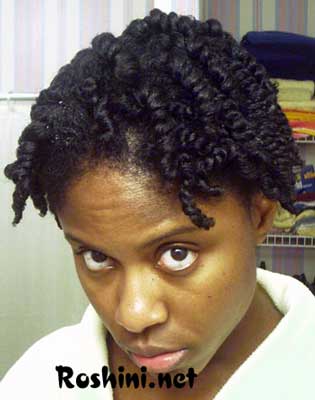 I'm in a rush but there's always time for picture taking. Here's the finished product. I can never get the larger twists to say very set on the top of my head, especially at the root. I got a bottle of Elasta QP Feels Like Silk at the swap yesterday so I twisted with that and aloe gel after adding moisturizer to my entire head.
This took me 3 hours to do watching TV and kinda lollygagging.