Over the 4th of July weekend hubby and I visited our first winery ever!

  A friend invited us there to celebrate his birthday and, even though it was SCORCHING hot that day

 , we were happy to attend. 
"Missouri has a storied history of wine-making that dates back to the 1850s. Missouri's wine industry at one time was one of the most sophisticated in the world… until Prohibition brought it to a grinding halt in the 1920s. Thankfully, the rebirth of Missouri wine began in the 1960s, and today the future has never looked brighter for Missouri wine lovers."
– MissouriWineCountry.com
We left our house around 3PM and took the 30 minute drive south to Montelle Winery in Augusta Missouri.  Known as "Missouri's most scenic winery", Montelle boasts incredible outdoor views, a spacious air-conditioned tasting room and small shop, an onsite cafe, live music and award-winning wines!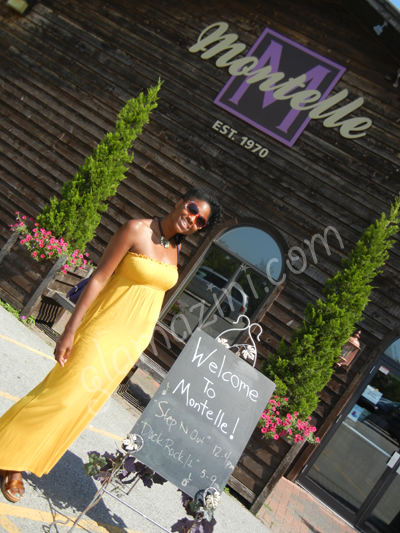 Me when we 1st arrived at Montelle Winery. (image: glamazini)
We arrived before our group, so we took the time to look around the shop and tour the outdoor patio area. The live music was a nice touch and there were lots of people, both inside and out, even with the tremendous heat.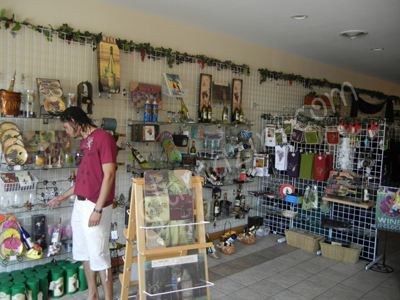 Hubby perusing the shop inside the tasting room. (image: glamazini)
Once everyone arrived the wine tasting commenced!
The system is relatively simple. You stand around the oval-shaped bar and there is a wine list on the counter. Each patron is allowed seven tastes.  You beckon a server, tell them which wine you'd like to taste, they pour, you imbibe (or dump it into the ceramic vessel on the counter if it's not for you), and repeat 6 more times. The wine list is conveniently divided into dry, dry red/rose, semi-dry, semi-sweet/sweet, semi-sweet fruit and dessert wines, as well as non-alchoholic drinks like Sparkling Raspberry Spumante. They also had Peach Sangria (made with their Peachy Wine) available to taste and were handing out the recipe for those interested in making it at home.
Wine tasting at Montelle Winery (image: glamazini)
The birthday boy attempted to get us to try the same wines at the same time but no one was cooperating!

I already know I'm not a white or sweet wine drinker, so I didn't jump into the mix until the very end.  I tasted the semi-dry and oh so wonderful River Country Red (which I later purchased) and dry merlot-like Charmbourcin on my own (also nice if you're into dry red wines like I am

 ).
My last tasting (I only tried 3 of them unlike the lushes I was with

 ) was the super light dry La Roseé.  It was easier to drink on such a BLAZING hot day and it was almost like a "white red wine". Truth be told, after the potent taste of the Charmbourcin it tasted like water.
The scenic view from the huge outdoor (image: glamazini)
I really enjoyed myself, even though I missed getting food from the Klondike Cafe because I unknowingly waited too long and they closed at 5PM except for pizzas.  As mentioned, I did purchase a bottle of the River Country Red with the group for a discount (purchase 6 bottles and get 20% off).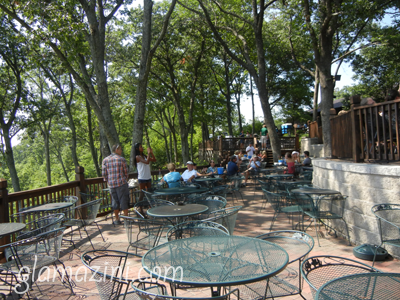 The outdoor patio at Montelle Winery. (image: glamazini)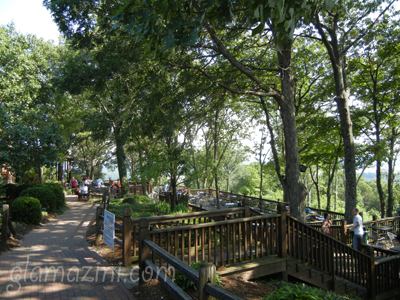 The outdoor patio at Montelle Winery. (image: glamazini)
The outdoor patio at Montelle Winery. (image: glamazini)
Now I can check "Visit winery" off my bucket list!

For more information about wineries in Missouri check out the links below:
Until next time Glam Fam I wish you
Life, Liberty & The Pursuit of Nappyness,   

@Glamazini | facebook.com/IamGlamazini | youtube.com/Glamazini | Google+