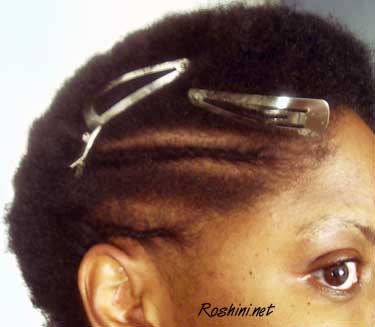 After my monthly 'pick out' I decided to try and cornrow the front of my fro. I got the click clacks and the rat-tailed comb and started parting….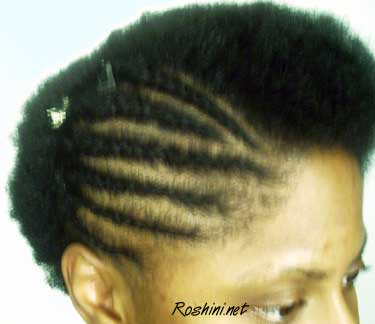 2003 ~ March 1, 2003
I got almost 1/2 way up one side and ran into the dreaded 'wirey' hair on the top of my head. This is the hard part for me to do anything with. It foiled my flat twist attempt earlier this year (not documented), bungled my bantu knots, abolished my attempt at comb coils AND NOW IT'S MESSING WITH MY CORNROWS

!!!!! … I will finish these buggers…I'll just go to the other side and start there ….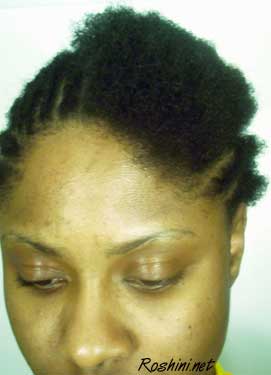 The sides are so much easier to do anything with. They are spongey and stay where I put um…the top is a different story. I'm beginning to dislike my 4a/3 parts and love my 4b parts….go figure….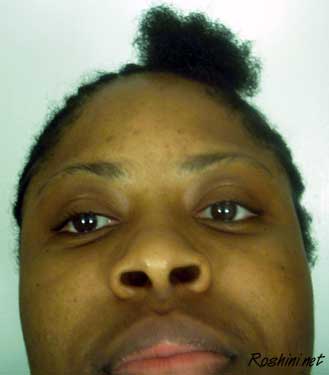 This is me being silly ;D ….isn't that a stupid picture?

*hee*hee*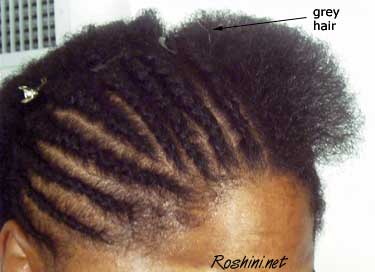 O.k….so I got all the way up to the top on the other side and have one braid left. This picture not only shows one of my 2-3 greys (all in the same spot) but it gives a good look at the length of my hair stretched (about 2.5 inches, longer in the back).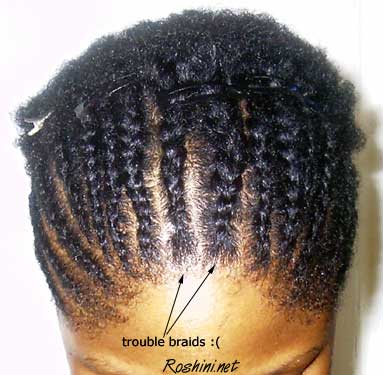 And after several attempts to rectify the 'problem braids' on the top I'm done. I still think they look a tad unkept but it's the best I can do. Maybe with a little length I'll be able to wrangle the wirey hair in…but for now I must improvise.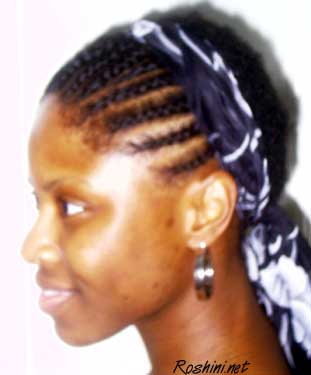 This'll be the look for church in the morning. Hope I can rock this for a week….well, atleast until Wednesday realistically.
~edited March 4, 2003~
I decided to redo 4 braids a night to prolong this style but I just can't get the top braids to be neat. bother…bother.
Products:
Tools:
rat-tailed comb
clips or bobby pins
How To Do This Style:

| | |
| --- | --- |
| 1. | Part out portion of hair over ear. |
| 2. | Dutch braid and secure with clip. |
| 3. | Repeat across front of hair until completed. |
| 4. | Adorn with clips, a scarf, flowers or whatever you'd like. |
| 5. | Go be cute! |