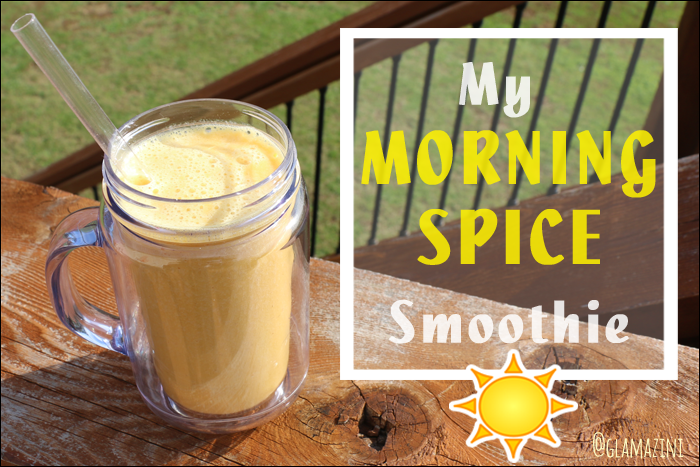 The best part of waking up is this morning spice smoothie in your cup! LOL
In honor of smoothie week (which is basically every week of my life over here), the lovely folks at Williams-Sonoma challenged me to come up with a unique smoothie creation and I accepted. I decided to do something different that my typical green or strawberry-based smoothie. I absolutely succeeded (hubby agrees) with this deliciously refreshing smoothie perfect for the fall mornings. It combines orange juice, cinnamon and cloves to create the most frothy refreshing AM wonderfulness you could ever taste. My only regret is that I didn't make it sooner.
Let's do it …
My Morning Spice Smoothie
First the ingredients.
Pictured above: frozen pieces of peeled orange, lemon, frozen sweet cinnamon spice tea made into ice cubes, ground cinnamon, ground cloves, honey (note: I eventually switched to agave nectar), vanilla yogurt, frozen orange juice concentrate
First thing I did was add the orange segments. I peeled and froze them the night before, placing them into a Ziploc bag and laying the bag flat in the freezer (so the fruit wouldn't freeze in one big ball). Freezing is optional, but I just like to use frozen fruit in my smoothies.
Next up I added the orange juice concentrate scooped straight out of the container.
I went ahead and made the rest of it into orange juice following the instructions on the package. Good thing I did because I eventually need to use that juice later in this recipe.
Next I added the lemon juice.
I changed my mind mid-stream and decided to use agave nectar as my sweetener instead of the honey pictured above. Either will do, same quantities. Next I added my spices, cinnamon and cloves.
Have you guys seen my Vitamix blender
? Probably not because I've only done one other smoothie post on this blog and I believe I was using one of my Oster blenders then. Hubby grabbed this beaut for me as a gift over a year ago and I love it. I already own several blenders and now I only use this Vitamix. Love. The one issue I have with it (beyond how clunky and industrial it can appear) is that we didn't get it in red. We love red. When it comes to obliterating any and all bits and rendering a smooth consistency it performs every time. Love.
BTW, if you can check out the Vitamix blender and many more great blending options check out the blenders page at Williams-Sonoma.com. If you are smoothie obsessed like myself you may start salivating. Thank me later.
Moving right along … after blending I was left with the pulpy blend pictured below.
I then realized I was gonna miss the creamy taste that I love so I tossed in vanilla yogurt. So glad I did.
The day prior I steeped 2 bags of this sweet cinnamon spice tea for probably an hour (maybe more), then made ice cubes overnight to toss into the smoothie. I wish I had a candle that smelled like this tea does, it made my kitchen smell amazing!
Here's the orange juice I mentioned making and then needing. I needed to loosen up the texture so I added orange juice until I was satisfied.
This is what I was left with: zesty, orangey, spicy, frothy goodness! *yum*
This smoothie turned out even better then I thought. That froth on the top was everything! In hindsight I should've served it with a dash of spice on top or a cinnamon stick stuck in it #imsofancy, but I wanted to take picture then get to drinking LOL!
Morning Spice Smoothie
2015-05-20 18:22:27
Ingredients
1.5 cups orange segments, peeled (optionally frozen)
2 tablespoons frozen orange juice concentrate
1 tablespoon fresh lemon juice
2 teaspoons honey -or- agave nectar
a dash of ground cinnamon to your liking
a dash of ground cloves to your liking
1/4 cup vanilla yogurt
1/2 cup orange juice
1 cup strong-brewed cinnamon tea, made into ice cubes
Instructions
Add all ingredients except orange juice and ice cubes
Blend
Add the ice cubes
Blend
Add some or all of the orange juice and blend until texture is to your liking
Serve immediately or store in freezer for a few minutes until you can drink
Notes
Pre Prep Time: Make ice cubes from tea the day prior, optionally freeze orange segments
Glamazini.com http://www.glamazini.com/
Alrighty, hope you guys enjoyed this post. I remember getting great feedback when I did my recipe posts back when I was pregnant. Unfortunately I decided to stop my son was born but this post (and my incessant and long-standing love of smoothies) has made me consider starting back up again, but only with smoothies … and on a brand spanking new blog. If/when I do, I'll be back to update this post so stay tuned.
What's your favorite smoothie recipe? Let me know in the comments below!