Happy Saturday everyone.
Hope your weekend is treating you well thus far. I've had a crazy week! I recently ended the Fast Metabolism Diet, and this week two different things I ate pretty much knocked me off my feet. Can you say back to  seriously watching what I put in my mouth so that doesn't happen again?!  These food sensitivities won't let me be great.  On top of that, there were the usual bevy of doctors visits and therapy appointments for Flickerbug and I just found out that I may need to go out of town  on an impromptu trip in the next week (but that's still tentative).
As always, there's a lot going on back here. 😉  Now onto the post …
I wasn't going to do a recap of my BlogHer Conference experience because I posted a real-time play-by-play on Instagram and Facebook, but I figured it would be out of character to leave my blog readers high and dry so here goes my 1st ever BlogHer Conference experience in pictures!
WEDNESDAY
I drove to Chicago with two members of my mastermind group, affectionately called the "Sistatribe", Kesha of Uncommonchick.com and Danyelle of TheCubicleChick.com.  We planned on meeting up with Yolonda of NotoriousSpinks.com, another member of our Sistatribe once in Chitown.

The drive was an easy one from St Louis and in a few hours we had checked into our hotel, the Sheraton in Downtown Chicago, relaxed for a while in the room then head out to get something to eat.   Conference veteran Danyelle told me this was her best experience arriving at BlogHer a couple days early, so from now on I'll plan on getting to future conferences early so I can breeze right through checkin again.  With the help of our amazing concierge Demetrius we ended up at Bandera Restaurant hich was in walking distance on Michigan Avenue.  I was still on the Fast Metabolism Diet while on this trip, so my eating was very strategic but I did make some allowances lol.
At Bandera I ordered the Rotisserie Chicken with a side of spinach and it was DELICIOUS!

This restaurant was top 2 of all the eateries I patronized that weekend. When we were leaving there seemed to be musicians setting up to play live music and the crowd grew so I knew it was a popular spot. I highly recommend it.
After Bandera my roommates wanted some of the world famous Garrett's popcorn, a Chicago tradition, also in walking distance of our hotel.
My confession: living in St. Louis I've obviously heard of Garrett's before but I've never tasted any of their popcorn. On this trip I would have loved to have eaten some, but I was on the diet so I could not *tear*.  Next time I'm in Chicago I'm going to eat some Garrett's Popcorn!
After Garrett's we walked on Michigan Avenue and ended up at the Water Tower Place, a mall of high-end shops located in the second-oldest water tower in the United States and one of the few buildings to survive the Great Chicago Fire of 1871.  I really enjoyed the location of the Sheraton hotel. So many great venues were in walking distance, and with the nice (but slightly cool for July) weather the streets were alive and bustling with people. I loved it!
Later we met up with Raijean from Swa-Rai.com a Chicago native, then swooped back to the hotel picked up Yolonda & spent the rest of the night catching up.
THURSDAY
Would you believe I woke up early to go work out?!  I know I know! *takes a bow*.  Like I said, I was still on a diet while there and it was resistance training day so resistance training was what I intended on doing. #operationbodyback
This was my amazing view from the pool deck at the Sheraton where I ate my snack before I started.  The hotel is located right on the Chicago Riverwalk.  I didn't get an opportunity to go on any riverboat tours, but I will hopefully do so on another trip to Chicago.

I was so shocked at how small I looked before I hit the gym I took a photo! LOL

That stomach is shrinking away (which is my goal).  On the top right you see my snack of nitrate-free jerky, celery and water, in the middle you see me right after finishing P90X Ab Ripper compliments of YouTube, and on the bottom I'm smiling from ear-to-ear because I just did upper body and lower body workouts with the free weights!  BOOM! #personalvictory
Once back in the room I showered and dressed.  This Betsey Johnson necklace is my favorite necklace ever.

A ducky with a crown *swoon*, only thing that would make it better is if she were holding a mango LOL!   I stalked it for months, then one Christmas I open a box and hubby had gotten it for me. I cried like a baby. I LOVE DUCKIES!
The outfit was simple. Tank top from Target a couple years ago, skirt from Marshalls, belt from Aldo, shoes from Payless, Necklace from Von Maur and Survival of The Hippest, bracelets from (top-to-bottom) childhood, Charming Charlie, Target, childhood &  2 Dollar Jewelry.
I ate breakfast in the LB Bistro & Patisserie located in the lower level of the Sheraton and they were very accommodating with my requests to meet the specifications of my diet.
Later that day we ended up at my new favorite place to eat in Chicago, Grand Lux Cafe.  I ate there a total of 3 times on this trip and love every morsel I put in my mouth. I highly recommend it!

The rest of the day was spent in walking in downtown Chicago and taking in the sights.

That night we all head out to fabulous Lipstick & Highheels Blogger Social held at Indique Boutique event and co-hosted by our roommate Danyelle, Raijean, and Trina from TheBabyShopaholic.com.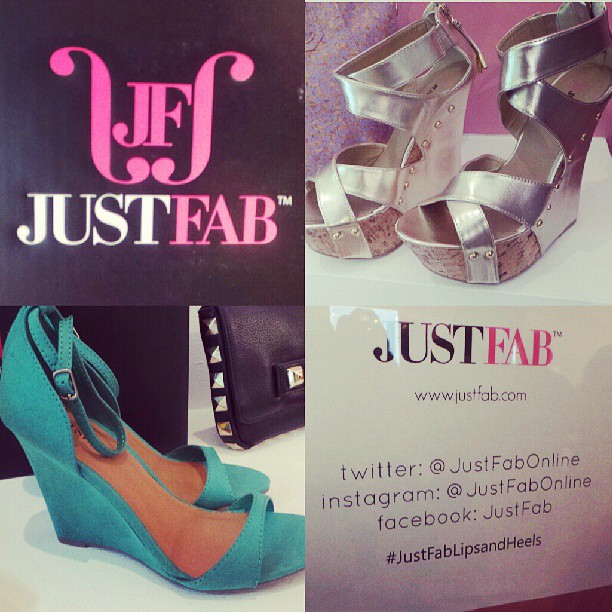 JustFab was one of the sponsors and had shoes on display. Attendees received a giftcard to their website in our swag bag. Woohoo! Indique Boutique provided all the co-hosts with hair to wear during the event, and even gave away a couple bundles to a lucky attendee!  Below on left right you see Danyelle rocking their Bounce Organic Curl hair.

I was so happy to finally meet Tia Danztler in person after all these years of talking online, I had to take a picture (top left).  I received three of my favorite swag items at this event, the Eden Body Works Coconut Shea Cleansing Cream, the Logitech M325 wireless mouse, and the Avon Mega Effects Mascara.
After Lipstick & Highheels my friends dropped me off at the Verizon Blackberry Timeshift Party where I was so happy to bump into with Shelley of StillBlondeAfterAllTheseYears.com and Sarah of SarahScoop.com both of whom I met during my May trip to Chicago for the Verizon Style Blogger's kickoff.  I also saw Kate of TheGuavaliciousLife.com and Luvvie of AwesomelyLuvvie.com in the house.

The party was really neat. I was given a demo of the new Blackberry Z10 4GLTE Smartphone aaand also left the party with a Z10 as part of the sweetest swag bag of them all!
FRIDAY
The next morning I was up bright and early again for the Yoga with Yasso event held in Millennium Park.  A quick walk from my hotel on a rainy morning and I was in the park and ready to get my yoga on.

I was so sleepy but so happy I attended attended this event, it was one of my favorites the entire weekend. When will I ever get to do yoga in the middle of Millennium Park in downtown Chicago again?  Unfortunately I did not get to taste a Yasso greek yogurt bar while there (because of the diet), but since then I've had the mango flavor several times and I really like them. #nomnomnom
I know you're probably thinking "When is she going to actually go to the conference?".  Well, today was the day LOL!  Since my decision to go was last minute, I could only pull off a Expo Hall and Party pass, so I was not able to attend any of the sessions. I know in the future I'll jump on the early bird pricing and get a full conference pass because I wanted to see some of the larger sessions with Queen Latifah and Ree Drummond.  Either way, the Expo Hall pass gave me PLENTY of brands to network with and blogger to meet so my time was full.

(top-to-bottom left-to-right)
The Dailys Cocktails booth | The Blendtec booth
Bri of TheManeSource.com at the Dodge booth | The Pediacare teddybear
The Serta booth | Tasha of HousefulofNicholes.com
SATURDAY
Saturday found us at Exhale Spa.  Danyelle and Kesha both got massages and I had the most EPIC pedicure (that lasted as long as their massages) from Jo. I will be back.

Later that day I was back in the expo hall where I met Erika of BlackGirlsGuidetoWeightloss.com who had been distracting me all weekend with this ferocious fro!

That night I stayed in the hotel and unfortunately missed the BlogHer fashion show with my girl Natasha. I did make it to the afterparty sponsored by Ulta Beauty. While there I bumped into Adria Richards who let me take her Google Glass out for a spin. Fancy (and weird and super techy lol).

Adria, Natasha and I

POW! Google Glass!
After a quick visit to the infamous CheeseburgHer party I called it a night and went back to my room.

Note: I was told that the CheeseburgHer party was the party to end all parties every previous year at BlogHer. Turns out this year it was not sponsored by McDonalds and was held in a (hot cramped) hotel suite with sliders and nothing remotely close to Miccy Ds.  I had the sads. Thing is, the Ulta Beauty After Party was spacious with amazing food and I really think people would've had a better time if everyone had ignored the hype and just went to the Ulta party downstairs.  Note over.
SUNDAY
Aw Sunday, I new you had to come but I did not want you to. *sad face* We checked out of the Sheraton and walked to Grand Lux Cafe one last time for brunch before we got on the road back to St. Louis.


Myself, Danyelle and Kesha right before we left Chicago *tears*
I had the time of my life this year at my first ever BlogHer Conference and I will definitely be back. Next time I'm definitely getting a full conference pass on the early bird pricing and since I won't be a newbie I'll have a better strategy for how to approach the Expo Hall and what to expect.
For more information upcoming BlogHer conferences visit BlogHer.com/conferences
Oh and p.s. #9 on my 40 by 40 bucket list is now complete. *curtsies*