Chellur you lovely reader person. Hope you're having a wonderful day.

I've really been enjoying my purchases from Alloy Apparel, so I thought I'd start sharing a wish list like I do for my beloved Long Tall Sally.  I discovered Alloy via Alicia of TallSwag.com and started shopping their website late last year.
According to the Alloy Apparel website:
Alloy Apparel is the go-to lifestyle brand for runway-influenced pieces at cost-conscious prices. Celebrated by publications such as Lucky, Essence, InStyle, LifeStyle and PeopleStyleWatch, we've been feeding our customer's passion for affordable fashion since 1997.
This company is nice enough to make beautiful, trendy clothes and offer many of them in long lengths!  I stand 6'1″ tall so the ability to choose the length of my skirts and jeans is akin heaven.  I own a couple of their Haylee Maxi Skirts, a couple pairs of jeans and recently received my order of a sweater and two pairs of flats.
Most of the item below are available in their new arrivals section, all are available on AlloyApparel.com.
LEGGO!
My Alloy Apparel Wishlist ~ Spring 2015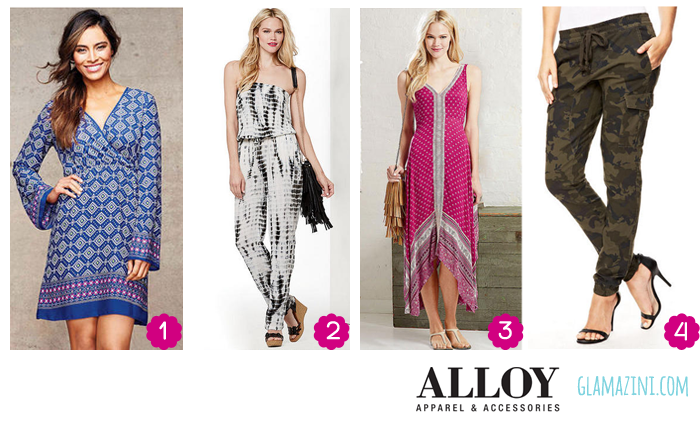 Isn't this cute?! I don't see it in a tall version, but I might could make it work (might could lol).  I love the pink accents on the hem and sleeves. I've been feeling like bringing back my hippie boho look so this would be perfect and easy to toss on in the warmer months. Love.
Wishlist my foot, I'm buying this! Do you see this jumpsuit of perfection? Yaaaaaas!  And it comes in longer lengths for my 6'1″ frame!  Gonna press "Add to bag" as soon as I finish this post and we this thing all summer long!
So cute, the perfect color for my complexion and easy to wear and look amazing.
This item seems to be a constant offering and not new. It comes in several colors but I think this camo print would get a lot of wear during the Spring and Summer months.  Best part is I can order it in different lengths including 35″!
So there you have it, my first ever Wishlist from Alloy Apparel, get excited.
Have you bought any items from Alloy Apparel?
p.s. This is not a sponsored post.  I just enjoy my Alloy purchases and thought I'd share, especially since they offer extended lengths for all my tall girls. *mwah*
p.p.s. I drafted this post a couple weeks ago and waited to publish it.  Today 1/2 the items I chose are no longer available lol. Lesson learned: if you want it from Alloy buy it quickly.