BOOM!
I'm back with another Long Tall Sally wishlist. Who is Long Tall Sally you ask? Only the premiere destination for fashionable, proportioned clothing made specifically for tall women like myself (oh any you must be new to my blog 'cause I loooves me some Long Tall Sally).
Moving right along …
… I received their Fall 2014 catalog in the mail last week and, as usual, I'm back to share my wishy wish list.
Long Tall Sally Wishlist ~ Fall 2014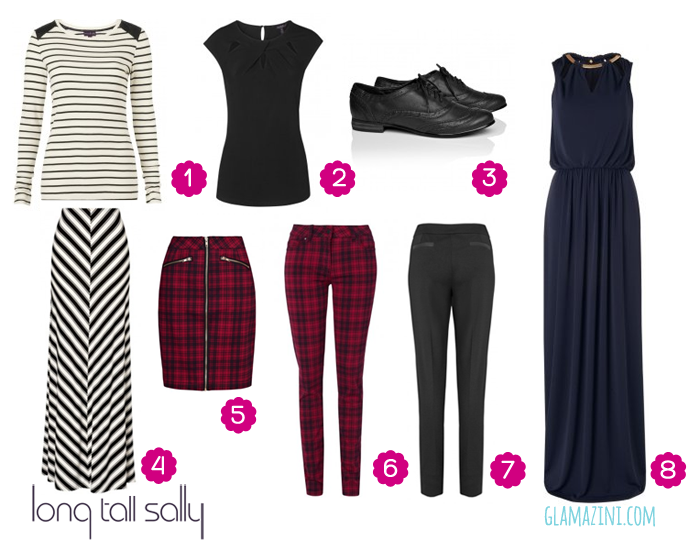 Most of the items pictured above are available in their new arrivals section, all are available on LongTallSally.com.
LEGGO!
How cayute is this top?!  It's simple but stylish and will make it look like you tried hard when you really didn't have to. The leather shoulder detail is everything and I love buying long sleeve tops from LTS because my wrist get cold otherwise #tallpeopleproblems.
Another basic top with a sassy detail that will make you instantly look like you put serious time into your outfit when it was Long Tall Sally all the time LOL!  I hope you can see it, but there's a three-part pleated/keyhole detail at the neck and the fabric seems like you may not need to iron it much which is an instant win.
I need these shoes and may buy them as soon as my money's not funny LOL! As y'all know I hurt my legs a few years ago so flats is where it's at for me. In the latter months of the year closed shoes are must and I could see myself rocking these all. the. time.  I actually want a black and a nude/brown oxford for my shoe collection so the hunt is on.
AYEEEE! My answer is YES!  Ok, I'm 6'1″ and I love maxi skirts. If I had to wear one style of clothing for the rest of my life it would be maxi skirts/dresses. Something about that long, sweeping silhouette is slimming, elegant and regal on me. LOVE. And do you see this chevron print situation?! Could you imagine me coming toward you sauntering up in this number?  You. are. not. ready.
Listen Linda … I love red and black plaid. Why? My aunt gave me a cocktail dress with red and black plaid (and rhinestones) when I was a teenager.  I did a lot of pagaents/modeling shows back then so I had opportunity to wear it several times.  When she first gave it to me I thought it was hideous … but then it grew on me and I could not stop wearing it. Then on top of my nostalgia, this skirt has the nerve to be red and black plaid with ZIPPERS ALL UP AND THROUGH THE FRONT YEAH LORD! *faint*
Look here people … LTS playing games with my emotions. Please see my #5 post above to familiarize yourself with my feelings about red and black plaid.  I've been wanting to try their Camden jeans for a while now. I can't process … too much goodness. Next.
Oh ok Ponte pants with your swanky pintuck creasing running down the front of each pant leg and your faux leather trimmed pocket action in the back. Oh ok, be fly for no reason then.
Anything that makes me look like a Grecian goddess is alright by me.  I literally tried on several dresses along this line last month.  This dress is the perfect amount of draping coupled with this great necklace details and of course, my love of maxi dresses.
Woop there it is, my wishlist for the Long Tall Sally Fall 2014 collection.  As always, this is not the entire list, but I could only fit so many items on the image above #truestory LOL!!
See anything you love in the new Long Tall Sally collection?
p.s. Once again this is not a sponsored post, I just like Long Tall Sally, have many of their items, they are well made and fit me. Ini happy.