Hey hey! I'm back with my usual Long Tall Sally wish list whenever the new season's collection is released. Recently they dropped their Spring 2015 items and I'm ready to wish upon a star.  Most of the items are available in their new arrivals section, all are available on LongTallSally.com.
LEGGO!
My Long Tall Sally Wishlist ~ Spring 2015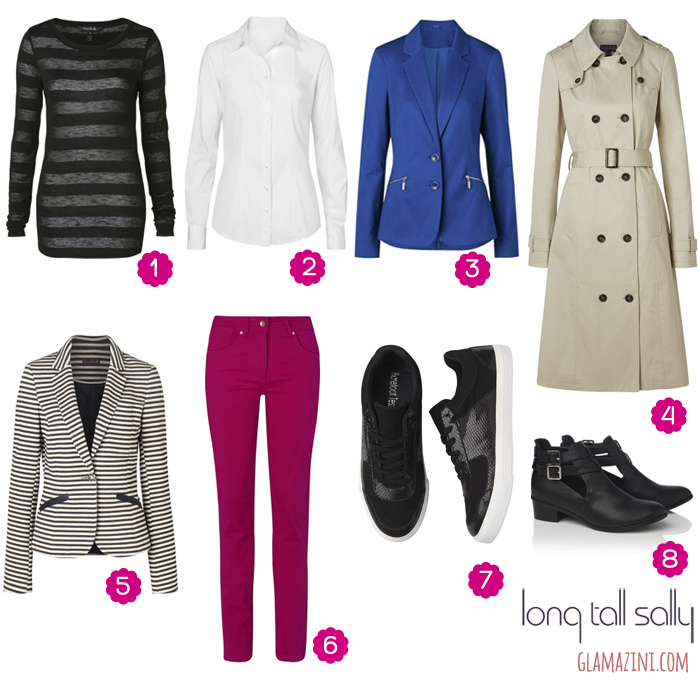 I own and love burnout shirts. This one looks so versatile and can be paired with neutral or colored tank top or layered for fabulous outfits as the season changes from cold to warm weather. Love.
This may seem basic but that's the point. I don't own a long sleeved (or short sleeved for that matter) white shirt that fits so owning one made specifically for my 6'1″ tall frame would be a perfect addition to my wardrobe basics.
In my last wish list I was all about bottoms, this time I'm all about outerwear and tops. I love the color of this jacket, the texture and the zipper detail.  I'm really trying to up my jacket game as well because I feel like it polishes a casual outfit just a bit and takes it from good to great.
The reviews on this trench make a bit sad … but still I can hope.  I was getting dressed the other day and realized that I didn't have a neutral colored non-winter coat. This classic trench in ivory would fit the bill perfectly, especially when I don't need a heavy wool number.
Skeeeeeeee!  I so want a stripped jacket that fits my tall frame. Look at this beauty! I need it in my life, plus I love the little details on the pockets and sleeves.
I've been wanting to add colored pants to my wardrobe for a while, specifically yellow and plaid, but this straight leg jean in Cerise would be the perfect start.  I've had some fit issues in the past with some LTS pants (specifically sagging in the crotch area), but I love this magenta color and would give it a try.
Shiny. Black. Sneakers. Need I say more?
AAAAAAAAAAAAAA!!!!!  I need these boots!  I need them so badly I could just cry.  It's so difficult to find cute boots that are flats that come in my size (12 or 13). I will get them and I will wear the forever and ever and ever Amen. Skeeeeee!
So there it is, my wishlist for the Long Tall Sally Spring 2015 collection.
See anything you love in the new Long Tall Sally collection?
p.s. This is not a sponsored post.  Recently I've had the privelege to work with Long Tall Sally and hope to continue to do so, but this post is just my usual that I've done since way before they even knew who I was. Plus I genuinely wear and purchase their clothes and wanted to share.