I compiled this wish list every season, not because Long Tall Sally is paying me (but if they want to feel free to offer lol #notkidding), but more because I just kinda love LTS. I own so many items from their previous collections that I often forget that's where I got the item from until I glimpse the label and think "oh yeah!"
As usual I received their Winter 2014 catalog in the mail and, as usual, I'm gonna share a few pieces I would love to own. If you want to see my previous LTS posts, including previous wish lists clickity click right HERE.  Most of the items pictured below are available in their new arrivals section, all are available on LongTallSally.com.
Okey dokey let's do this.
Long Tall Sally Wishlist ~ Winter 2014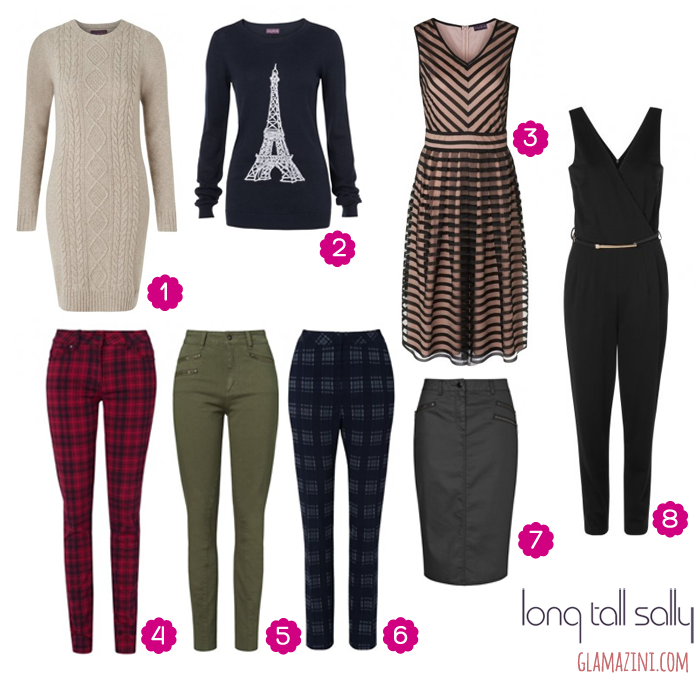 I don't own enough sweaters or winter clothes in general. I think it's because somewhere deep in my psyche my "I'm from the Virgin Islands" self refuses to accept the fact that I actually live in a place where cold weather comes every year whether I like it to or not. I just won't prepare myself which clearly makes no sense because I clearly live in a place where snow falls … clearly.  Soooo, this knit tunic dress made to fit my 6'1″ body looks like it would be easy peasy to pair with tights, boots and an infinity scarf and BAM! I have a snuggly warm, yet cute outfit that makes me look like I made major effort even though I'm probably cursing the snow HA! It reads happier than I will be *heh*.   Speaking of boots, I'm getting into boot socks lately so I think that's gonna be a "thing" for me this season. Feel informed.  Moving right along …
This, like the tunic above, is my way of admitting I live where it snows and of desiring clothing to keep me warm when it does so.  It's part of my reality check ha! This basic sweater with super cute Eiffel Tower detail on the front seems like it would be easy to style and upgrade any cold weather look.
This dress is everything! I love a chevron design (I picked a chevron skirt in my last wish list) and the mesh overlay on this dress makes it look so girly, fun and flirty. This would be perfect to wear to any holiday event and looks like it would never go out of style from year to year.
This was in my last wish list and, even though it's *technically* not in their new collection for these season it's still in my wishlist 'cause I. love. red. and. black. plaid. If you want to know why chick here and read #4. Yeah that much. I still haven't tried their Camden jeans yet (although I do have a black pant from them that I got years ago and I'm not sure if it's Camden or not), so these pants may finally have to come to mama … which is me.  I just tried to put them in my cart but then it says they aren't available. #iweep  … I'm gonna keep my eye on if they pop back up so I can grab them. Love.
This basic pant looks great for the winter months and the slim legs would be easy to pair with boots overtop.  I'm in love with the zipper detail at the pockets, especially the 2 on one side and 1 on the other. How cute is that?  It comes in 2 easy to style neutral colors, camel and khaki.
If your read #4 you know how I feel about plaid. This slim leg pant (once again easy to stick into some tall boots), with this blue pattern of large plaid squares is calling my name. I could totally see me wearing these all winter long with the brogues that LTS sent me (that happened to be on my last wish list btw *yay me*)
At first glance I thought this skirt was leather, but then I noticed it was shinier then denim but duller than leather. I was intrigued, what manner of magical magic was this?  They're calling this fabric "coated" but I'm not sure with what. Maybe this pencil skirt is coated with sheeny fabulousity? LOL.  I'm a sucka for a pencil skirt and once again I'm all about the 2 zippers on one side, 1 on the other side dealy. Love it.
I am always on the look out for a jumper on in the LTS collection. If I could I would wear jumpers and rompers all the time #onesielife. Truth be told, it's pretty hit or miss when it comes to the style/prints of the ones they do put out, so when I see one I like I must have it. I'm definitely gonna make this black jumper happen in my wardrobe.  I'm in love with the simple elegance, wrap front, V neck and belt (with isn't attached to you can style this however you'd like).
There ya have it, my wishlist for the Long Tall Sally Winter 2014 collection.
See anything you love in the new Long Tall Sally collection?
p.s. Once again to re-iterate, this is not a sponsored post, I just kinda love me some Long Tall Sally and legitimately wear a  lot of items from their collections.