It's been really hot in St. Louis, Missouri for months. It's almost like we had no spring and summer, we had tornado season right into desert. Thank goodness the weather is showing signs of reprieve lately with the occasional 80 degree day, but yesterday was 101 degrees so who knows.
I'm sharing my favorite lotion for this excruiciating heat, Neutrogena's Light Sesame Formula Lotion.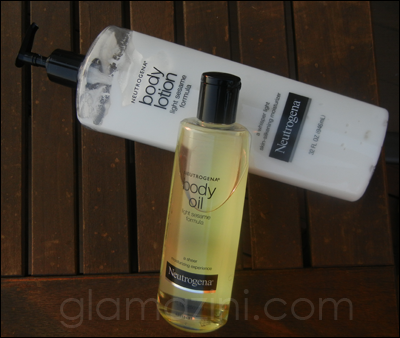 images: glamazini
If you remember, Neutrogena's face wash and I did NOT get along, but their lotion has redeemed our relationship. I also give a shout out to an old favorite, their Light Sesame Formula Body Oil, in the video.
32 oz Neutrogena Light Sesame Formula Body Lotion on Amazon.com
8.5 oz Neutrogena Light Sesame Formula Body Lotion on Amazon.com

8.5 oz Neutrogena Light Sesame Formula Body Oil on Amazon.com
Until next time Glam Fam I wish you
Life, Liberty & The Pursuit of Nappyness,

@Glamazini | facebook.com/IamGlamazini | youtube.com/Glamazini | Google+
4R4HUDWVFZY4