I haven't written about this in four years but this development is definitely worth sharing!
In 2009 I was on a vent kick here, here and here about the lack of "nude" items in the market for anyone who wasn't pink or beige.  Last year I actually searched for a pair of matte brown flats (seen here) that I could wear as my nude (since I'm actually brown and can't wear heels right now).  A couple days ago I lamented to my husband about a pair of matte brown heels I saw online (can't remember where right now) and how they would be a perfect as a nude pump for me if I could ever wear heels again … because … I. am. brown. 😐
Then this happened: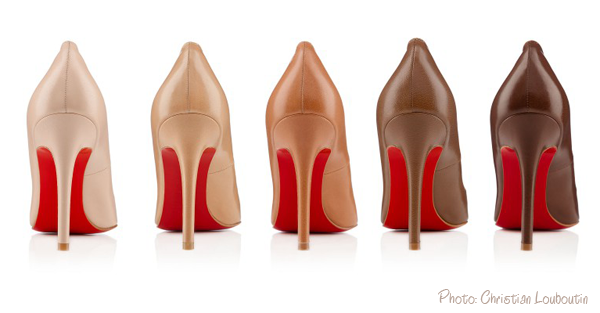 Ladies and Gentlemen meet Christian Louboutin Pigalle!!!
I wanted to shout a hallelujah praise when I saw these! Not because I can afford the $625 price tag, but because FINALLY a leader in the fashion industry has acknowledged the gorilla that's been parked in the middle of the fashion room forever stinking up the place and making us all wonder why?!!  The blasted word "nude" somehow became synonymous with a beigey-pink-one-color-fits-all foolishness and no one seemed to care about the rest of us and our need for an elongated leg look created by a shoe that blends with our complexion!
Until now; Thank you Mr. Louboutin!!
The Safki color looks just right for my chocolate tone, and maybe one of these days I'll be able to plop down a couple car payments on some Louboutins, but until then I'll just share my joy and praise for finally feeling like I am not invisible in the world of glamour and style.
*insert applause here*
Which color is your match? Let me know in the comments below.