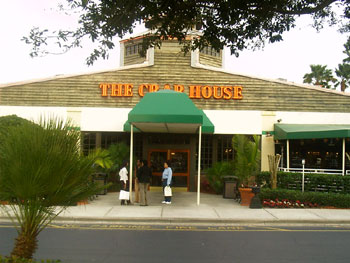 Sit back and enjoy pictures of the
*Orlando Nappturality Get Together*
So Delushious and I decided to drive down to Orlando for the Napputurality get together being held there. 10 beautiful napptural ladies had lunch at the Crab House in East Orlando. We had a great time!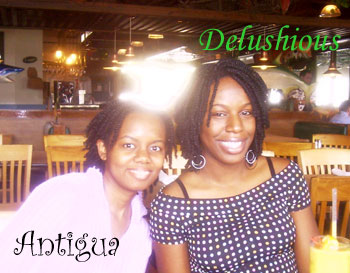 I'm told that this is their best turn out yet! Here we have Antigua from Kissimee and Delushious from Tallahassee smiling for the camera. Antigua is wearing 2 strand twists and Delushious is wearing 2 strand twists with kinky hair extensions (that she did herself).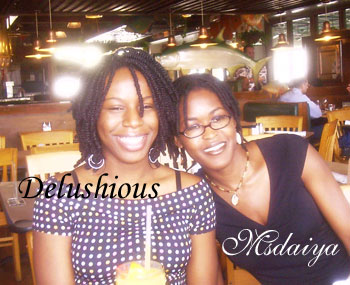 Delushious and Msdaiya looking very radiant

. Msdiaya is wearing locs started last summer with comb coils and jewelry that she made.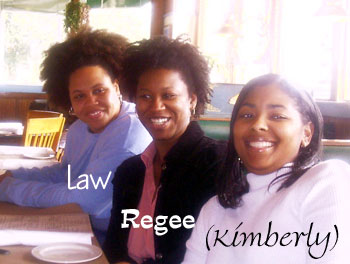 I was so excited

!!!!! I got to meet law and Regee, both of whoms albums I frequent …

uh …. o.k. I stalk law but you get the picture. They both drove up from Tampa for the gathering.
Law is wearing a very large puff, Regee is wearing the cutest twistout with headband. Kimberly was Topaz's guest and is not a member on Nappturality. Don't quote me but I think she has several inches of natural hair from the root down and it is pressed. If I'm incorrect I know someone will let me know.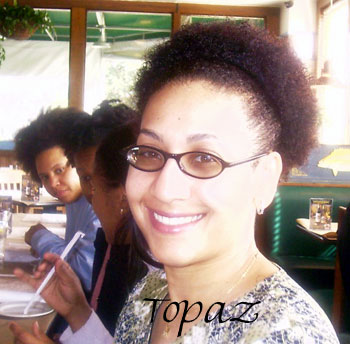 It was really cool meeting Topaz. Her puff was just beautiful and as I was sitting next to her I took several opportunities to just to stare at it (trying to be sly as not to freak her out

). Just beautiful.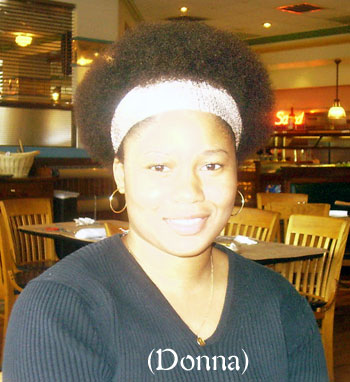 Here's Donna who is a co-worker of Topaz's. She is not a member on Nappturality (yet). It was great sitting next to her, she was inquisitive and conversating a lot. I had a nice time talking to her and think she would be a great addition to our online community. She had on the nicest gold scarf (not to mention a sharp pair of shoes) but my camera did not do it justice at all. Sowwy hon.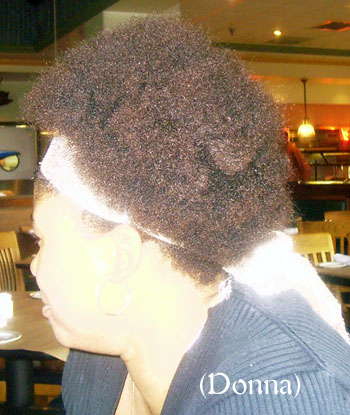 Here's a good look at Donna's fro from the side.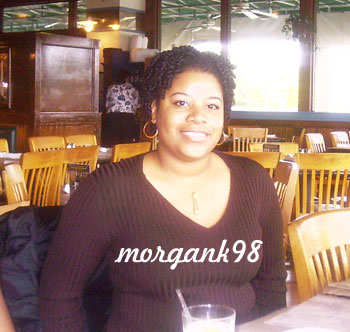 Ya'll, morgank98's twists were just the bomb!!! I think she had a friend do them for her. The front was flat twisted back and then the rest was 2 strand twisted. Very very nice look for her.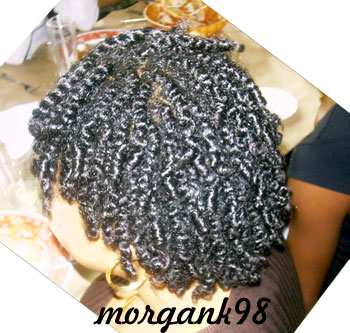 And the back of morgank98's twists. So nice.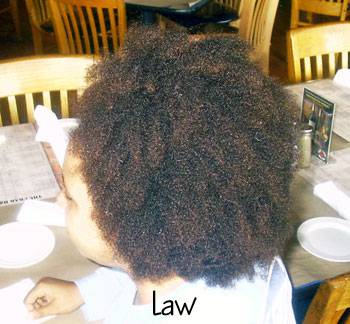 law ….

what else is there to say? It's brootiful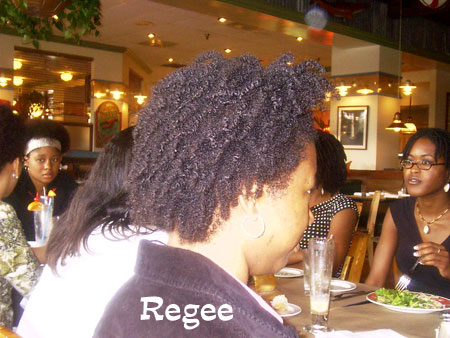 Regee had the cutest twistout with a head band. Loved it on her. It looked so soft I kept wanting to touch it (but I didn't).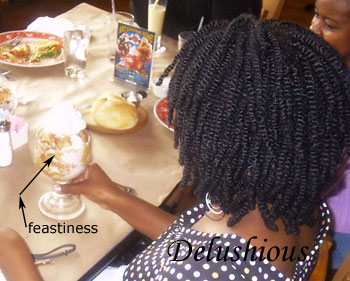 Delushious, her twist extensions and her GIANT sundae. As my boyfriend calls it "feast-ee-ness". Once again Ms. Thang has had a bad hair experience (do ya'll see a trend here?). Anyhoo, she's planning to get 2 inches of new growth and then cut the extensions out, thereby rocking her 2nd TWA.
These twist extensions are (as always) very nice. Maybe one day I'll get the guts to ask her to do them on me. I'm still weary of extensions…but I do admit to missing them.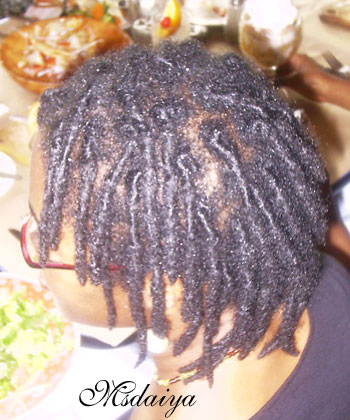 Msdiaya's locs were very nice and they looked soooooo nice on her. She said she started them last June with comb coils so …. hold onto your seats women…..this is 8 months of growth

!!!!!!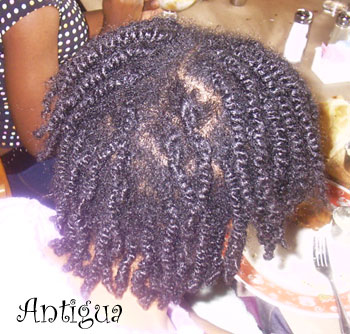 Here's Antigua's 2 strand twists. She said she's been natural for the past 8 years and really didn't spend that much time relaxed in the first place…only a year or 2 if I remember correctly.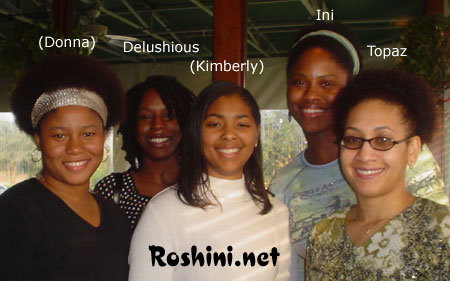 Thanks to Topaz for this picture.
Isn't this beautiful … oh and I told you I'm tall :).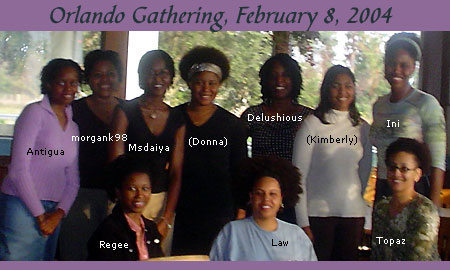 Thanks to Topaz for this picture.
Here's the entire group

.
Thanks to Topaz for this picture.
Another picture of us.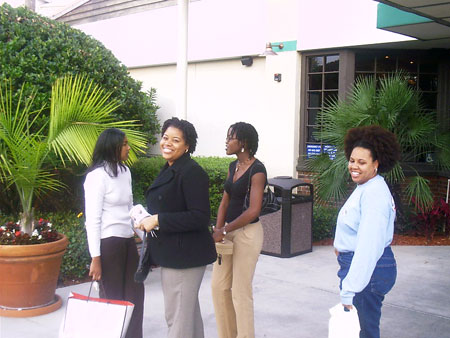 After talking, laughing, eating and a product swap we moved the conversation to outside and chatted some more. The food at The Crab House was great. I had 2 smoothies and salmon and I was stuffed. I bought some headbands from Topaz which I'll show you later.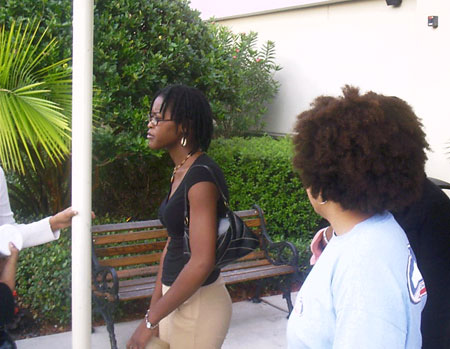 Msdiaya's locs are just radiant and well….law

….. need I say more?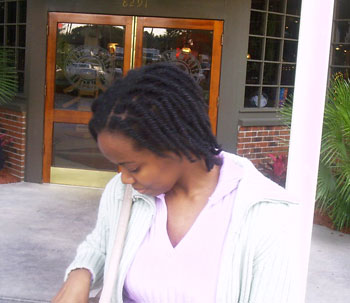 Our staged "candid" shot of Antigua's 2 strand twists.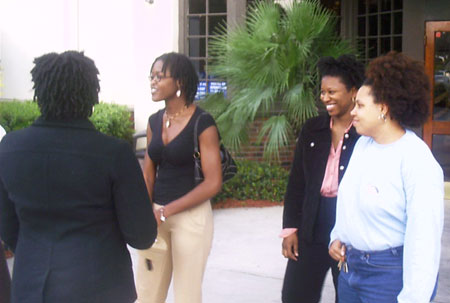 More talking outside. Isn't this a great picture of beautiful, natural women?
I had a wonderful time with all of you and enjoyed your company. I will definitely come back to another Orlando gathering. Until next time, blessings. ~ ini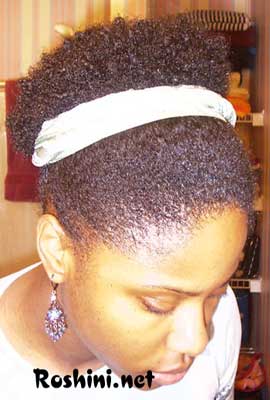 This is me the night of the gathering after I got back in town. I took this picture for 3 reasons:
(1) so you can see what my hair looked like at the gathering
(2) so you can see what a week old daily conditioner-washed puff looks like on my head and
(3) i was asked a question about my edges @ the gathering. It was assumed that I brushed them today, but I didn't. I think they are lying down like that because I've been tying my hair down in 'puff position' for an entire week. Earlier in the week there were more curly q
ues happening but today it's pretty laid down.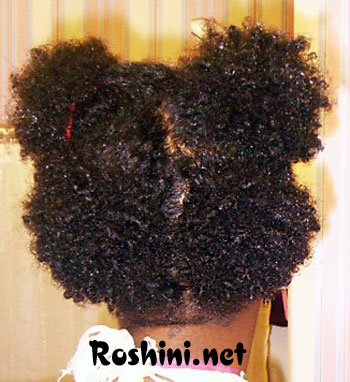 So my rotation begins. Here I am right after I took the puff down and saturated my hair with Jojoba Oil Treatment. I then proceeded to cover my hair with a conditioner cap, tie it with a scarf and go to bed. A disaster was about to happen.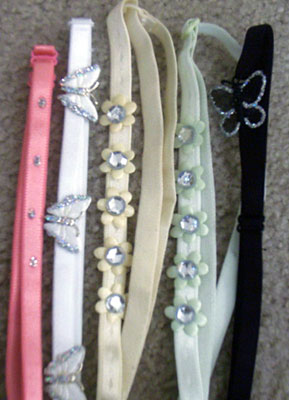 These are the brastrap headbands that I purchased from Topaz at the Orlando Nappturality Gathering. She has lot's of styles and colors and her price is very reasonable. If you'd like to purchase some send her a Private Message on the Nappturality.com Forum.