Since I injured my legs last year I've been OBSESSED with leg health and healthy footwear. Gone of the days of me rocking 4-inch unbalanced stiletto granny boots (weep) and I've cross the threshold into "sensible" (shudder) shoes.  I'm getting old.
Anyhoo…
… one of the issues you quickly run into when dealing with falling arches is the inability to wear flip flops of any kind.  Every flip flop you find is made of the well known flimpsy plastic base and your foot can barely be considered even in a shoe much less supported by the shoe.  Needless to say this seriously hinders your summer style, expecially if you loved wearing flip flops with dresses like I did (weep).
Last November I found the answer to that prayer in Orthaheel Footwear!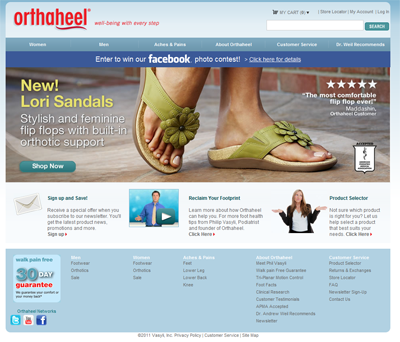 I desperately wanted to wear flip flops on our cruise of Mexico and my primary care physician recommended this brand.
"Designed by Australian podiatrist Phillip Vasyli, Orthaheel footwear are created with built-in orthotics."

This helps to re-align the foot, ankle, knee, leg and body with every step and, in my case, reduce or totally eliminate the pain associated with tendonitis! YES! 
The good news is if you are a woman that wears a size 11 or lower Orthaheel creates cute styles and colors for women!   Unfortunately I wear a size 12 or 13 so I'm stuck with the mens styles #womp.  I will not dwell on the negative and instead say I'm THRILLED to even have these as an option!  YAY! 
I've owned 2 pairs of these flip flops for the past 7 months and I HIGHLY recommend them to everyone with foot, leg, back or body pain. 
Until next time Glam Fam I wish you
Life, Liberty & The Pursuit of Nappyness,