As promised last week when I provided an extensive list of natural deodorant options for you guys, I'm back with a detailed review of one of those products, Oyin Handmade's Funk Butter.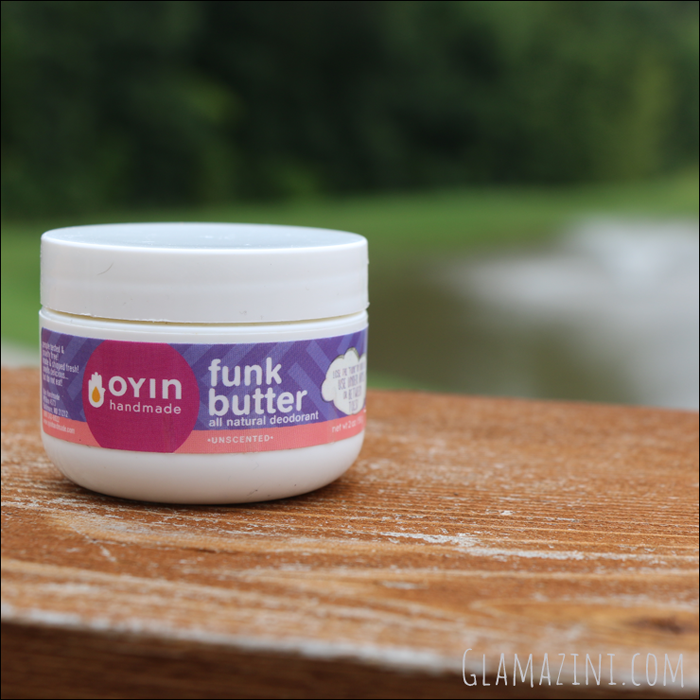 This natural deodorant comes in 3 flavors: black cedar fig, coco mango and unscented. I purchased the unscented flavor back in May and have been using it on an off since then.  I sweat a lot and figured the summer months would be the best test of a new deodorant product, especially one that is not an antiperspirant.
Per the Oyin website:
The odor-absorbing power of baking soda is behind this natural product, with microfine vegetable powders and Kaolin clay to help absorb moisture and keep you cool. It's exfoliating, moisturizing, and equally effective under arms or between toes. This product boasts one of our longest shelf lives, and a little goes a long way. An all-natural, cream-to-powder deodorant formulation, Funk Butter is Oyin's answer to any unwanted 'funk' in your life. 
The short version of this review is: Up until last week it was my go-to deodorant to fight the funk in the hot weather. To find out why I stopped using it keep reading.
Smell (of the unscented flavor)
I purchased the unscented flavor so I can only comment on that scent.  Funk butter contains several natural ingredients but the unscented flavor has a strong clay smell with a note of baking soda.  When you wear it your arm pits will smell like clay.
Texture
Funk butter has a "cream-to-powder formulation".  This means it is intended to start out as a cream and, when applied, transforms into a powder under your arms.  Here's a shot of what the product looks like in the container: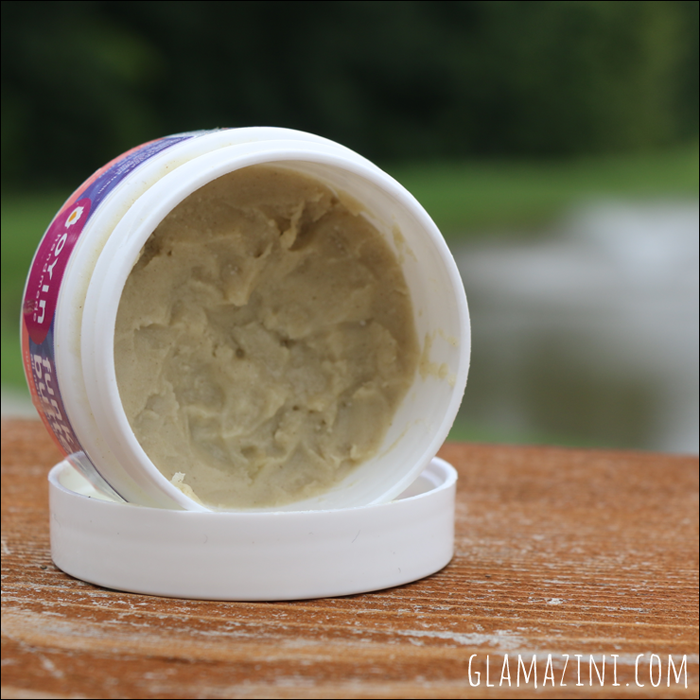 As you can see it's not liquid enough to run out of the container when placed on it's side, even if I left it like that for several hours. It's firm and will stay right there. I use the back of my fingernail to scoop it out (as evidenced by all the scrape marks lol), and it is easy to remove that way. I would not call it a "cream" though. Some of the product is moister then the rest, but over all it's not creamy. It is hard to explain the texture because I can't think of anything else that feels like it, but the best I can do is it feels like super-finely ground perpetually damp sand.  Moving right along…
Below is a shot of the texture outside of the container (as well as a good look at the amount I typically use per pit, about the size of pea).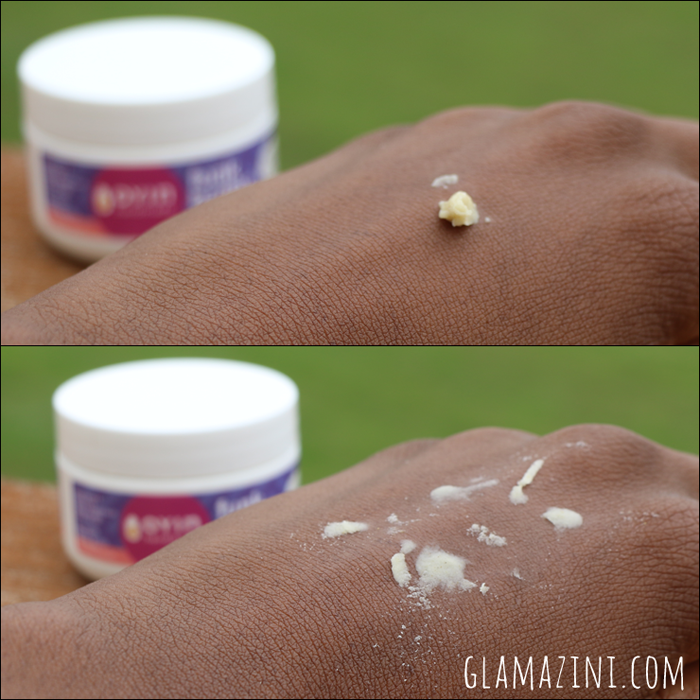 As you can see on the top photo, Funk Butter is firm enough to keep it's shape, but when it's applied (shown at the bottom) it spreads into a powder-ish situation that's hard to describe. I actually had issues getting it to spread under my arms and found an easy fix so keep reading.
Directions for Use
Initially the idea of applying Funk Butter was intimidating to me, but I quickly figured out that fear was unwarranted as it's super simple to apply once you get the hang of it. As I mentioned above, it has a cream-to-powder formulation meant to smooth onto the skin under your arms (or wherever you don't want funk like feet).  Oyin recommends that you text the product on your wrist or inside your elbow before using as the baking soda formulation is potentially abrasive.   I tried it on the inside of my elbow for a few days before I moved to using it under my arms.  The recommendation is to apply the product on damp skin fresh out of the shower or over a layer of body oil and never on irritated, just shaven, or broken skin.
After attempting to use Funk Butter on damp skin immediately after exiting the shower quite unsuccessfully I opted to apply a generous coat of coconut oil prior to applying it with great success.  Without the coconut oil, even on damp skin, the Funk Butter only spread, at best, like in the photo above. It never totally disappeared which is not ok with me, I need my deodorant to melt into nothingness.  With the coconut oil the same product easily smooths into an invisible layer of protection from odor.  I highly recommend this option because others have told me that, without the layer of body oil, the Funk Butter is abrasive to apply. I didn't experience that, but I can see how that could be the case.
Does It Work?
Now the question you're all wondering about: does this thing even work? My answer is a resounding YES!  I've tried 4 or 5 natural deodorants so far, and Funk Butter is the best and most effective hands down.  I could apply it it in the morning and be 100% assured that, even after a 100+ degree St. Louis day outdoors I would smell, at worst, like clay and clay only (remember I have the unscented flavor).  It consistently worked for me, day after day, and also worked for several people who I recommended it to. If that's the case, why would I stop using it you ask?  Well …
Why I Stopped Using It
I tried to keep using this product every way I could think of, but in the end I had to stop because it was making my underarms darker.  I heard this was an issue from others, but I guess the fact that is worked so well made me hope, pray and try to make it work. I even asked the company what I could do via Twitter and unfortunately was already doing what they recommended.
So as they said, even after two more months of trying to make the Funk Butter work for me, I stopped using it because I could not deal with the darkened underarms and it was not a good fit for me.  Waa.
So there you have it, my thorough review of Oyin's Funk Butter natural deodorant.  If you have further questions please let me know in the comments below and I'll update this post.