After almost 3 weeks in the beautiful British and United States Virgin Islands, hubby and I traveled safely back to St. Louis, Missouri this weekend and I feel rejuvenated beyond words! Thanks so much for your patience with my absenteeism on my website. I just didn't have a reliable internet connection, but I sure did miss you guys and hope that, thus far, 2012 has been treating everyone kindly.
Now on with the show…
… while on a day trip to St. John, U.S.V.I. I stopped in a store in Mongoose Junction at Cruz Bay and found my newest love: PAPAYA!, Inc. O.M.G. *swoon*.
In 2003 PAPAYA! was founded by Gina & Anahata Katkin. A mother/daughter team armed with a vision of Creative Abandon and a heap of determination. PAPAYA! started with just 20 blank greeting card designs in a southern California dining room. Many of the designs originated from Anahata's handmade art journals and were adapted for print. Knowing they wanted to share a visual perspective of global culture, brave imagery, and powerful color, PAPAYA! was born. Today, PAPAYA! is celebrated all over the world by retailers and fans alike. PAPAYA! is now a thriving manufacturer enjoying a constant stream of new ideas, inspirations, materials, and added artists.
~ PapayaArt.com
My eye was first drawn to this beauty right here: Future Beauty–Large Accessory Pouch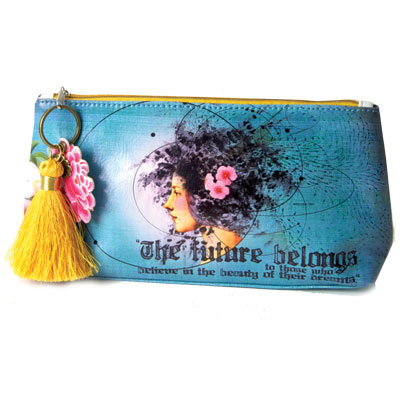 image: papayaart.com
It says "The future belongs to those who believe in the beauty of their dreams."
YUSS CHILE!

I saw that sucka and was like "MINE!" … then right afterward my eye caught a large clutch that I loved, and finally the tote I ended up purchasing: Dream Luxe Tote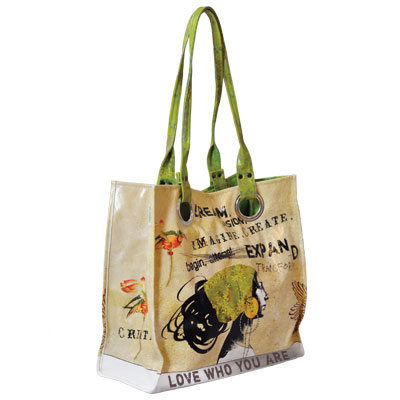 image: papayaart.com
It says "DREAM. VISION. IMAGING. CREATE. begin, attempt, EXPAND, TRANSFORM. LOVE WHO YOU ARE"
BAM!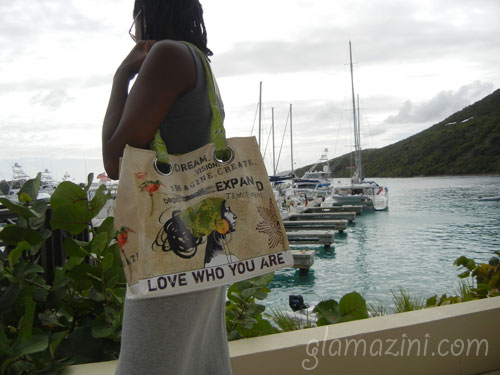 image taken at Scrub Island Resort & Marina
I switched the tote to be my daily purse immediately and have been in love ever since! It also turned out to be an AWESOME travel bag; the quality is durable yet stylish. I have another use for it in mind that I'll share with ya'll shortly. My aunt saw my tote then promptly went back to the store and purchased the Future Beauty Pouch pictured above. LOL.
Anyhoo, glad to be back and blogging. Stay tuned for some fun travel posts as well as my usual fare: hair, life, a smidge of this and a dollop of that. Oh and surprises are on the way for 2012 so let's do this!
PAPAYA!, INC. is online at PapayaArt.com.
~~~~~~
Disclosure: The tote bag pictured was purchased by me for me with my own money. I love it. Love. It. I. Say.
~~~~~~
Updated June 24, 2016 to add
I used that tote bag on a daily basis as a purse then as a diaper bag for 3 and a half years then finally retired it because the straps started to peel. The rest of the bag was perfectly fine but after almost 4 years of spilled milk (literally) decided it was time to move on lol! I have since purchased the matching large pouch which I use once a week as a mini-diaper bag because the say my son's spina bifida is set up we still need one (plus I figure if you're *gonna* have to do it why not have it be a bag you love right? Right.)