I'm excited to share this awesome program with you all! It aims to help deserving youth gain exposure to the entertainment and community service industries!
But first, my own story of inspiration – When I met Nelson Mandela!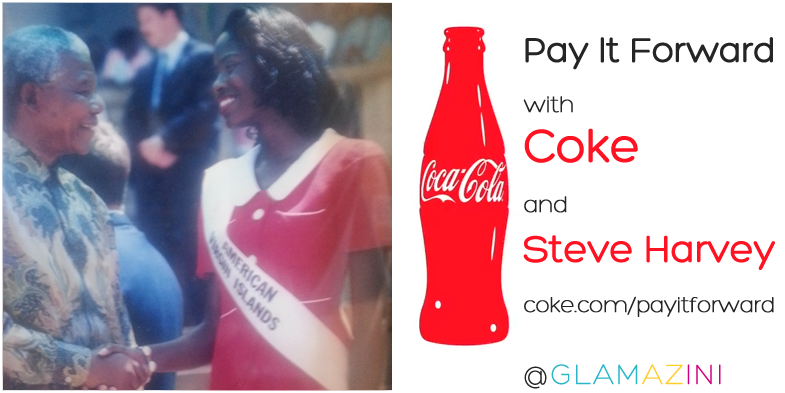 Life can be surprising.
Who would have thought that one day I would shake hands with one of my greatest inspirations?
I grew up on a 32-square mile island in the Caribbean Sea and had, what most would categorize as, an awesome childhood. I learned about the great achievements of so many figures but was always intrigued when we covered Nelson Mandela in class.
Why?
I think he held may interest because unlike many I learned about, he was still alive and relevant since his release from prison in 1990. His subsequent rise to the presidency of South Africa coincided with my high school years and 1993 graduation. What I loved about Mandela was his persistence that evolved into the power to change and unite an entire country. Where many would see failure after 27 years in prison, he somehow saw a stepping board to the unification of a divided people. He stood firm on his message of giving throughout his life first as an activist then later as president of the country he loved so much. We all mourned his loss this past December, his life was an inspiration to the entire world.
Well to my surprise I was able to meet, speak to, and shake the hand of The Honorable Nelson Mandela in 1995 during the Ms. World pageant.
After years of learning about him in books I could not believe I was standing there talking to such a great man. That experience reminded me that good things do indeed happen, and beyond that, I must use my life to give back to others. I can only hope that I touch a portion of the people I am assigned to help by sharing with you all online for all these years.
Now remember the amazing program I told you about?
A great mentor can make all the difference, Coca-Cola has teamed up with Steve Harvey to give two young people the apprenticeship experience of a lifetime. Visit Coke.com/PayItForward to nominate an aspiring youth and help pay it forward to the next generation. In addition, each winning youth gets a $5,000 scholarship to assist with his or her pursuit of higher education.
That's five THOUSAND dollars in U.S. money people.
I wish things like this existed when I was growing up ESPECIALLY exposing kids to the entertainment and community service industries. I'm kinda jealous LOL! If you know a deserving young person rush on over to Coke.com/PayItForward and nominate them!!!
Oh and if you're a "tweeter" there will be a Coke Twiter Chat with Steve Harvey taking place on this Thursday, February 6th so be sure to follow him at @IAMSteveHarvey and check it out.
And here's the man himself!
or click here to watch it on YouTube.
Hopefully this has inspired you to give back by paying it forward as well.
Don't forget the Twitter Chat and to nominate any deserving younger person you know for this once in a lifetime opportunity!
Compensation was provided by the Coca-Cola Company via Glam Media. The opinions expressed herein are those of the author and are not indicative of the opinions or positions of the Coca-Cola Company.